Experiencing a Halong bay cruise, you will definitely wonder if there is anything truly unique about the Vietnamese landscapes, history and culture. Yes, floating villages in Halong Bay are what you should spend time exploring. Those spots are where you can get a deep sense of the fishing culture of Vietnamese as well as the idyllic countryside in Vietnam.
Cua Van floating village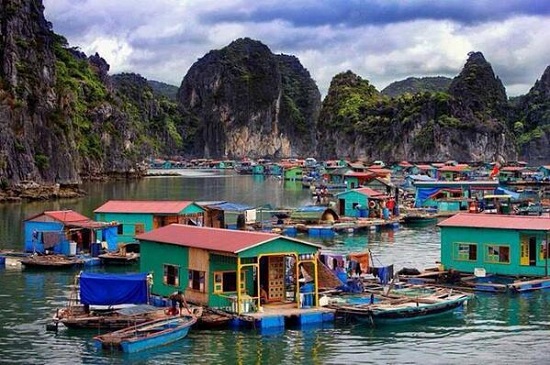 Cua Van is one of the stunning floating villages in Halong bay
Cua Van is seen as the most prosperous village in Halong Bay, which is widely known as a world heritage site with the quintessential and imposing beauty looking like a masterpiece of the Creator. Located on the calm and charming bay, Cua Van easily falls into eyes of many travelers from various regions in the world since it's exactly the haven to enjoy the authentic life of locals and learn about the unique costal and marine ecosystem. Besides attaining the wonderful experience of the peaceful floating village's life going by slowly, the travelers also find a chance to observe how fishermen make fish nets and catch fish as well as know absorbing traditional customs of the locals. For this reason, you are strongly advised to visit the Cua Van floating village while having a Halong bay cruise.
Vung Vieng floating village
Vung Vieng floating village, Halong bay, Vietnam
Positioned 24km away from the center of Halong Bay, Vung Vieng is referred to as a peaceful floating village endowed with the idyllic scenery and richness of culture and traditions. Imagine that you will observe how locals earn their living with the job of fishing. Further, what get you more interested is that the local fisherman will teach you how to utilize the fishing net and control the fishing rod. It's possibly said that Vung Vieng emerges as a charming picture in which the tranquil life of fishermen and their generations are brilliantly described, ranging women cooking meals for their families, children playing traditional games, to men preparing to catch fish; their happy smiles makes everything in the picture surprisingly perfect.
Ba Hang floating village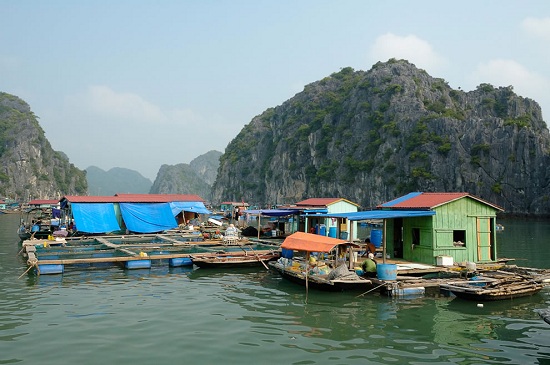 Ba Hang floating village, Halong Bay, Vietnam
Taken into account as one of the must-visit floating villages in Halong Bay, Ba Hang also carries the idyllic features like the other water areas. Additionally, situated next to Thien Cung Grotto and Dau Go, the village becomes one of the indispensable spots tourists will stop before exploring other interesting things in the bay. There are 50 families living here and their daily life is closely associated with the tides in each season. Let's come and discover this exciting lifestyle which has never possibly had idea before.
Cong Dam floating village
Cong Dam floating village, Halong Bay, Vietnam
For a Halong bay cruise, you will surely explore some floating villages in Halong bay, and Cong Dam should be one of your choices. The village is located quite far from the center of the bay, which makes it more phenomenal and mysterious. Especially, the population is just about 120 people; this is the reason why it sounds isolated to experience. With fabulous lime-stone mountains, amazing seascapes, and the integrity of coral reefs, it is also ideal for water sports. It's great to experience the fishing culture of locals while admiring the nature's grand magnificence.
Book now: Bai Tho Cruise Halong Bay price from $99
Please feel free to contact us! Chat with us if you have any questions!
---