Be interested in discovering the phenomenal beauty of Halong Bay? There will be a certain number of the best 4-star Halong bay cruises for a Halong bay tour you can choose from. Some of them consist of Paloma Cruise, Dragon Pearl Junk, Calypso Cruise, Red Dragon cruise, White Dolphin Cruise.
Paloma Cruise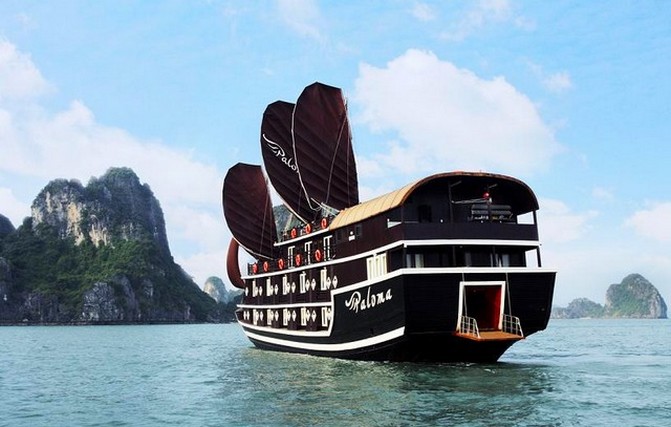 Paloma Cruise
When it comes to the list of the best 4-star Halong bay cruises, Paloma Cruise will appear at the top. Why? It is possible to say that the cruise from this wooden ship will offer you a nice chance to get a sense of the quintessential and serene scenic charm of the Vietnam's famous wonder – Halong Bay. The ship is designed to carry the enthralling luxury and a romantic setting you will find difficult to resist. Not only that, it embraces all cabins pleasant to stay and equipped with outstanding furniture. Also, there are more than 4 decks for different activities, a bar with the wonderful space, a gourmet restaurant, a luxury spa, and dining area outside. Take a look at several fascinating activities the cruise provides, such as kayaking, cooking class, Tai chi lesson, and swimming.
Book now: Halong Bay with Paloma Cruise price from $134
Dragon Pearl Junk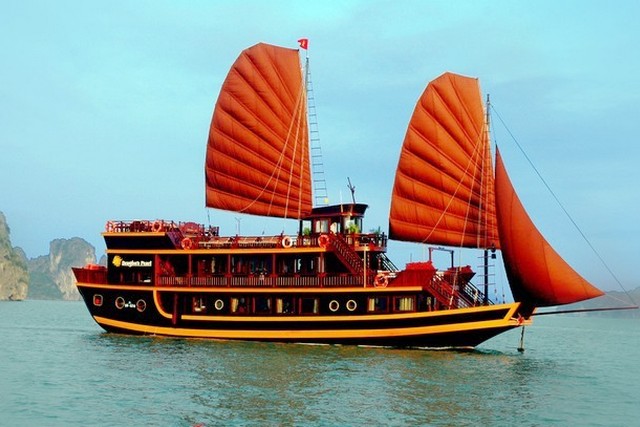 Halong on Dragon's Pearl Junk
Dragon Pearl Junk is an alternative in the list of the best 4-star Halong bay cruises. Launched April 2010, it offers wooden junks with 11 cabins in the traditional and elegant design. In each of the cabins, you will be provided with an air-conditioner, a closet, a table, and a bathroom with hot water shower. In case of emergencies, three shared bathrooms onboard can help. On the third floor, a new perspective appears in front of your eyes; there is an outstanding dining room with bar, which can accommodate up to thirty-six people and bring a romantic and warm dining setting for couples and families while they gain the imposing view of Halong Bay.
Calypso Cruise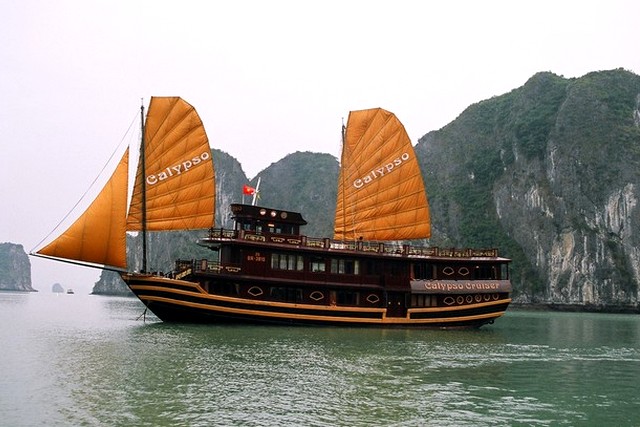 Calypso Cruise is one of the best 4-star Halong bay cruises in Vietnam
Exploring all natural wonders all over the world is seemingly what most travel lovers like you always desire. Certainly, Halong Bay will be listed as a part of your journey due to its exceptional beauty. If this idea is actually swimming around your mind, you are advisable to consider Calypso Cruise as it is seen as one of the best 4-star Halong bay cruises when it comes to Halong bay tours. Calypso Cruise offers flexible itineraries with exciting activities, such as rock climbing, kayaking, swimming, etc. As for cabins onboard, each of those is spacious and equipped with nice bedding, furniture and panoramic windows so that you can peer into the serene marvel.
Red Dragon cruise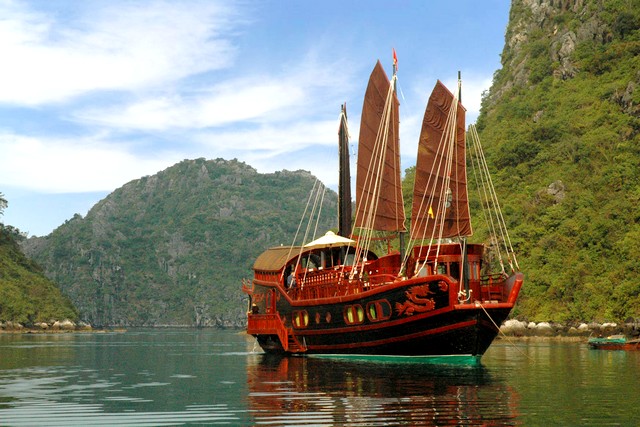 Red Dragon cruise
There is a special thing about Red Dragon Cruise; it is designed and named after the style of a Chinese junk. On the junk, there are five premium cabins and two decks, designed to meet the standard of superior class. In spite of being bigger than Princess Junk and Prince Junk, the vessel is still compact enough to cruise through pocket lagoons, fishing villages of Bai Tu Long bay, and narrow waterways of Halong Bay. To be honest, it is too ideal to discover the phenomenal charm of the bay. Regardless of whether you experience your cruise on the sundeck, the cozy restaurant or your own cabin, you will still be treated as the royalty.
White Dolphin Cruise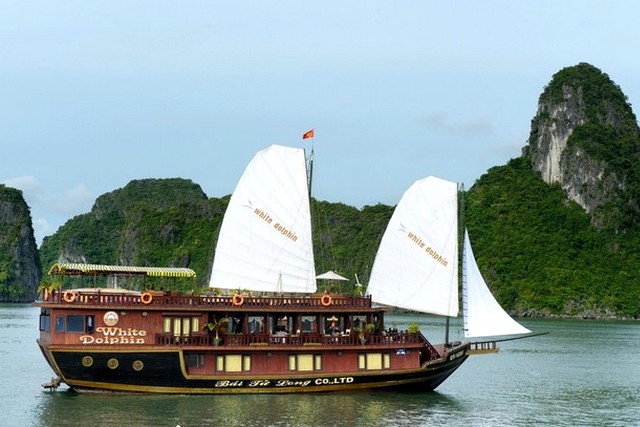 White Dolphin Cruise
Experiencing a White Dolphin Cruise, you will be provided with the high-quality amenities and great services. In more detail, each cabin onboard is impressively designed and equipped with the fine furniture, which meets the standard of premier class, bringing the maximum of enjoyment and comfort. Meanwhile, another wonderful feature to experience onboard is cooking class in which you can learn more the Vietnamese culinary art from expert chefs. Besides, it is one of the perfect ways to immerse yourself into fabulous landscapes of Halong Bay, Bai Tu Long Bay, Lan Ha Bay, and other stunning locations.
Book now: White Dolphin Cruise price from $129
---