When it comes to Con Dao Island, what occurs to the mind of many international tourists first is probably the image of breathtaking beaches, but they don't know that the travel spot is closely associated with a glorious history and patriots' nightmares about hell on the earth many decades ago. Nowadays, leaving the past pain and loss aside, the island has strongly been pushing up its tourism industry whereby it has appealed to both domestic and foreign tourists. Have a desire for a memorable Vietnam beach break? Do some research on Con Dao island travel guide at once!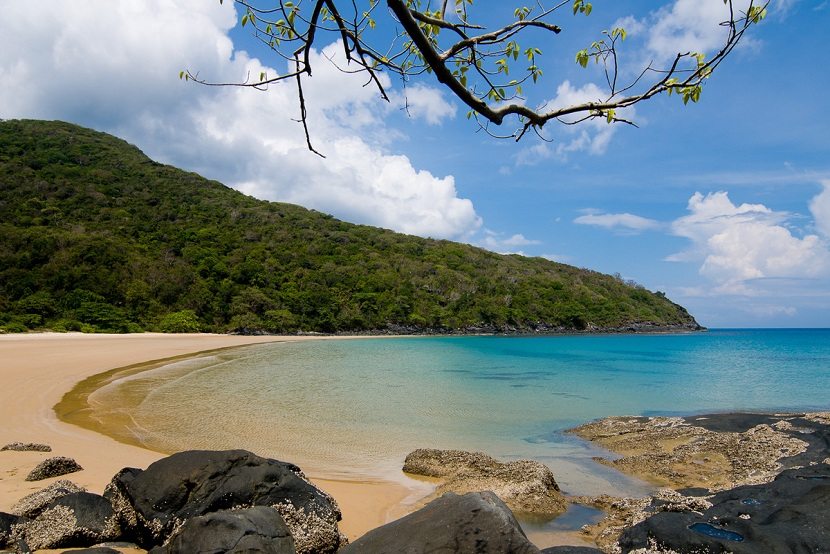 Con Dao island travel guide on a budget
When to go to Con Dao island
The best time to travel to Con Dao Island is from May to October, when lots of turtle nests are scattered on beaches. In fact, it is when tourists can witness the nesting and hatching. Additionally, it is strongly advised that they should also visit the island during February-July, when the water areas here are supposed to the clearest for water sports, e.g. diving.
How to get to Con Dao island
Get to Con Dao island by plane
Currently, there are two airlines operating flights to Con Dao Island, including Mekong Air and Vietnam Airlines. The airfare is from VND1,000,000 – 1,500,000/one way ticket. Co Ong Airport is just 12km from the Con Dao center, so you can catch taxicabs or use private pickup service from your hotel.
Get to Con Dao island by boat
Departing from Vung Tau City, the boat taking passengers to Con Dao is daily available. The fare is from VND200,000 – 300,000/ticket. The voyage is quite long and probably lasts about 11-12 hours, so it is often avoided by those who easily get seasick. As for the route from Ho Chi Minh City to Vung Tau City, you can take a bus with the price from VND100,000-120,000 or a hydrofoil with the price from VND200,000-250,000.
Where to visit in Con Dao island
Dam Trau Beach
Dam Trau Beach, full of remarkable features, has attracted lots of travelers. Ever wonder what those features include? It is easy to realize that the beach's beauty is illuminated by gentle waves, yellow sand, blue water, isolated cove, and tropical jungles of bamboos and pine trees. Right after landing in the island, you will fast be excited by rows of hammocks; it gives you an idea about the perspective in which you relax on the hammock, savor the luscious seafood, and experience the tranquility around. A backdrop for a trip to Dam Trau is a large black rock at one side, offering a stunning view of the beach.
Ong Dung Beach
In Con Dao island travel guide, Ong Dung Beach is supposed to be a stunning spot you must experience. It is pretty nice to contemplate the pristine scenic landscape and enjoy the tranquil ambience here. With a rich diversity of ecosystem, intact forests, mountains, forests, and coral reefs, the beach seemingly gives you the best moments. Due to those valuable sources, you not only admire the beach's charm, but also join water sports, such as snorkeling, fishing, and scuba diving.
Bay Canh Island
Bay Canh Island is blessed with the wonderful natural features, so it is referred to as the most popular travel destination of Con Dao Island. Positioned to the east of Con Son, the island with the area of 683 hectares is very ideal for a package tour from Ho Chi Minh City. Especially, the beach here is the habitat of sea turtles, and it is also where we can see the largest number of those sea creature laying eggs.
Phu Hai Prison
Phu Hai is well known as the oldest prison of the Con Dao prison system and used to be hell on the earth as there were lots of patriots suffering the most terrible torture here. Therefore, it marks a special period and contributes to the glorious chapter of the Vietnam's history as well. Today, the Phu Hai prison has become a historic relic bringing home to any visitor the deepest understanding of a war era.
Tiger Cages
Constructed in 1940 by the French, tiger cages used to be where around 2,000 patriots were captured and tortured as political prisoners. The relic includes 120 chambers, and there are ceiling bars whereby the prisoners were poked like tigers of a Victorian zoo. In addition to the torture, guards also beat the prisoners with long sticks and sprinkled quick lime and water from above to burn their skin.
Hang Duong Cemetery
Positioned in Con Dao District, the cemetery is regarded as the Vietnam's most renowned ones. This is where countless patriots and revolutionaries from 1862 fell down and rested in peace after the mass torture from the guards as well as severe living conditions in the prison. A visit to the cemetery will let tourists more understand what the political prisoners must suffer during the Vietnam war.
Nui Mot Pagoda
The pagoda lies on Mot Mountain, Con Dao Island. It was erected by the US government in 1964 for the spiritual life of those working in the administration, soldiers and officials on the island. Prisoners of Phu Hai prison were forced to build this pagoda on May 4th 1965; they must carry materials (cement, sand, stone, etc.) from the foot to the summit of the mountain. Nowadays, the spot becomes a Buddhist pagoda for all people on the island.
What to eat in Con Dao island
Just like many islands of Vietnam, Con Dao is also where you will find the paradise of seafood for gourmets. The list of the best food in Con Dao island travel guide never lets you down at any cost. Some of those specialties consist of  Oyster Porridge (Chao Hau), Vu Nang Snail, Moon Crab (Cua Mat Trang), Red Lobster, Sa Sung, Shark meat and vegetable salad, and Red Grouper.
Book now: Con Dao Getaway Package 4 day 
---