Joining a Vietnam tour package at the beginning of the year, you are strongly recommended to spring festivals in Vietnam as those events will give you new and interesting things about the country's culture. Moreover, it is also the great time to admire the stunning natural beauty which gets anyone excited.
Hoa Ban Festival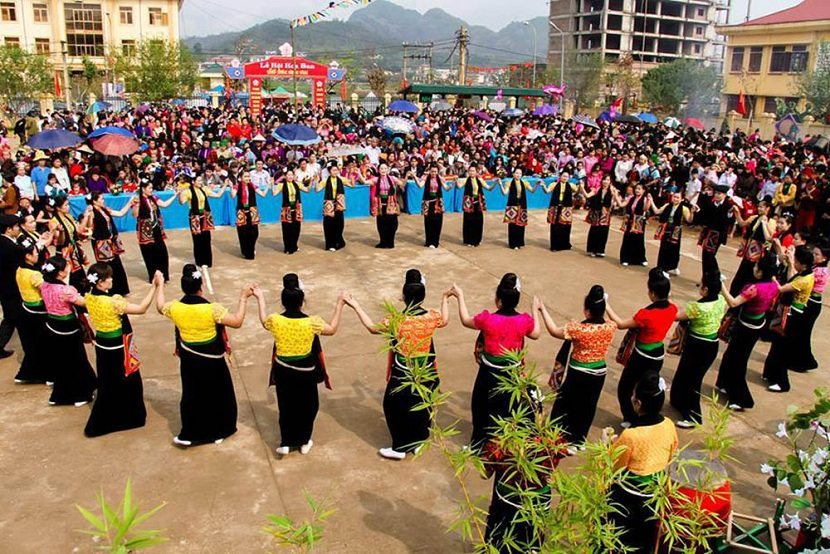 Ban Flower Festival is one of the popular festivals in Northwest Vietnam
When it comes to the flower types which symbolizing the soul of the northwestern Vietnam, people will immediately figure out plum, peach, and especially ban flower. Ban flower is supposed to show up the image of a beautiful Northwest girl and the pure love as well. Each time spring is drawing near, most mountainous regions of the Northwest are covered by the white of ban flower, creating a striking and charming painting. That is the reason why it is chosen as a background of Hoa Ban Festival – a spring festival in Vietnam, and nowadays it has become more and more popular with both domestic and international travelers. The festival is also the special occasion in which young boys and girls can meet, date, and join fascinating activities, e.g. dancing, playing pan-pines, drum and gong.
Huong Pagoda Festival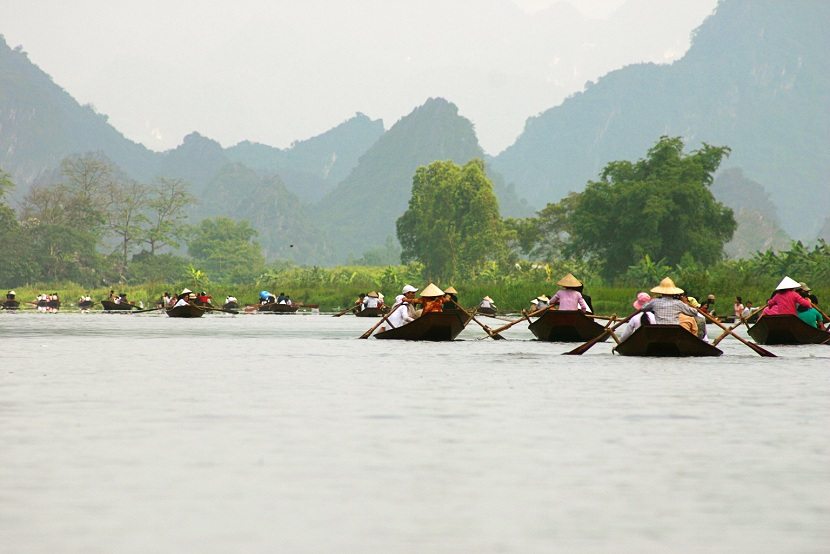 Huong pagoda festival is one of the most amazing spring festivals in Vietnam
Being one of the most impressive Buddhist festivals on the northern Vietnam, Huong Pagoda Festival is believed to play a key role in the Vietnamese Buddhists' spiritual life and significant to Vietnamese culture in general. Normally, one Vietnamese festival will consist of two parts: one is about ceremonies, and another is regarding entertaining activities; Huong Pagoda Festival among the spring festivals in Vietnam for a Vietnam tour package is not an exception. As for ceremonial rituals, Monks and Buddhists will offer flowers, fruits, candles, and incense, and perform traditional dances. Meanwhile, entertaining activities are experiencing boat cruise, climbing mountains, and visiting holy caves.
Book now: Perfume Pagoda Day Tour from HaNoi price from $33
Yen Tu Festival
Yen Tu festival
Held from the 10th day of the first lunar month, Yen Tu Festival lasts for three months for the religious demand of Vietnamese Buddhists. During this spring festival in Vietnam, countless pilgrims take a long trip to Yen Tu, known as the Buddhist land with the aim of expressing their aspiration and religious belief. Besides joining solemn rituals at Yen Tu Mountain, the people also get a chance to admire the beautiful scenes and relish the pure atmosphere here.
Lim Festival
Organized on the 12th-13th day of the first lunar month in Noi Due Commune, Lien Bao, Lim Town, Lim Festival, also called the festival of "Quan Ho" singing, has been designated as one of the Intangible Cultural Heritage by UNESCO. During the festival, of course, there are many interesting activities, but the most outstanding one is performances related to "Quan Ho" singing. Female singers ("lien chi" in Vietnamese) and male singers ("lien anh" in Vietnamese) in colorful traditional costumes will perform duets in the melody of traditional folk music which belongs to the northern Vietnam. It is great to experience!
Hung Kings' Death Anniversary
This spring festival in Vietnam is a way Vietnamese people show their gratitude towards the Hung Kings as well as their ancestors who established the country in the past. As other Vietnamese festivals, the anniversary is based on the lunar calendar; exactly it is hold on the 10th day of the third lunar month. In this day, all Vietnamese people even living overseas also let their hearts turn towards the sacred land of the Hung Kings, where the festival takes place as a way to remember the founders.
Cau Ngu Festival
There are lots of elements contributing to the Vietnam's cultural identities, and festivals are one of them. To the coastal community, Cau Ngu Festival is considered as an impressive feature in their culture. The fishermen of this area not only view whale as a nice sea creature, but also their companion during their voyages. At the village where whales died and drifted into, the locals built a temple to revere them; it is Nam Hai Whale Temple. Since then, Cau Ngu Festival has become a crucial spiritual activity for the coastal community.
Ba Den Mountain Festival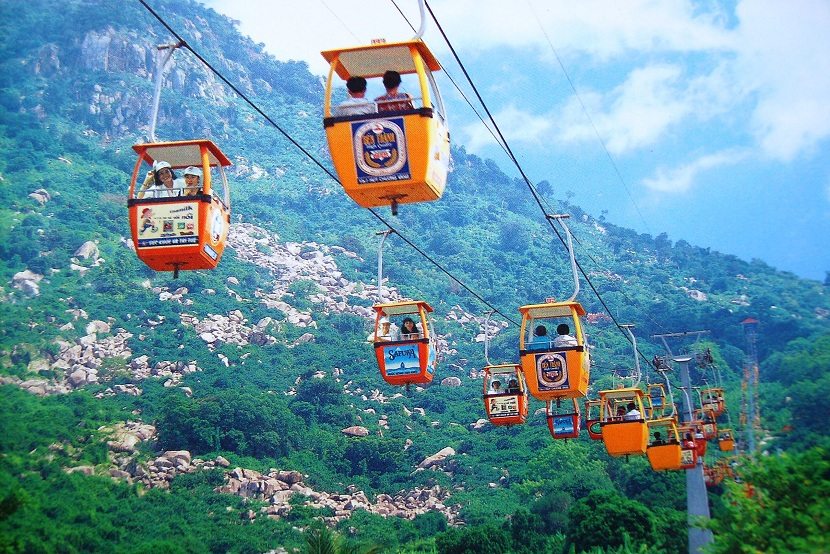 Ba Den Mountain Festival
Organized on the 15th day of the first lunar month, Ba Den Mountain Festival (Tay Ninh Province) is an outstanding event after the traditional Tet holiday of Vietnam. In this day, lots of pilgrims from other areas come here, worship, and pray for their good fortune. Not only that, it is also the best time people can contemplate the beautiful view of Ba Den Mountain in spring and also pay a visit to Linh Son Thanh Mau Pagoda.
Ba Chua Xu Temple Festival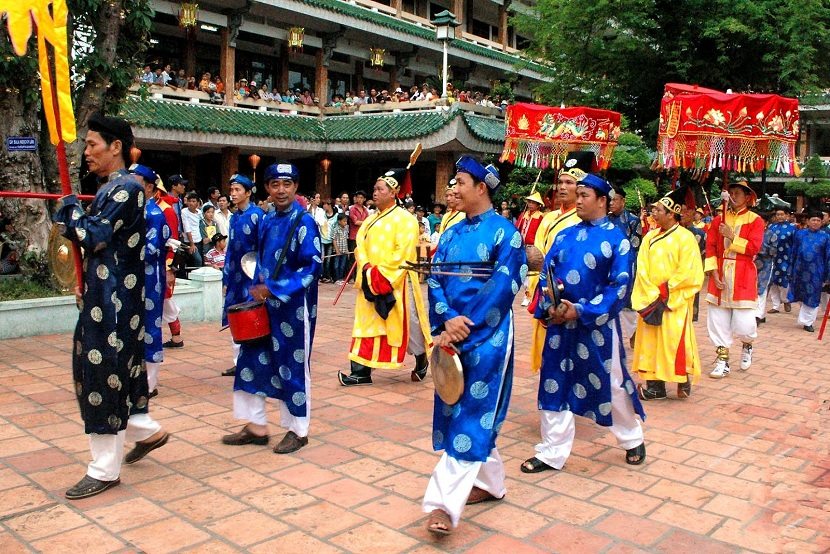 Ba Chua Xu Temple Festival
Another spring festival in Vietnam is Ba Chua Xu Temple Festival, which takes place from 23rd to 27th April (in the lunar calendar) in Sam Mountain, Chau Doc city, An Giang Province. As for Ba Chua Xu Temple, it was erected in 1820 when, legend has it, locals discovered a female statue of marble in a forest; the purpose of this building is for the worship of the lady and hoping she will bless them with good crops as well as happiness and wealth. This is also the reason the locals hold the festival annually.
---