What are you planning to do at the beginning of the coming new year? If your intention is to arrive in Vietnam, it is strongly advised that you should pay a visit to flower villages in Mekong Delta, found in a Mekong Delta tour from some travel agents in Ho Chi Minh City.
Tan Quy Dong Flower Village, Sa Dec (Dong Thap Province)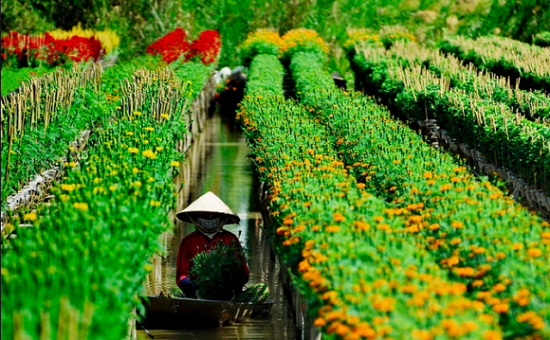 Tan Quy Dong is one of the beautiful flower villages in Mekong Delta
When it comes to bonsai, people will promptly think about Sa Dec flower village in Mekong Delta, dating back to over one hundred years. Each time the Tet holiday – a traditional holiday of Vietnam is approaching, Tan Quy Dong Flower village is full of different flower types, consisting of gerbera, marigold, hibiscus, cockscomb, rose, etc. Especially, rose varied in many precious sorts, bringing a wonderful perspective for the whole village, indeed ideal for visits and incredible photos.
Book now: Ho Chi Minh City – Cai Be floating market – Tan Phong Island (Full day trip) price from $45
Thoi Nhut Flower Village, Can Tho Province
Thoi Nhut flower villlage
Although Thoi Nhut Flower Village in Mekong Delta is not as famed as Tan Quy Dong, it will also be a stimulating place to visit as well as admire the colorful beauty of various flowers when the Tet holiday is approaching. The flower village dates back over one hundred years. Previously, it was just the home of familiar bonsai and flora species of Mekong Delta, such as yellow apricot, dahlia, daisy, and sunflower. Nevertheless, nowadays the locals start developing exotic flower species, like Indonesia chrysanthemum, French marigold, Thai cactus, etc. Therefore, the area of planting various flower species is expanded and up to 40 hectares; it is the big flower provider to many markets through Vietnam.
Cai Mon Flower Village, Ben Tre Province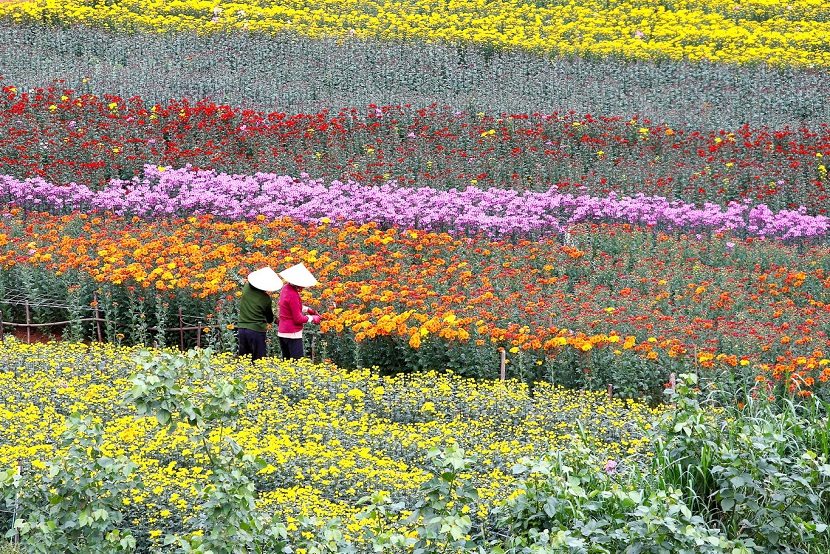 Cai Mon flower village
On the last days of the year, the atmosphere at Cai Mon Flower Village, named "the kingdom of bonsai, flowers, and fruits" starts humming day and night. The pulsating perspective covers everywhere, from gardeners taking care of their bonsai and flower pots to traders busy with delivering their products. We can find thousands of flower gardens at Cai Mon Village with various flower species, such as chrysanthemum, dahlia, carnation, rose, marigold, confetti, etc. Not only is the village a provider of flowers, but also one of the biggest fruit plantations of Mekong Delta a variety of fruits, including mangosteen, mango, orange, rambutan, durian, grapefruit, etc.
Book now: Mekong Adventure Day price from $49
My Tho Flower Village, Tien Giang Province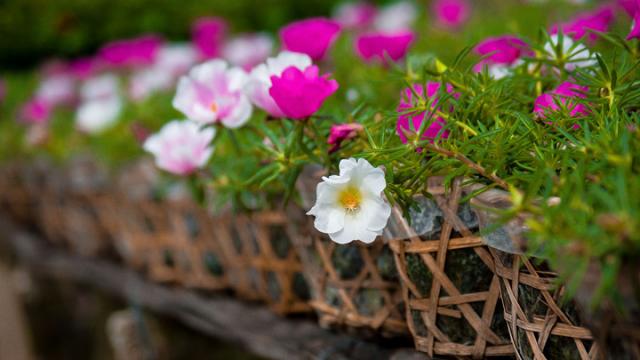 My Tho flower village
When the vibrant and irrepressible atmosphere of the coming Lunar New Year is covering everywhere, you will absolutely be stunned with the colorful costume of My Tho Flower Village in Mekong Delta if moving along Highway 50 and coming here. Just like the above flower villages, My Tho is also where various flower species are planted and provided for nearby areas. Because of its convenient position, which is just 70km away from the center of Saigon, My Tho flower village appeals to a large number of visitors to contemplate the beauty of flowers and take impressive photos.
---