It's true that Vietnam is a very small country in the world map, but its phenomenal landscapes as well as wonders will not disappoint international travellers. Especially, nobody can turn their back to the greatest waterfalls in Vietnam, such as Ban Gioc, Cam Ly, Silver Waterfall, Pongour, Dray nur, and Dray Sap.
Although Vietnam is a small country, it is endowed with many beautiful and attractive landscapes. Especially, with highlands occupying three-fourths of the whole territory, Vietnam is home to numerous magnificent waterfalls and paradise for adventure trips. From the South to the North of the country, you can find many interesting and wonderful waterfalls … Below are some famous and impressive waterfalls that you shouldn't miss when traveling to Vietnam.
Ban Gioc Waterfall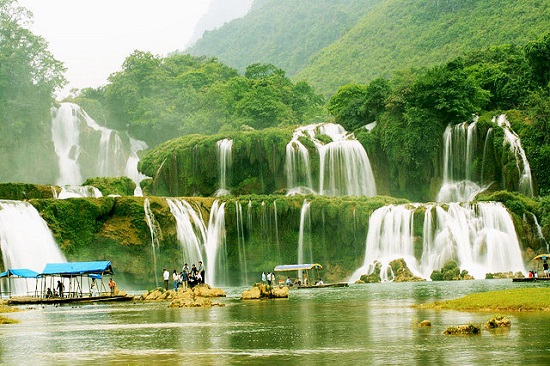 Ban Gioc waterfall is one of the greatest waterfalls in Vietnam
It's widely known that Ban Gioc is the greatest falls in Vietnam and also the 4th largest falls of the world. It's said that this wonder is a must-visit destination in your Vietnam package tour since locals see it as a priceless gift Mother Nature gave to Dam Thuy, Trung Khanh District, Cao Bang province. In fact, its miraculous beauty makes it look like the fairyland in which there are a vast river at the bottom, calm water, and plenty of colored flowers around. That's the reason why it will be a shortcoming in your Vietnam package tour if you miss a visit to Ban Gioc waterfall.
Book now: Northern East Discovery (6Days / 5nights) price from $438
Cam Ly Waterfall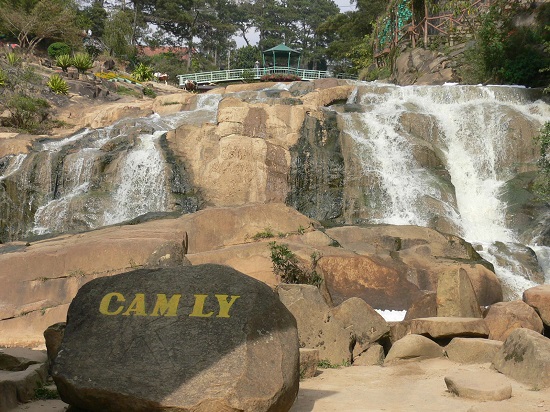 Cam Ly waterfall in Da Lat
Be 2km west away from the downtown of Dalat, Cam Ly waterfall will be an ideal place to visit when you are in the journey to explore just in the city's heart. It's believed that the phrase "Cam Ly" indicates streams of cool freshwater in the human's heart, so it's taken into account as the Dalat's soul. This fall seems very quiet, gentle, and specially looks like a beautiful crystal under the sunshine, which inspires many artists to create their fantastic works.
Silver Waterfall (Thac Bac)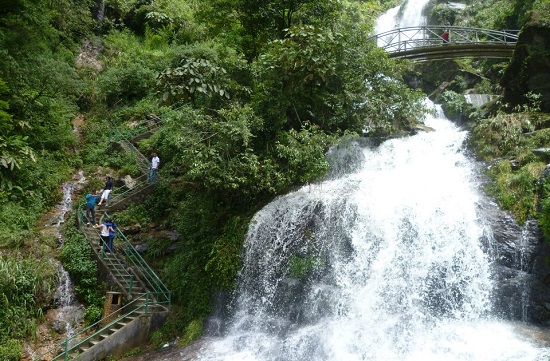 Silver waterfall (Thac Bac) in Sapa
From Sapa, going towards Lai Chau, you will reach Silver Waterfall after about 10 minutes by motorbike or bus (also around 15 km). This is one of the magnificent waterfalls of Vietnam with the incredible view which is got from Ham Rong Mountain. The reason people call it Silver Waterfall is that flows of white water from the fall strongly pours down the stream below and creates a picturesque landscape. Don't lost out the chance to visit it when being in the journey to Vietnam.
Pongour Waterfall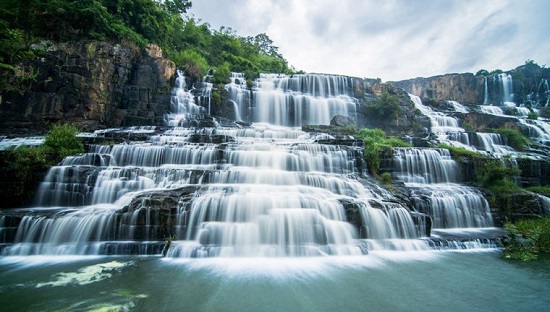 Pongour Waterfall in Da Lat
Da Lat is famous for its romantic and poetic charm; there are many factors and features forming the whole beauty, and one of them is waterfalls. What draws everyone to Dalat may be Pongour waterfall, away 40 km from the Dalat's center; it's actually a wild and majestic wonder recommended to you when you set foot in Dalat. With the massive speed of water falling down in a vast pool below, sounds from the fall are like truculent thunders and the landscape here looks like a splendid picture.
Datanla Waterfall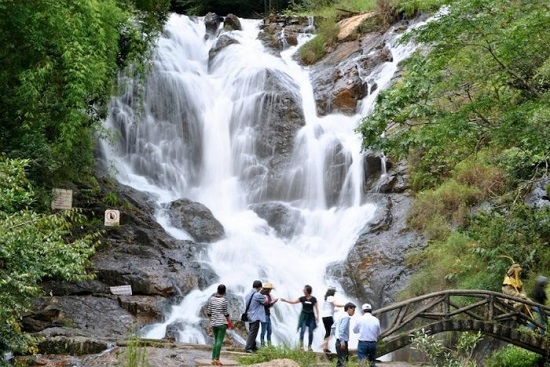 Datanla Waterfall is one of the most-visited tourist attractions in Da Lat
Do you know that there is an exciting legend about Datanla Waterfall? It's about beautiful fairies used to come here and take a bath. Then, there is no reason which can resist you discovering its mystery and charm. Some amazing activities you should experience when setting foot here include climbing the cliff, go hiking in the forest, and wading across the stream.
Read more: 10 places not to miss in Vietnam
Dray nur Waterfall
Dray nur Waterfall in Vietnam
Dray nur, away 25 km south from Buon Me Thuot city is also one of the greatest falls in Vietnam, so you will regret if ignoring the opportunity to explore it. A visit to the fall will be an extremely remarkable experience if you know about the folk story behind it. Its name means wife or female waterfall related to a couple that was separated by a cruel monster when they were sitting next to the fall. Surely, you will not only fall in love with this legend, but also feel dizzy by its spectacular beauty.
Dray Sap Waterfall
Day Sap Waterfall in Ede ethnic language implies the smoke waterfall. Its name occurs because the water from 10 m height truculently pours down to create the stunning scenery like a mirror of smoke. Therefore, it's regarded as the most marvelous waters in Center Highland, which you should explore.
Read more: The best beach destinations in Vietnam
---