Apart from relaxing at stunning beaches in Nha Trang for a Vietnam tour and holiday, you can keep an eye on Vinpearl Land amusement park as it will perfect your trip with the modern entertainment zones and magnetic games. Let's come there and uncover its inside world at once!
Overview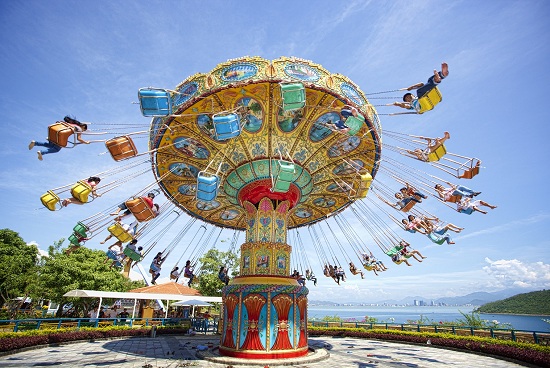 Vinpearl Land amusement park Nha Trang in Vietnam
Absolutely, Vinpearl Land is not too strange to both domestic and international tourists for their Vietnam tour and holiday due to its emerging fame. Positioned in Hon Tre Island of Nha Trang Bay, the land is referred to as a glittering travel spot whose quality meets the global standards and also a complex of amusement, resorts, tourism, etc. That is the reason why it is called the paradise for tourists to experience.
Address: Hon Tre Island, Vinh Nguyen Ward, Nha Trang City, Khanh Hoa Province
Entrance fee: about VND600,000 for the general admission
Opening hours:
Peak season (from June to August): 9:00AM – 10:00PM daily
Low season: 8:30AM – 10:00PM (Friday and Saturday) and 8:30AM – 9:00PM (Sunday to Thursday)
How to get Vinpearl Land amusement park Nha Trang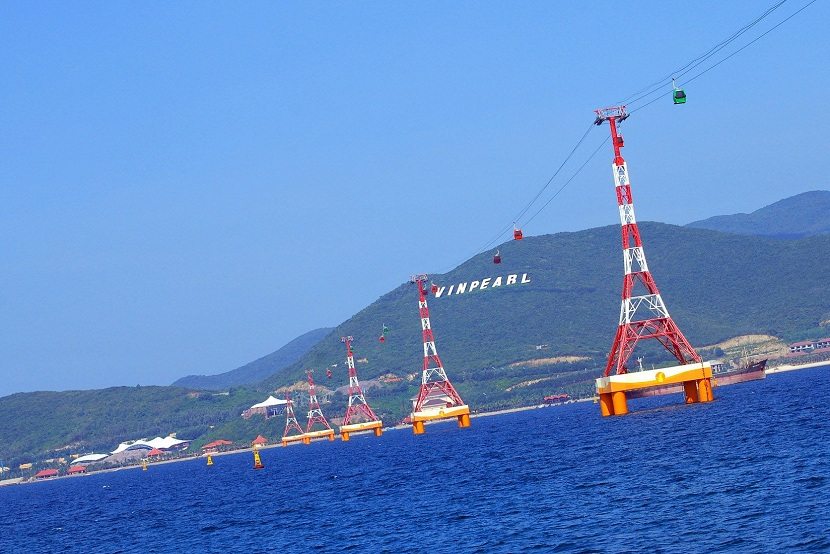 The longest Cable-car system in Nha Trang
Situated to the north of Hon Tre Island, Vinpearl Land is emerging as a pearl of Nha Trang with the modern and glorious beauty. To reach this wonderful land, there are two ways; one is by high-speed boat and another is by the longest Cable-car system, which is supposed to be one of the brightest achievements of the Nha Trang tourism industry. Especially, with the cable-car system, you can reach altitude of 40m to admire the panoramic view of charming Nha Trang with colorful flower along the East Sea Coast. Additionally, tuktuk cars can take you to various fascinating spots around.
Highlights of Vinpearl Land amusement park Nha Trang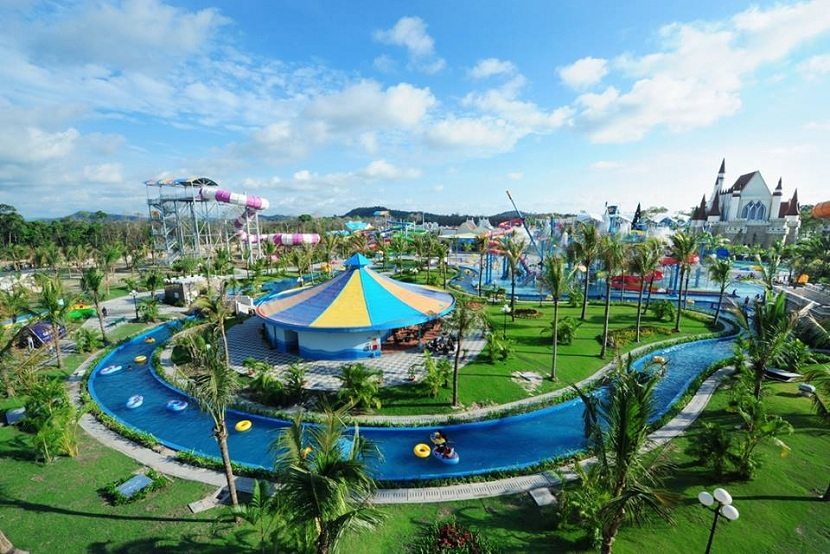 Highlights of Vinpearl Land amusement park Nha Trang
Waterpark: one of the outstanding points of the Vinpearl Land amusement park Nha Trang is waterpark with the area of 50,000 square meters. Coming here, you will submerge into the lazy river, wave pool and play with slices to escape from the scorching heat of Nha Trang. It is possible to state that the waterpark is depicted as a mini adorable beach for relaxation; furthermore, it is also exciting to try watercraft activities with rental parasailing, jet-skis, and new-fangled water hover-boards.
Underwater World: this zone is where visitors can witness colorful sea creatures and reptiles. Besides having tanks of turtles, moray eels, tropical fish, and rays, it is also designed with a tunnel-like walkway which helps us contemplate enormous fish more easily.
Amphitheater and Musical Water Fountain: this amphitheater can accommodate up to 500 viewers, and it is an extremely exciting place where they can relish musical performances inspired by diverse cultures and designed under phenomenal laser lights.
Outdoor Games: there is a wide selection of attracting games, such as Roller Coaster, Water Fountain, Merry-go-round, Animal Circus, Bungee, Pirate Ship, Cable-car station, etc.
Shopping Mall: where to experience at the Shopping Mall zone include Fastfood Restaurant 3, Café, Three Region Restaurant, Shopping mall, and sweeten-soup shop.
Indoor Games: 4D games, Kid's garden, Games zone, Karaoke Room, Beverage Kiosk, Bumper cars, etc.
Book now: Ho Chi Minh Nha Trang 4 days price from $144
---