Your Vietnam tour package will not be complete if you have not still paid a visit to the most amazing traditional markets in Northwest Vietnam, such as Bac Ha Market (Lao Cai Province), Coc Ly Market (Lao Cai Province), Dong Van Market (Ha Giang Province), Can Cau Market (Lao Cai Province), Cao Son Market, and Lung Khau Nhin Market. Before putting your travel in motion, don't forget that each of the markets just opens once a week. Carefully check to avoid losing out on the chance to experience their cultural features.
Bac Ha Market (Lao Cai Province)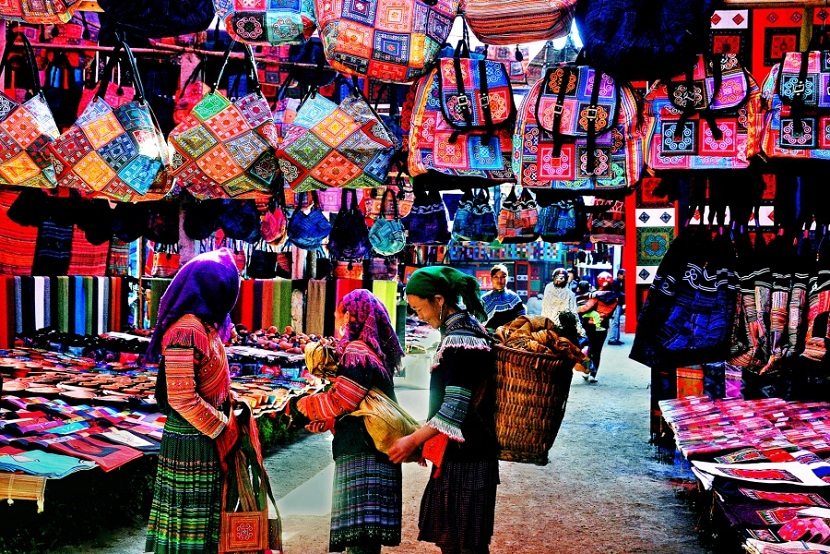 Bac Ha market, Lao Cai, Vietnam
Bac Ha – the Sunday market is a highlight of your Vietnam tour packages and also one of the largest draws of the Northwest tourism. Situated in a mountainous province, this traditional market in Northwest Vietnam is where the majority of ethnic people gather and trade their goods, livestock, and handicrafts. Here, you can easily come across Black Dao, La Chi, Nung, Tay, Red Hmong, and Phu La. There are many separated zones specializing in specific products. At the entrance of the market, there are small booths for accessories (brocade handbags, purses, handkerchiefs, etc.). Stepping inside, you will realize colorful brocade dresses hung everywhere for sale, making an eye-catching picture quickly attracting the attention of visitors.
The locals not only offer clothing items, but also have buffaloes, dogs, chickens, ducks, and birds for sale in special places of the market. Of course, food is indispensable to your visit, and "thang co" – the most common specialty will wow you so much. Just walk towards the food zone to order a bowl of thang co, and it will warm you up in the cool weather of the mountainous region.
Coc Ly Market (Lao Cai Province)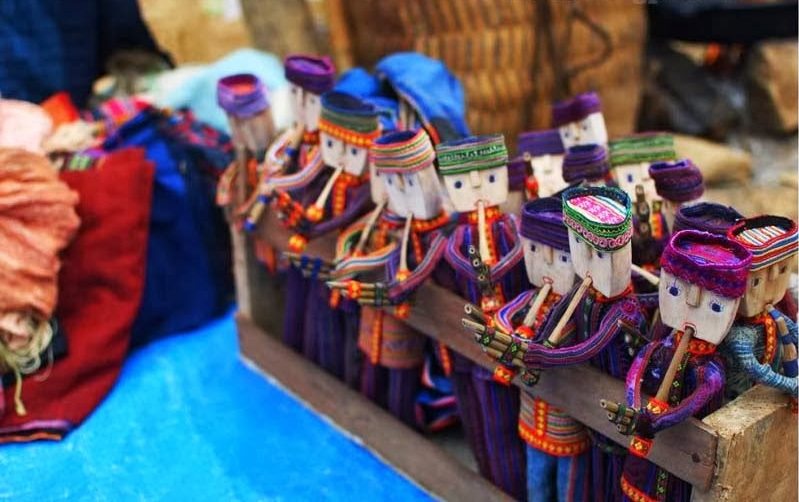 Coc Ly market is one of the amazing traditional markets in Northwest Vietnam
Coc Ly Market, opening every Tuesday and 35km away from Bac Ha Market is one of the amazing traditional markets in Northwest Vietnam. Although the market is not big, it plays a very important role to ethnic communities (Red Hmong and Black Dao) in the Northwest Vietnam. Once a week, they come here to exchange their homemade products for their living. It is possible to say that the market is supposed to be an ideal place for you to experience the life of the local people and savor their unrivalled culinary delights.
From Lao Cai City, you can follow National Route 4D to Phong Nien commune, Bao Thang district. Turn to Provincial Route 153. After reaching Bao Nhai Bridge, Bao Nhai Commune, Bac Ha District, you will take the boat on Chay River to Coc Ly Market. As soon as you set foot in the market, the traditional beauty of the mountainous area will astonish you too much, ranging from colorful clothes of ethnic people to their farming products and brocade homemade items. Apart from the exchanging activities as normal markets, Coc Ly is also where boys and girls can seek for their future soulmates.
Book now: The North West Loops 7 Days price from $598
Dong Van Market (Ha Giang Province)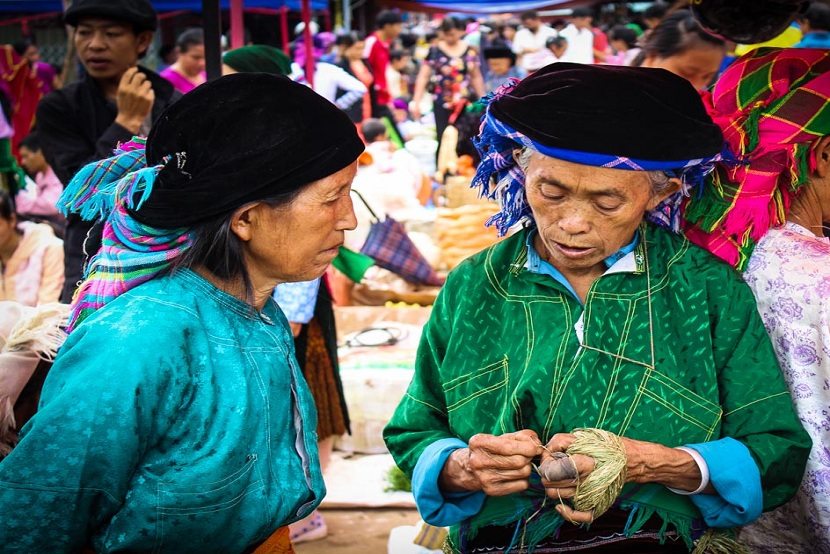 Dong Van market, Ha Giang, Vietnam
Another special traditional market in Northwest Vietnam is Dong Van, opening every Sunday; it is the center of economic and cultural activities in Dong Van plateau – Meo Vac. Every Sunday, a peaceful small village gets more vibrant and is full of activity as if it is a festival. Dong Van Market is where you find tribe people, such as Dao, Tay, Nung, Mong, Lo Lo, and Giay; like the other markets, they flock here in order to trade their brocade clothes, goods, and livestock. Besides, the most outstanding thing is that the market is also for the youth to look for their dreamy sweethearts. Especially, there are interesting cultural activities held by the local people in the 14th, 15th, and 16th days of every lunar month. All of them will let you see typical traditional customs of the Northwest Vietnam.
Book now: The North East Loops 6Days price from $438
Can Cau Market (Lao Cai Province)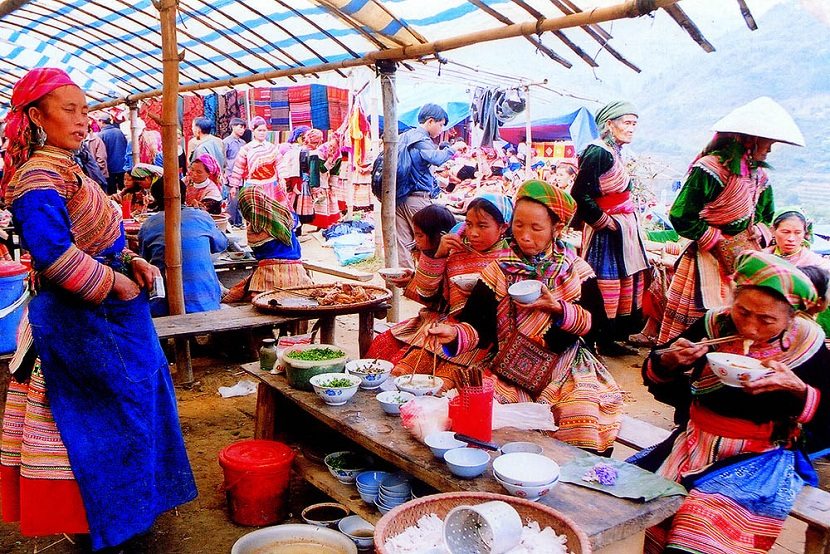 Can Cau market, Lao Cai, Vietnam
It is so hard to miss Can Cau Market since it is among the best traditional markets in Northwest Vietnam. Despite being positioned at a small commune of Lao Cai District, the market is definitely a great opportunity to learn more about the life of the ethnic community in the North plateau. Follow National Route 4D to Bao Thang District, pass through Bac Ha town, and arrive at the remarkable market hemmed in terraced fields and marvelous mountains. Opening every Saturday and in holidays, e.g. New Year, the market is the trading center of ethnic people, such as Dao, Hmong, Giay, others. They exchange a variety of products which they have made by themselves, such as clothes, livestock, vegetables, and others. It will be more fantastic to enjoy the cuisine of the highland, so let's try some specialties, like thang co or tao meo when visiting this market.
Cao Son Market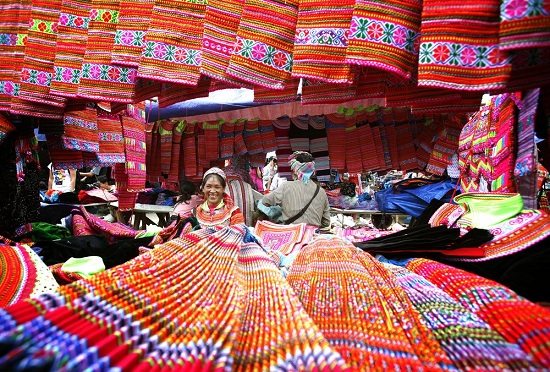 Cao Son market is a rich diversity of culture in Northwest of Vietnam
Situated in Cao Son commune of Lao Cai Province, Cao Son Market is the trading place of ethnic communities, such as Phu La, Hmong, Han, and Black Dao. The fixed time for opening is every Wednesday. It will be fascinating when you get a chance to leisurely cruise on Chay River and dip yourself into poetic landscapes before arriving at the market to learn about a unique characteristic of the plateau's culture. The market is split into different zones, and each one will specialize in a certain product, e.g. vegetables, brocade handmade items, ethnic cuisines, and so forth. The products with lots of different colors along with the people's rush make up a wonderful and vivid image about the highland's life, deserving a visit.
Lung Khau Nhin Market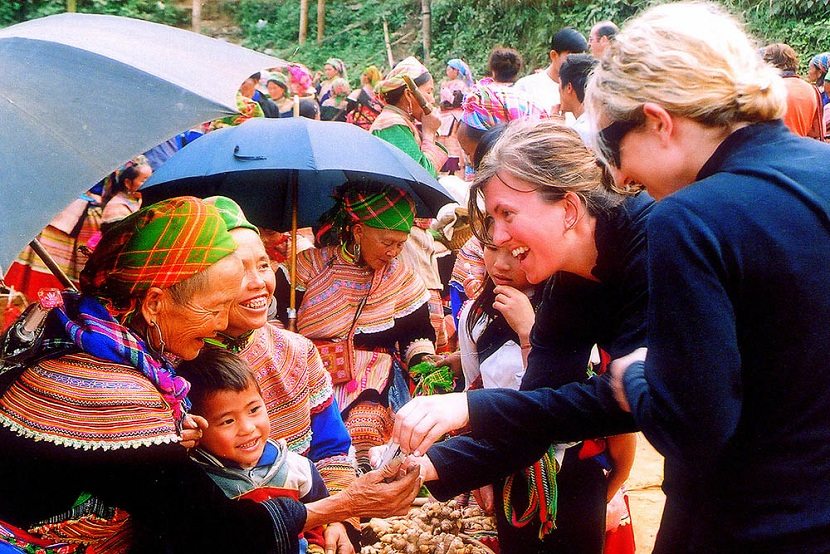 Lung Khau Nhin market, Sapa, Lao Cai
Being a Thursday market among the traditional markets in Northwest Vietnam, Lung Khau Nhin carries impressive colors of the plateau's life. It is also an ancient market of mountainous provinces. There is a road running through the market, where fruits, vegetables, and personal items are sold. Penetrating inside the market, you will be overwhelmed by the abundant number of handmade products from ethnic people, farming tools, medicinal herbs, and handicrafts. If you are seeking for something as souvenirs for yourself or gifts for your family, the handicrafts here are actually awesome. Further, don't miss savoring some appetizing dishes as well as specialties at the market.
---