Buying and selling at the markets has been widely known as a long-standing feature in culture of oriental countries and especially Vietnam. As a result, when experiencing a day trip in Ho Chi Minh city and also wanting to shop for something in this country, you will be led to the 4 traditional markets in Ho Chi Minh City below:
Ben Thanh Market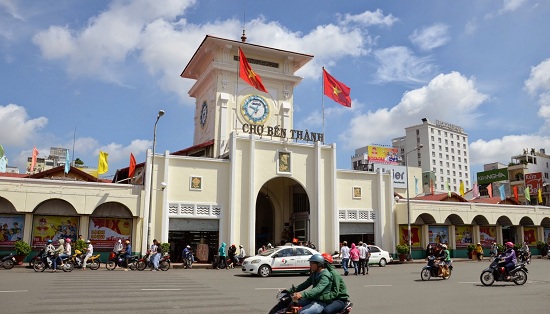 Ben Thanh is one of amazing traditional markets in Ho Chi Minh city
Positioned at the Ho Chi Minh City's center, Ben Thanh Market will be one of the ideal places for shopping when you set foot on the beautiful city. Also, being a traditional market in Ho Chi Minh City, dating from the 17th century, it is referred to as a special symbol of Saigon (now Ho Chi Minh City). It is possible to say that lots of items you have not ever seen before may be found here; some of them are souvenirs, handicrafts, clothes, and textiles which look eye-catching. Especially, varied culinary specialties will dazzle you right at the first time of entering the food stalls.
There are two things you ought to pay close attention to are items' prices at the market and especially pickpockets probably around you. Let's bargain with the vendors to have the best deal, and keep an eye on your smartphones and belongings.
Book now: Ho Chi Minh city tours (half day) price from $12
Binh Tay Market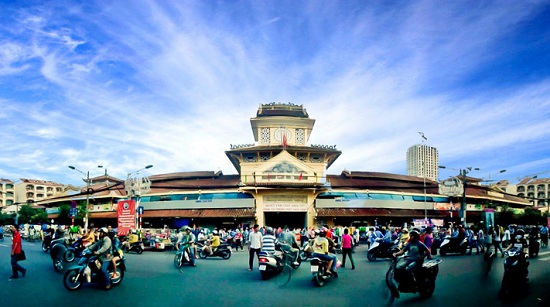 Binh Tay market, Ho Chi Minh city, Vietnam
Besides Ben Thanh Market, Binh Tay Market will be a good alternative when you are seeking for somewhere to shop in Ho Chi Minh City. Located at Thap Muoi Street, District 6, the market is away 15 minutes from the downtown area of District 1 by bike. Taking a look at the market's size, it is actually larger than Ben Thanh Market and also the busiest one of Ho Chi Minh City as there are not only products for retail, but also lots of wholesale supplies. Excellently, when you feel tired of a long walk for shopping, just relax at a peaceful courtyard inside the market.
Dan Sinh Market
Located at No. 104 Yersin Street, District 1, Dan Sinh Market is within walking distance of the backpacker area (Bui Viet and Pham Ngu Lao Streets) and Ben Thanh Market. Viewed as a building going through many years of history, the market is now an interesting place for shopping unique items as gifts for your family or friends and souvenirs for yourself. Here, we can find construction materials, gas masks, helmets, gears, bomber type jackets, tents, flashlights, spare parts, and industrial materials and other souvenirs dating back to the Vietnam war period.
An Dong Market
Don't lose out on a visit to An Dong Market – the largest wholesale market in Ho Chi Minh City for your day trip in Ho Chi Minh city because you will be excited by plenty of strange and eye-catching items sold here. Positioned at An Duong Vuong Street, Ward 9, District 5, the market is where the largest number of Chinese people is found. Therefore, speaking dialects from China, e.g. Cantonese will be an advantage for you to bargain over varied products here.
Book now: Ho Chi Minh city tours (full day) price from $24
---