Seek for something historical and delicate in a Vietnam tour package? Con Dao historic prisons in Vietnam will be an unforgettable destination as it brings home to you the most dreadful torture Vietnamese patriots must suffer during the war era.
Overview
Over 100 years ago, Con Dao Prison used to be hell on the earth (according to the Vietnamese history and survivors from that prison). Totally different from the peaceful and tranquil scenery of Con Dao nowadays, the prison in the past was where a large number of patriots suffered the Americans and French colonists' cruel and inhuman torture. Therefore, a visit to Con Dao historic prison in Vietnam is definitely a must as it brings home to you the endurance and unyielding spirit of Vietnamese people as well as the most terrible facts during the war era. The prison system is split into different sites, such as Phu Son Prison, Phu Hai Prison, Phu Tho Camp, Phu Hung Camp, Separated Cow Shed, Phu An Camp, American Tiger Cages, Phu Binh Camp, French Tiger Cages, Phu Tuong Camp, and Phu Phong.
Outstanding historical sites for sightseeing
French Tiger Cages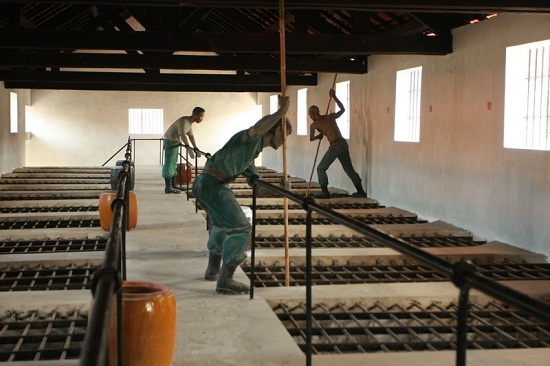 French tiger case, Phu Tuong prison, Con Dao island
Built at Phu Tuong Prison Camp by the French, the tiger cages had the area of 5,475 square meters. A visit to this site allows you to visualize how terribly political prisons were torture. The prison's name partially says about its structure; it is quite similar to a zone where tigers are held. It means that the zone includes 120 solitary cells split into two rows with no roof. Nowadays, mannequins are put in some tiger cages with the aim of simulating horrible perspectives in which the prisoners were tortured to death.
Book now: Con Dao Getaway Package 4 days
American Tiger Cages
The tiger cages were constructed in 1971 by the Americans and also called the Phu Binh Camp (or Camp 7). It was contemporaneously a brand new prison system with the area of 25,788 square kilometers. The jail consists of eight zones from A to H with 384 cells; then, each zone has 48 rooms to capture the prisons one by one.
Separated Cow Shed
Separated Cow Shed, Con Dao island
The separated cow shed is one of the noteworthy points in Con Dao historic prisons. The site is the evidence for inhuman deeds of the invaders during the war era. Constructed by the French in 1930, it has the area of 4,110 square meters and is divided into three zones with 135 chambers. One of those three zones consists of 24 boxes – a nightmare of political prisoners in the past as it is where they were fed like pigs as well as treated like animals. Besides, there is a memorial shrine as well as the first cemetery for prisoners in Con Dao. On June 28th,1862 a manhunt was operated after a prisoner uprising, causing 20 captured and 100 dead. Later, the captured rest was forced to dig a mass grave for the dead, but eventually they were also buried alive.
Cellar for rice husking
Apart from zones for inflicting the physical and psychological pain for prisoners, the enemies also applied the punishment of hard labor to them; and the typical form was the cellar for rice husking. In this punishment, the prisoners were forced to push the heavy grinding mill in the hot, dirty and suffocating ambiance of the cellar. While the prisoners were always working hard, they still utilized their whip to torture them. Additionally, there were other inhuman deeds from warders, which made the cellar "hell in hell on the earth"
---