Beaches are always set to be Vietnam's most striking feature in any travel guide. If you are searching for some moments away from the hustle and bustle of urban areas, beaches in Ninh Thuan are excellent options. Your Vietnam beach break will be filled with unforgettable memories through ample things to see and explore at top 5 beautiful beaches in Ninh Thuan below.
Vinh Hy Bay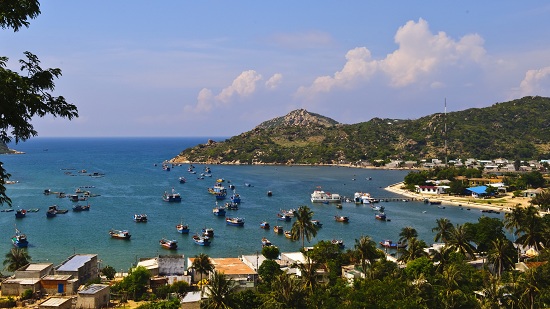 Vinh Hy bay is one of the most beautiful bays in Vietnam
With turquoise water and magically beautiful landscapes, Vinh Hy Bay is sure to melt the heart of any beach lovers. 5 km away from the bay is the stunning landscape that definitely draws your attention: Rai Cave – Chua Mountain. The interesting point that makes this place stand out is the marvelous view of colorful coral reef formed long time ago. Apart from sightseeing and taking photographs, there are endless things to do in this magical paradise: snorkeling in the underwater discovery, swimming in the warm water, wandering on gleaming white sand, breathing cool fresh air, trying quintessential seafood, etc. Vinh Hy Bay is just perfect for those who long for an escape from the heat at urban areas, especially in boiling hot days of summer.
Ninh Chu Beach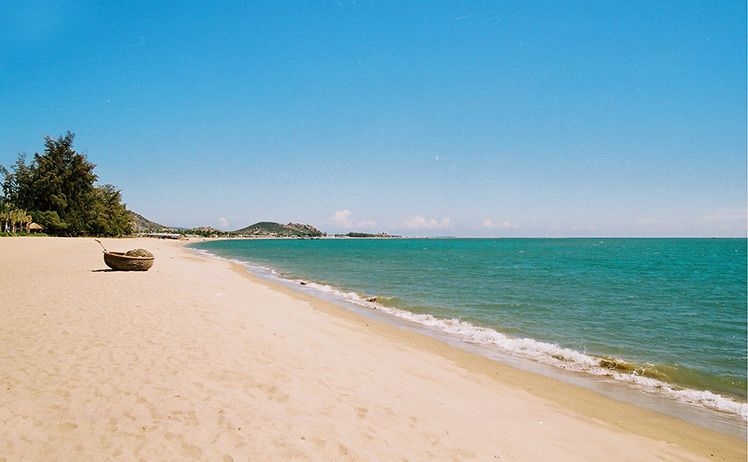 Ninh Chu is one of the most beautiful beaches in Ninh Thuan
Vietnam beach vacation will be incomplete unless the name of Ninh Chu Beach is included. Considered as the highlight of tourism in Ninh Thuan, Ninh Chu Beach is a must-see attraction whenever tourists plan for a journey to Ninh Thuan. Tourists get there to seek a new change in their daily life and get closer to the nature that they seem to forget due to busy schedules. The beach and the mountain are true masterpieces that Mother Earth blessed Vietnam. With every morning at Ninh Chu Beach, you can admire the alluring sunrise when the sky is covered with sparkling colors, hidden behind brilliant mountain ranges. If you are the one who falls into peacefulness, just feel free to sit under the shadow of aspen trees and enjoy a cup of coffee or taste tempting seafood from local vendors.
Binh Tien Beach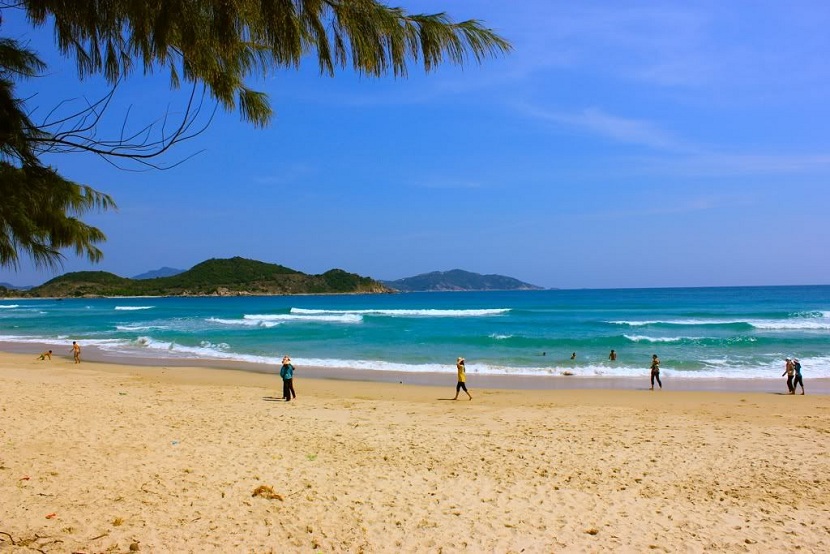 Binh Tien beach in Ninh Thuan
Binh Tien Beach truly deserves the name "a hidden gem of Ninh Thuan". Crystal clear water perfectly blended with glorious seashore makes the scenery here even more significant, intriguing tourists with its pristine and tranquil appearance. Surrounded by pine forests and mountains, Binh Tien Beach still keeps its pure beauty because luckily, the industry has make no change to this area yet. The beach is exceptionally charming when the night comes: the sky is covered with sparkling stars and the water turns itself to be a wonderful mirror reflecting the starry sky. Such marvelous view is just be seen at a few places in the world, and Binh Tien Beach is among one of these places.  Besides, the most amazing thing to do in Binh Tien Beach is perhaps fishing, for those who love fishing and look for peaceful moments to drink in the natural beauty.
Trang beach – Mui Dinh
Trang beach in Ninh Thuan
Trang beach is definitely a place for seeking relaxing moments and camping on quiet ground near the beach. Not as other touristy beaches, Trang beach has its attractiveness lying in unspoiled landscapes, which may sound strange to many visitors. From Trang beach, you can find a way to Mui Dinh lighthouse. On your way, you are sure to witness flocks of goats freely roaming and grazing in a wide area. Choosing to visit Mui Dinh lighthouse in the evening when the sunset comes, tourists will be given a chance to quietly step on the old path leading to the lighthouse. From Mui Dinh, peering down at the far-reaching sceneries, you can fancy the amazing picture of beaches, mountains, sand dunes and fishing villages excellently mixed with each other.
Ca Na Beach
Ca Na beach in Ninh Thuan
Ca Na Beach is undoubtedly a not-to-be-missed destination in your Vietnam beach break. Natural charm and unique cultural diversity make for the multi-dimensional beauty of this beach paradise, a hotspot for both domestic and foreign tourists. Best known as one of the most beautiful beaches in Vietnam, Ca Na features not only picture-perfect view but also luxury resorts around, where you will find some home comforts during your long day trip. Beside familiar specialties like salt or fish sauce, travelers can delight in mouth-watering seafood. Many can also opt for some small coral pieces as a souvenir for family and friends.
---