After exploring the lifestyle of Ho Chi Minh City and contemplating historical sites and unique French architecture structures here, you will be recommended to must-see pagodas letting you perceive the locals' religious culture amid the high-octane level. To perfect your Ho Chi Minh City tours, don't miss out!
Vinh Nghiem Pagoda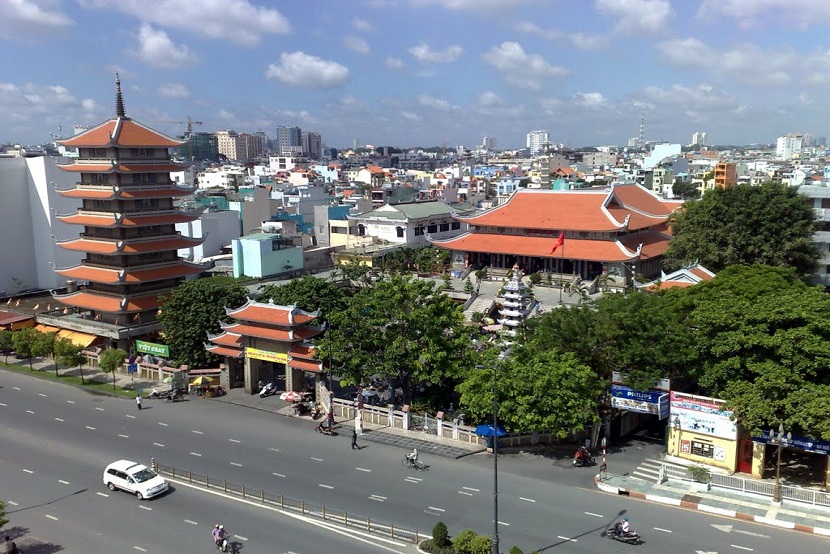 Vinh Nghiem pagoda, Ho Chi Minh city
In the case that your religious beliefs are prone to Buddhism or simply you would like to understand a little bit the architecture and history of pagodas in Vietnam, Vinh Nghiem in Ho Chi Minh City should be added to the itinerary for your Ho Chi Minh city tours. Erected within seven years (1964-1971), Vinh Nghiem Pagoda has the area of about 6,000 square meters and is exactly a complex of a pagoda, a four-story tower and a building where monks and nuns live and study. While the pagoda is designed to include a ground floor and a sanctuary on the top frequently open to visitors, the tower is for worship and other spiritual activities.
Especially, Vinh Nghiem Pagoda  – a must see pagoda in Ho Chi Minh city is a unique fusion of Vietnamese architectural style and Japanese influence, and built after the design of a pagoda in the northern Vietnam (they are the same name) under the support of Japan-Vietnam Friendship Association. Often, the locals will come here and pray for the best things for themselves and their family in festivals, e.g. Lunar New Year or the 15th day of each lunar month. It is also an exciting point in Vietnamese culture, deserving a try.
Thien Hau Pagoda
Thien Hau pagada, Ho Chi Minh city
Positioned at irrepressible Nguyen Trai Street, Thien Hau Pagoda – among must see pagodas in Ho Chi Minh city carries marks of Chinese culture as it is dedicated to a traditional Chinese goddess, namely Thien Hau. Not belonging to Buddhism, Thien Hau is merely a spiritual icon from the Chinese's seafaring culture, who is, in the fishermen's mind, capable of following their ships on the sea as well as protecting them from bad situations. Basically, the pagoda was erected with the goal of expressing their gratitude to Thien Hau due to what she has done for their seafaring work.
Although Thien Hau is not the most exquisite pagoda in Ho Chi Minh City, it is famous for awesome incense. There are countless coils of incense hung in the primary worship area, also in front of the altar; it will bring you a comfortable feel when it is being burned and you are roaming around here. Besides, what makes the pagoda more emerging is a range of unique decorations on roofs and walls, getting you absorbed for sure.
Emperor Jade Pagoda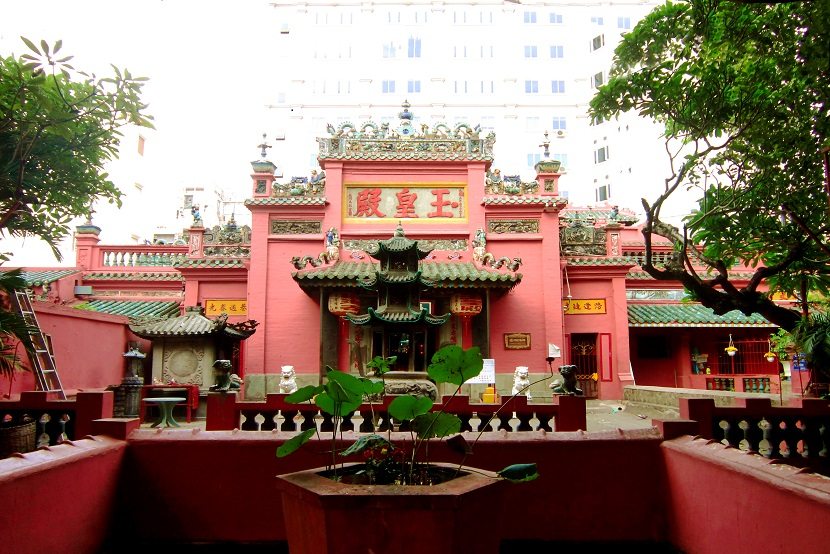 Ngoc Hoang Pagoda, Ho Chi Minh city
Perhaps, you have ever heard of Emperor Jade Pagoda before because it is where the USA President Barack Obama paid a visit one year ago. Ever wonder why this site was chosen for his visit in Vietnam? Built in 1909 by the Chinese community to revere the supreme Taoist god, the pagoda is an example of Mahayanist branch, belonging to Buddhism. For a visit here, the scenery around will open your mind to part of the religious culture of the locals. There are two Taoist statues inside; one is of the General, prevailing over the Green Dragon, and another is of the General against the White Tiger. For a Ho Chi Minh City tour with this destination, you will take a chance to obtain the more understanding of the locals' religious beliefs that they suppose that the Emperor is who will make a decision about who to set foot in the higher realm of the heaven.
Vietnam National Pagoda (Vietnam Quoc Tu)
Located at Ba Thang Hai Street and among the highest pagodas in Ho Chi Minh City, Vietnam Quoc Tu will be a must-see destination for your Ho Chi Minh City tour. What fascinates lots of travelers to the pagoda is its captivating beauty and mighty architectural style. Constructed in the 1960s, the site is depicted as a seven-story tower whose first one is open to visitors. It will be a great experience to walk and get to know about the religious culture around here.
Book now: Ho Chi Minh city tours (full day) price from $24
---