Surely, to people mapping out their trip to Vietnam and expecting the most valuable experiences, the more well thought out the itineraries to a specific destination are, the more confident they are in traveling. With my own experience of travel in the South Vietnam, hope the following journey to the Mekong Delta for 2 days can help.
Day 1: My Tho – Ben Tre
Soaking up the solemn ambiance and unique architecture of Vinh Trang Pagoda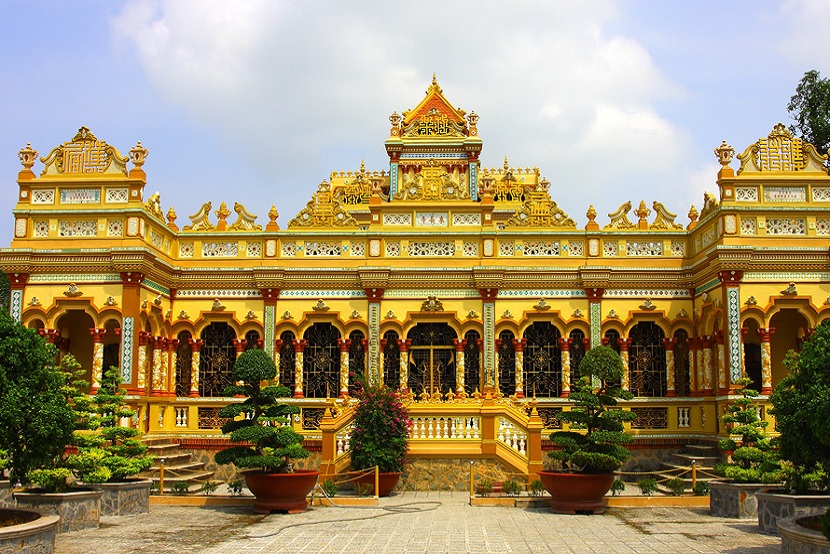 Vinh Trang pagoda
It is fairly easy to catch a bus from Ho Chi Minh City to My Tho City for your Mekong Delta trip. It just takes approximately one and a half hours to hit that spot. Tell the driver to drop you off at Vinh Trang Pagoda or ask the locals the way to get to this place if the bus is not allowed to stop there. Because the pagoda is one of the most famous religious places in the Mekong Delta, there is nothing to worry about being lost.
Right after entering the gate, you will be overwhelmed by the elaborate outer appearance of this architectural structure; here is indeed a sophisticated hybrid of Western and Asian styles, bearing intriguing features that deserve to be admired. Inside the pagoda is another prospect entitling you to understand more the religious belief of the Delta area. Perhaps, it will be a good idea to take the photos of giant statues around, astonishing you so much.
Experiencing at Con Phung (Unicorn Island) Tourist Attraction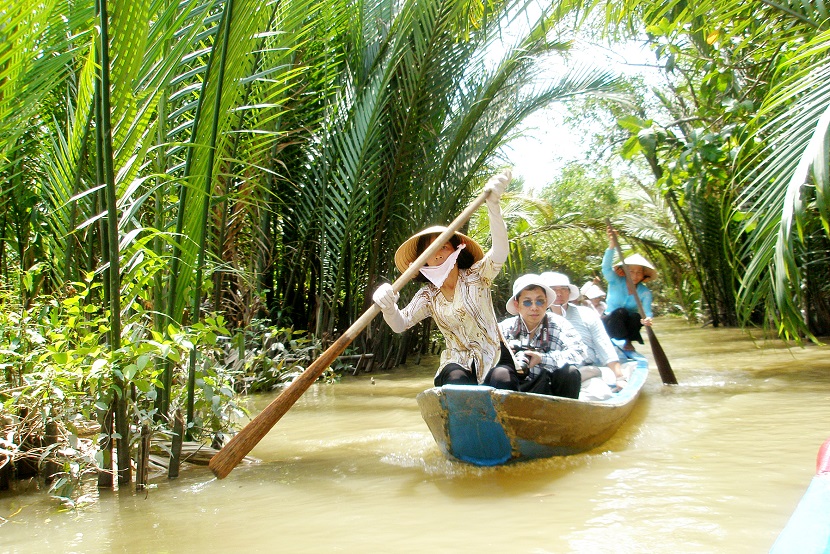 Leisurely being rowed on the calm water of narrow canals with nipa palms at two sides.
To perfect a day trip in My Tho-Ben Tre, it is clear that enjoying all activities in Con Phung Tourist Attraction is indispensable. Perhaps, going with a local English-speaking guide will let you gain fascinating insights into the culture and lifestyle of the water region. For instance, he can lead you to a unique architectural site of Dao Dua (the Coconut Religion) and explain to you where it came from. Besides, under the shadow of verdant gardens, there is nothing as ideal as sipping a cup of honey tea and savoring tropical fresh fruits while being entertained by a type of folk music, called "Don ca tai tu" in Vietnamese, deemed a brilliant feature in the locals' culture and spiritual life.
What definitely makes you be over the moon about the trip to My Tho-Ben Tre is a try of becoming a local farmer to drain ditches for fish. Words cannot exactly demonstrate the wonderful moment when you step into the muddy ditches and use traditional techniques to grab wriggling fishes like your booties. Additionally, I bet that you never resist leisurely being rowed on the calm water of narrow canals with nipa palms at two sides and trying your hand at fishing for crocodiles as those are stimulating enough to experience when you are on Unicorn Island.
Day 2: Can Tho City – Cai Rang Floating Market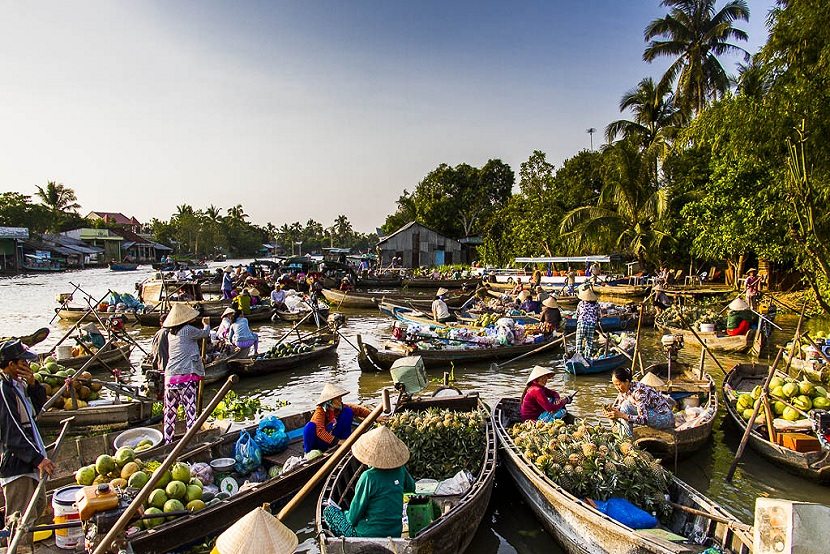 Cai Rang floating Market in Can Tho City
After a fully satisfying day trip in My Tho – Ben Tre, you need to quickly take the bus to Can Tho in the late afternoon. The reason for this rushed travel is, of course, that staying overnight at the hotel in Can Tho enables you to visit the floating market in the early next morning, a must for witnessing the most high-octane prospect and perceiving the soul of the water region. As for the accommodation, do not get anxious since there is a wide range of hotels at different standards right in the center of Can Tho City. Just get to know in advance via research and choose your favorite one.
The floating market often opens from 5:00AM to 7-8:00AM. Here, you can spot dozens of boats loaded with specific farming products, the locals busy with their trading, and even vendors offering breakfasts from their small sampans, all of which form a beautiful picture humming each moment. It is very nice to buy some fresh fruits or enjoy the breakfast while learning about the special market culture of this Delta region.
Another possible thing to experience in Can Tho City is to cycle around the pastoral villages' paths to gaze into fruit orchards. However, in recent years, some of those plantations have been touristy, so perhaps, you will see not much if there is no local guide taking you during the trip.
---