To fully absorb the essence of Vietnam – a small country rich in culture and art in Asia, you are highly advised not to lose out on the chance to grab the hidden charm from Vietnamese painting. There will be lots of interesting things revolving around sophisticated art works you never want to take your eye off. Let's see!
Vietnamese oil painting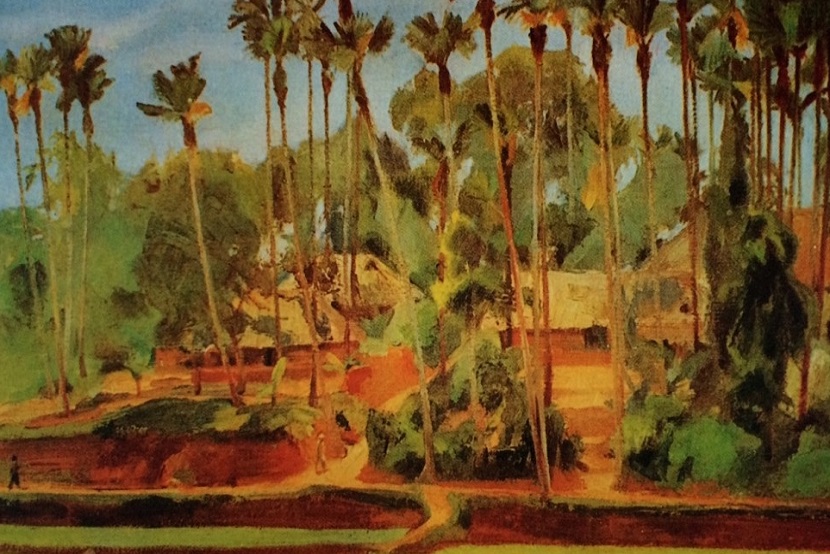 Palm Hills – 1957 (Luong Xuan Nhi)
Oil painting is one of the world's best-known types of painting. With oil as the key material, the paintings become brighter and more special, easily catching the viewers' attention. Oil paints have been used since the contemporary artists thought of how to mix linseed oil with organic pigments in the 15th century. From that time on techniques for making oil paints have undergone lots of improvement, and now we can find various modern types, but such mixing by hand is still a big challenge for Vietnamese young artists. If there is no proper balance between paint and flax seed oil, the art work will dry more slowly or have unexpected cracks on the surface.
In Vietnam, plenty of artists from Indochina College of Fine Arts were truly successful in oil painting. Especially, not only did they effectively use a new technique in painting, but also infuse the nation's soul into this material. Some artists in Vietnamese oil painting along their famous art work include To Ngoc Van (Two girls and a baby – 1943), Luong Xuan Nhi (Palm Hills – 1957), Tran Van Can (Little Thuy – 1943), and Luu Van Sin (Rural Landscape – 1956).
Vietnamese lacquer painting
Maids beside hibiscus tree – 1944 (Nguyen Gia Tri)
According to archeology in Vietnam, there were quite many lacquered objects discovered inside ancient tombs dating from the 3rd and 4th century. In the past, the Vietnamese people knew how to use the resin of the son tree for decoration and preservation. Throughout centuries, the technique in applying this type of tree to various small and big decoration projects have been developed in an amazing pace, and one of the revolutions is lacquer painting. Nowadays, Vietnamese young artists are on the way to find out new techniques for creatively using the resin of the son tree in painting in order to create the exquisite and brilliant art works.
Let's admire excellent lacquer paintings from several famous Vietnamese artists: Tran Quang Chan with his lacquer painting on the screen of bamboos and shadow in 1934, Nguyen Gia Tri (rural scenery – 1939, a maid beside hibiscus tree – 1944), and To Ngoc Van and Nguyen Tu Nghiem (servicemen playing the flute – 1948).
Vietnamese silk painting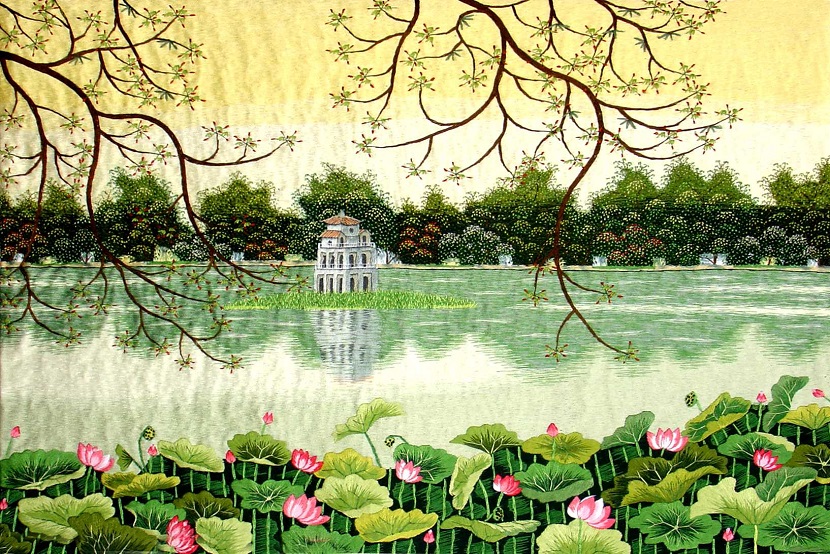 The beauty of Vietnamese silk painting
Through many regions of Vietnam, you will realize that Vietnamese painting on silk is quite common and an impressive feature in the country's essence. It derives from the Vietnamese artists' desire of seeking and creating the elaboration in their paintings. With the contemporary colors used in this type of painting, the creative art works have melted the heart of numerous art-lovers.
Lasting a long time for development and innovation in painting techniques and styles, silk painting has achieved the peak of success between 1925 and 1945. The most outstanding elements of silk painting are elegance, sophistication, and softness whereby it won two prizes at a reputable art competition in France in 1946.
Woodblock print – Vietnamese painting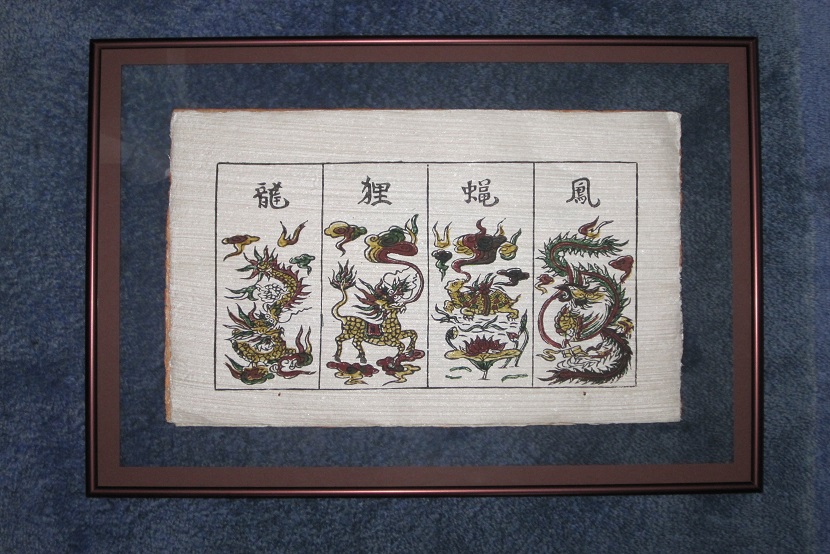 Woodblock print – Vietnamese painting
This Vietnamese art is supposed to partially stem from the Lunar New Year Festival in Ho Village to the north of Hanoi capital, Vietnam, when the inhabitants drew, cut and design on wood and print eye-catching pictures from the wood onto a type of homemade paper to decorate, sell or gift to others. This form of painting bears a special meaning as a wish of good luck, happiness and success for the receiver. It is known that here is the most popular pictorial art among idyllic villages of Vietnam, so with a trip to experience the serene atmosphere of the countryside, you can spot and delve into this type of art.
---