Ninh Thuan – a coastal province of Vietnam, 350km away from Ho Chi Minh City is undoubtedly a wonderful travel destination for your Vietnam tour packages since there are lots of things to explore here, like Ninh Chu Beach, Vinh Hy Bay, Phan Rang Reservation, Da Trang Mountain, Pi Nang Tac Stone Trap, etc. Especially, this is where you can find the large Cham community with a rich diversity in their culture. Now, the article will get you excited at influenced traditional festivals in Ninh Thuan helping you have a new look about the land's culture. 
Rija Nagar Festival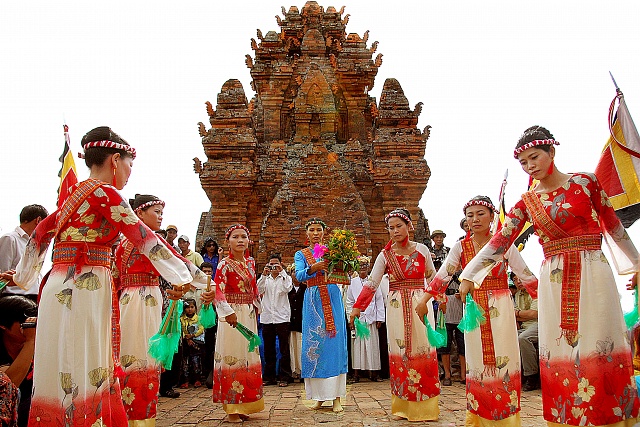 Rija Nagar Festival in Ninh Thuan
When arriving in Ninh Thuan Province, the best way to approach the lifestyle and culture of this land, you are advisable to join fascinating traditional festivals, one of which is Rija Nagar Festival held on April 23rd. As a cultural tradition of the Cham community, Rija Nagar Festival plays an important role in their religious belief. The crucial essence of the festival is that it is celebrated for the Cham people express their wishes for favorable weather conditions and crops in abundance.
Another interesting thing about the Rija Nagar Festival is that worship offerings you can see are goats, chickens, candles, popcorn, coconuts, rice, bananas, alcohol, and eggs, making a serious yet eye-catching perspective. Right after the drum is beaten and the clarinet's sound starts, the so-called shaman will lead essential rituals in the ceremony, such as performing folk dances and songs to pray for a peaceful year and heavy crops. During the festival, there are also many other stimulating cultural and sport activities like a way to improve the solidarity of the Cham community.
Ramawan Festival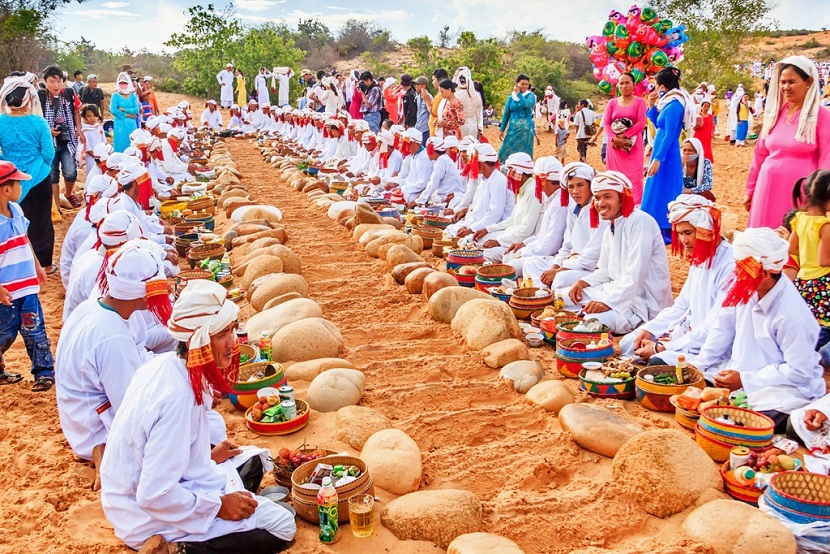 Ramawan Festival in Ninh Thuan
Ramawan Festival is an annual event celebrated at the end of August and the beginning of September according to the Muslim calendar. On this occasion, Cham people who are also Muslims will express their gratitude to their ancestors and as well dear departed relatives by traditional rituals and especially do folk entertainment activities at Cham villages. Of course, paying for an abundant crop, peace and happiness is also an indispensable ritual in the festival.
At each home, worship offerings vary and are divided into two types: sweet and savory dishes. Then, the family members will start worshiping some deity for protecting them and their relatives from unfortunate things. Not only is the festival taking place among the Cham community, but it also spreads through villages outside. It is possible to say that the event is a great opportunity for travelers to learn about traditional rituals, customs, and religious belief of the Cham people. Also, it is a special and interesting feature in their culture.
Kate Festival
Kate festival in Ninh Thuan
The fast traditional festival in Ninh Thuan you should join and experience is Kate Festival or Mbang Kate. This event takes place in three Champa Towers within three days at the beginning of October (the towers include Po Rome, Po Rome, Po Nagar). The Kate's main meaning is for commemorate the Cham people's heroes, such as Po Rome, Po Klong Garai and dear departed members in their families. Besides, this is also an occasion for the local people to chill out, meet, and pray for the good fortune.
Taking advantage of Kate Festival, visitors from many other areas can discover the quintessence in the Cham culture and their unique architectural style. In the festival, the Cham people will call their deities and ancestors through a shaman and then practice religious rituals to pray for wealth and health. In fact, this event is a sophisticated combination of traditional rituals and recreation activities like singing, dancing with traditional music, and performing Saranai Flute and Ginang Drum.
---