Strolling around late at night to feast on specialties or mouth-watering street food is surely a can't miss activity when you come to explore Vietnam. District 1, Saigon is labeled as a sleepless town humming days and nights, so there is never one thing like the lack of late night eats. Let's read to know about the most highly recommended ones.  
Chao Suon Chu Chen Restaurant for fans of late night eats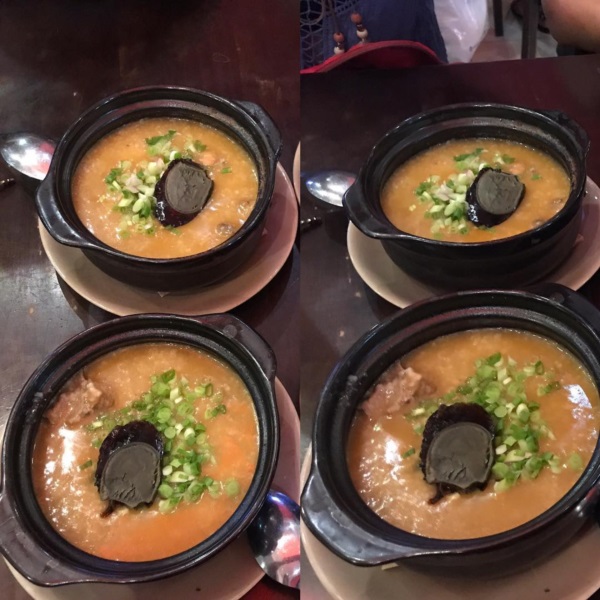 Address: 281 – 283 Nguyen Trai Street, Nguyen Cu Trinh Ward
Price: from VND100,000 – 150,000/guest
This restaurant specializes in pork rib porridge with 21 flavors to choose from, and each has its own color. When you leisurely walk at midnight in District 1, Saigon, a bowl of hot pork rib porridge will help warm your body. It's better to enjoy the food with a glass of milk tea – here is surely an awesome late night treat. Apart from porridge, the menu at the restaurant is also a wide selection of other tasteful dishes.
Pho Quynh Restaurant to eat and gather late at night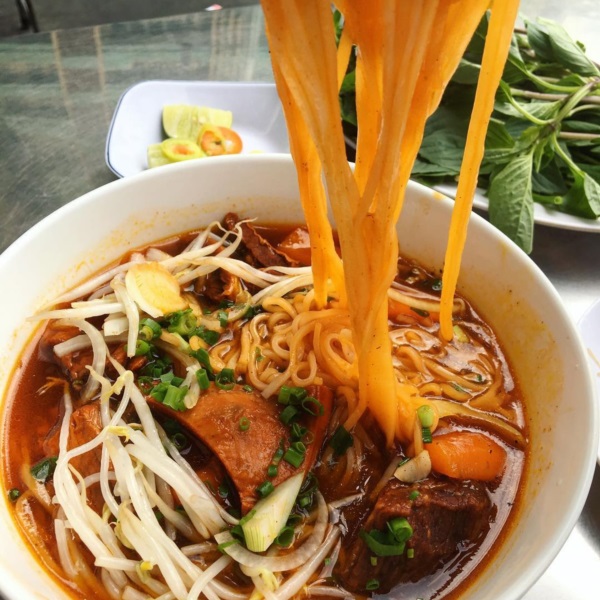 Address:
323 Pham Ngu Lao Street, Pham Ngu Lao Ward, District 1
293B Tran Hung Dao Street, Co Giang Ward, District 1
Price: from VND40,000 – VND50,000/guest
Pho Quynh is one of the latest night pho restaurants in District 1, Saigon, so it should be thought first if you feel your stomach is crying at 2:00AM. Not only is the broth really brilliant, but noodles and other ingredients are also perfect. Beef is tender and sweet while beef balls are amazing in texture.
Pho Ha Restaurant – a late night eat for people loving Pho of the North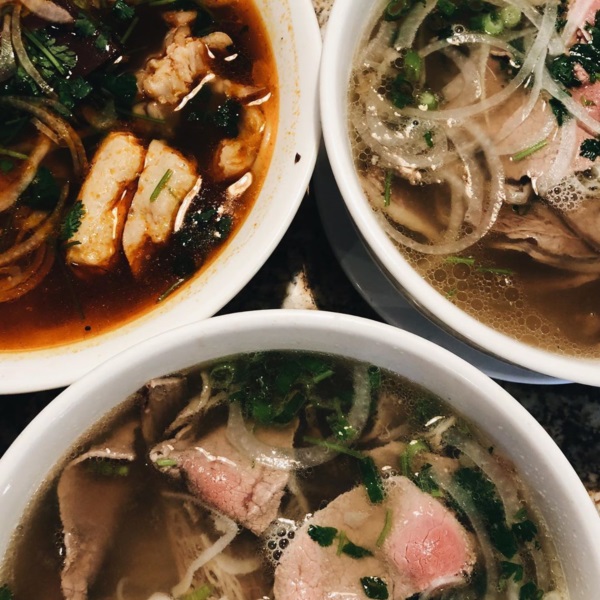 Address: 19 Hai Trieu Street
Price: from VND50,000 – VND75,000/guest
While Pho Quynh is cooked to have the favor of the South cuisine, Pho Ha aims at people fond of Pho of the North. Pho is ubiquitously found in District 1, Saigon, but Pho with the North flavor is not. And especially it will become more distinctive as the restaurant serving it is open up to 12:00 at midnight. Aside from Pho with beef, you can enjoy a bowl of pho with chicken; it's absolutely excellent.
Geylang Tuong Xanh Restaurant – eating late at night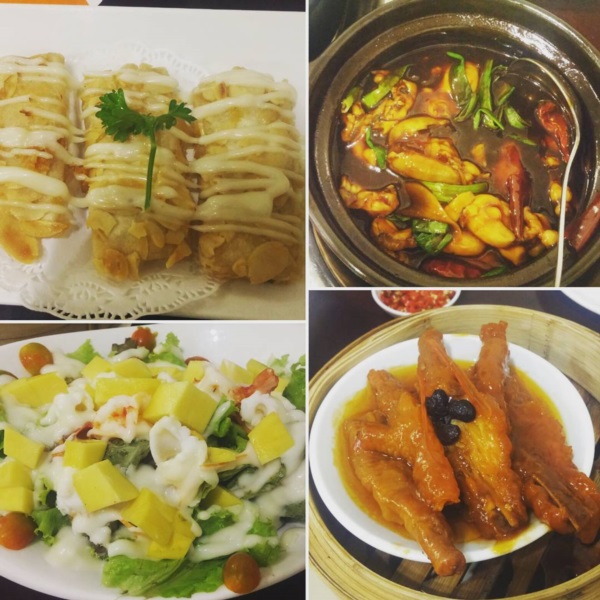 Address: 184 Nguyen Trai Street, Pham Ngu Lao Ward
Price: VND150,000 – 300,000/guest
It's fascinating to realize that there is a Singaporean restaurant right at the heart of downtown Saigon. It's exactly Geylang Tuong Xanh Restaurant with a menu full of unique culinary delights, such as beef with black pepper sauce, beef stir-fried with ginger, chicken steamed with salt, chicken steamed with mustard greens, steamed fish, crab with noodles, etc. It's possible to say that Geylang is not only a paradise for night owls, but also a hip restaurant with high-end services.
Oc Ay – an ideal late night eat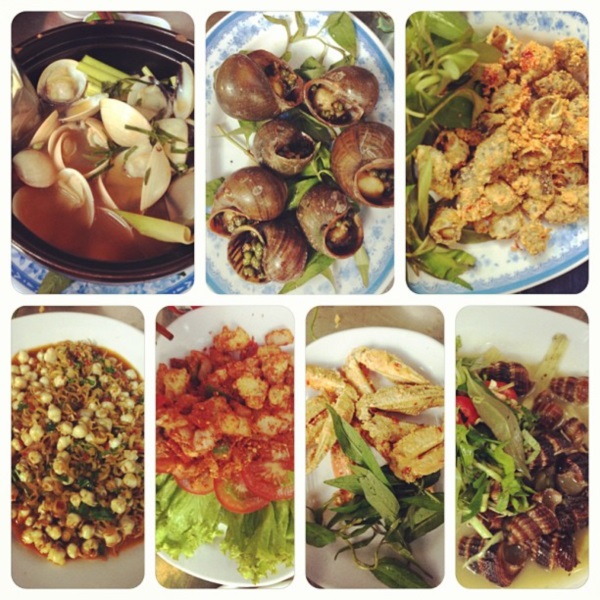 Address: 15 Nguyen Thi Minh Khai Street, Ben Nghe Ward
Price: VND50,000 – VND150,000/guest
Oc Ay primarily serves dishes from edible snails. It's surprising that you can takes lots of bites of snails in different flavors. The menu is quite impressive and comprises boiled snails enjoyed with fish sauce and ginger, snails fried with chilies, snails stir-fried with cheese or butter, etc. This restaurant often draws plenty of Saigonese teenagers.
Hung Xiu Restaurant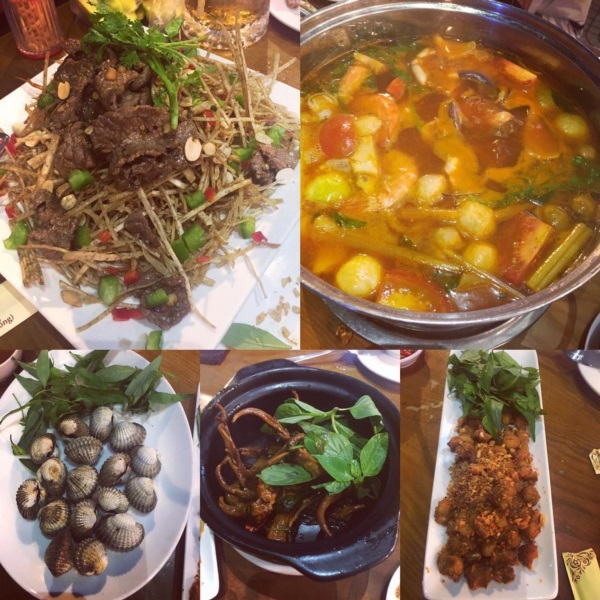 Address: 15 Nguyen Van Trang Street, Pham Ngu Lao Ward,
Price: from VND150,000 – VND300,000/guest
Hung Xiu is locally known as an indispensable spot for night owls in District 1, Saigon; the food is very delicious and the space is clean and ideal for eating late at night. The restaurant opens from 5:00PM to 5:00AM. The most impressive dishes there are chicken cartilage fried with salt and spicy stir-fried duck tongue.
Mi Cay Khuya Restaurant for late night foodies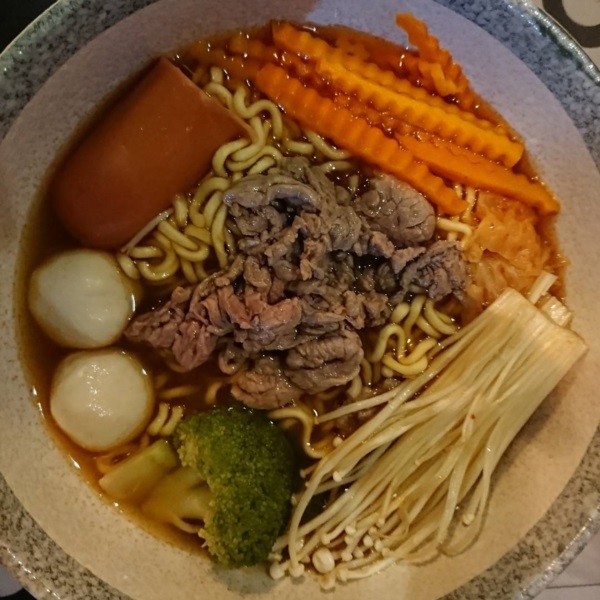 Address: 18 Nguyen Trai Street, Ward 2
Price: from VND 50,000 – VND100,000/guest
Mi Cay Khuya will be an alternative for those who love to go out and eat something late at night. It's quite popular among teenagers in District 1, Saigon. The most excellent delicacy of this place is spicy noodle. It's believed that the food first comes from the Korean cuisine. Yellow noodles are perfectly combined with other ingredients and put in a kind of spicy broth, making the food more attractive. An indispensable part of the food, creating sourness for it is kimchi – a specialty from Korea.
Mi Kho Quang Chau Restaurant
Address: 133 Nguyen Huu Cau Street, Tan Dinh Ward
Price: from VND50,000 – VND100,000/guest
Mi Kho Quang Chau is one of the Chinese restaurants serving noodle soups. It's located inside Tan Dinh Market, District 1, Saigon and certainly an awesome late night eat. The noodle soups originally come from the Chinese cuisine, so you can feel totally different from noodle soups of Vietnam. The stock is slightly sweet and transparent, and noodles are in the Chinese style. The bowl of noodle soup is full of toppings, such as pork, shrimps, pork organs and vegetables.
---