For a beach holiday in Vietnam, there is more than one place to choose from, but if you are staying in Ho Chi Minh City – the country's biggest city, and want to save time, Vung Tau is undoubtedly a must-have part in your itinerary. Let's read Vung Tau Travel Guide before you go.  
When to go to Vung Tau – Travel Guide
Lying in the tropical climate zone, Vung Tau is known as an ideal spot for traveling all year round. Just keep in mind that there are two seasons covering this coastal city: dry season – from November to April and rainy season – from May to October. The average temperature falls into 27 degree Celsius with the lowest at 24.8 and the peak at 28.6. If you would like to avoid the crowds and costly services, don't come there at weekends or in the holidays.
How to get to Vung Tau from Ho Chi Minh City – Travel Guide
Vung Tau is in proximity to Ho Chi Minh City, so it's easy to find out at least one means of transport to the destination. This Vung Tau Travel Guide will let you know all.
By coach
Mien Dong Bus Station is the place famous for all couches from Ho Chi Minh City to many provinces of Vietnam. Hence, just arrive at the station and buy one ticket for your route. The recommended transport companies consist of Futa Bus – Phuong Trang, Kumho Samco, Toan Thang, and Hoa Mai. The coach runs every 30 minutes. The prices vary between VND80,000 and VND250,000 according to the service quality.
By motorbike
Young travelers often prefer going to Vung Tau by motorbike because they can more carefully witness beautiful landscapes along the road, not to mention find easy to follow directions to the destination. It is just a 3-hour ride on handlebars.
By speedboat
The fastest and most exciting way to get to Vung Tau is by speedboat. It's indeed a wonderful experience for those who love speed on water. This service is offered by Greenlines, Petro Pacific Express, and Vina Express and available from 8:00AM to 3:30PM. One adult ticket is from VND200,000 to VND250,000, and the child is from VND100,000 to VND150,000. With the speedboat, it just takes you around 1.5 hours to hit Vung Tau City.
By tour
In the case that you don't have much time for your trip to Vietnam and want to save as much time as possible, a tour covering many attractions of Vung Tau will be a brilliant choice. Travel agents or tour operators in Ho Chi Minh City offers such a tour to Vung Tau.
Where to stay in Vung Tau – Travel guide
Situated next to the biggest city of Vietnam, Vung Tau is labeled as a perfect weekend getaway for those who adore sunbathing, swimming or simply chilling out at white sandy beaches. That's why this place is always chosen for short stays. And then people prefer high-end accommodations. The following is the list of the best ones you can consider in such a Vung Tau travel guide.
The Imperial Hotel Vung Tau
Address: 159 Thuy Van, Vung Tau City
Phone: 0254 3628 888
Price range: from VND 2,000,000 – USD87
Pullman Vung Tau
Address: 15 Thi Sach, Vung Tau City
Phone: 0254 3551 777
Price range: from VND 2,000,000 – USD87
Anoasis Resort Long Hai
Address: Road 44, Long Hai Town, Long Dien District, Ba Ria Vung Tau Province
Phone: 0254 3662 222
Price range: from VND 1,500,000 – USD 66
Malibu
Address: 263 Le Hong Phong Street, Vung Tau City
Phone: 0254 3577 779
Price range: from VND 1,500,000 – USD 66
Petrosetco Hotel
Address: 12 Truong Cong Dinh Street, Vung Tau City
Phone: 0254 3625 859
Price range: from VND 600,000 – USD 26
What to eat in Vung Tau – Travel Guide
Seafood
One of the irresistible things for a short trip to Vung Tau is seafood. The dishes from fresh seafood in Vung Vung are made in assorted ways. It may be grilled shrimps, grilled squids, squids stir-fried with chilli paste, grilled octopuses, seafood hotpot, crabs in sauces, boiled crabs served with chilli and lime salt, grilled fish, or streamed fish with ginger.  In Vung Tau Travel Guide, there are two recommendations for those who are fans of seafood:
Ganh Hao: 3 Tran Phu, Ward 5, Vung Tau (or 9 Ha Long, Ward 5, Vung Tau)
Lam Duong Seafood: 125B Tran Phu Street, Ward 5, Vung Tau
Edible snails
It's known to be an awesome experience when edible snails are served with some beers. This way to enjoy such food is quite common in big cities of Vietnam, like Hanoi, Da Nang, Ho Chi Minh City, or Vung Tau. The suggested restaurant is Oc 5 Tang, at A12 Nguyen Thai Hoc Street, Vung Tau.
Ray hotpot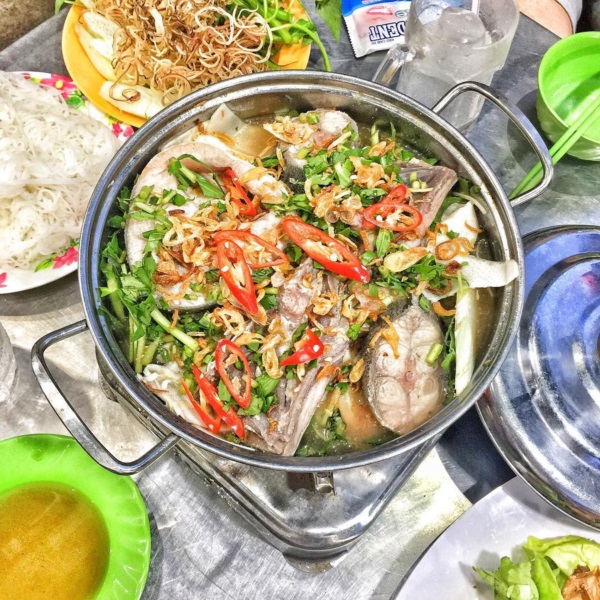 Ray is a type of sea creature with no bone. Their skeleton is made up of flexible cartilage. Hence, the ray hotpot is unique and attractive when the bites of ray are both tender and crispy. Don't lose out on a chance to taste the hotpot if you are explore the city of Vung Tau. The address highly recommended in this case is 40-44 Truong Cong Dinh Street, Vung Tau City
Mini salted egg yolk cake
Mini salted egg yolk cakes are quite the same to cupcakes in terms of shape. However, this Vung Tau's specialty will bring you a different experience in both texture and taste. While the cake part is slightly sweet and soft, the topping of egg yolk is slightly salt. You can find it at 17B Nguyen Truong To Street, Ward 2, Vung Tau.
Vietnamese mini pancakes
Perhaps, Vietnamese mini pancakes are found ubiquitously in big cities of the country, but this dish in Vung Tau is special so far. That's why you ought not to miss it out if you want your itinerary to Vung Tau to be made completely.
Where to visit in Vung Tau – Travel Guide 
Beaches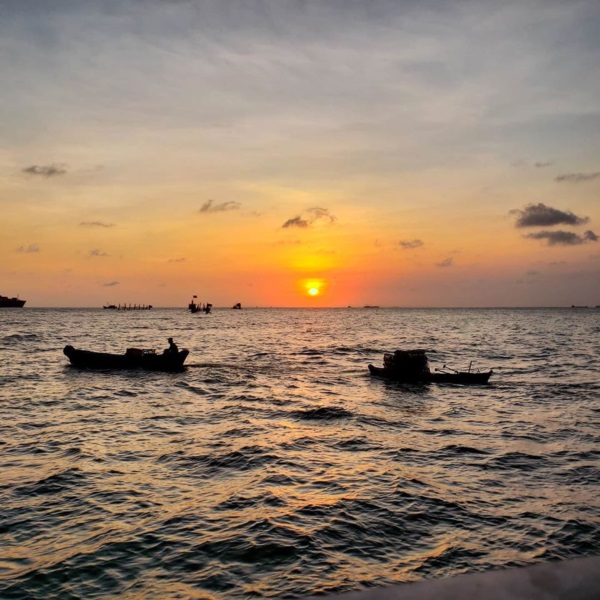 Vung Tau is a great place next to the Vietnam's biggest city for beach holidays; of course, doing water activities or simply unwinding at the beaches is certainly an indispensable thing in your bucket list. The beaches may be Bai Sau – Back Beach, Bai Truoc – Front Beach, or at Hon Ba Island.
Tuong Dai Chua Kito Vua – Christ the King Monument
Compared to Christ the Redeemer of Rio de Janeiro Brazil at the altitude of 38 meter, Christ the King Monument is labeled as the pride of locals. It perches on the top of the Little Mountain, making it emerge as a great symbol of Vung Tau. Climb the monument, and you will get a panoramic view of the whole Vung Tau and the sea when you reach the top.
White Palace
Erected in the French colonial era, White Palace was a summer retreat for Emperor Bao Dai and a vacation residence for Vietnamese heads of state as well. A visit to this villa is for learning about the cultural artifacts and ancient architecture. More than that, it's a chance to have an imaginary footage of the emperor's life in the 20th century.
The Robert Taylor Museum of Worldwide Arms
The museum is definitely awesome for people who are interested in a collection of weapons and something relevant to armies. Robert Taylor, who has lived in the city since 1991 established this museum and first displayed a small collection of weapons and army uniforms. Currently, the number climbs up to 2,000 items exhibited inside the building.
Aside from the four above attractions, in this Vung Tau Travel Guide, you also take a look at other exciting places, such as Battle of Long Tan – Ba Ria Vung Tau Province, Avalokiteshvara Pagoda, Ho May Park, Thang Tam Temple, and Lighthouse.
---