It's hard to resist the serene atmosphere from the Mekong rural life in Vietnam, especially when you get to have the authentic experience of the people, landscape, and culture of the delta. Let's book a day tour that leads you to sit on the boat to visit Cai Be floating market for some great tropical fruits.
This is your chance to meet and chat with other local sellers as well. But which rural destinations should you head to in the delta? The answer is just right below.
Dong Thap – The land of lotus in Vietnam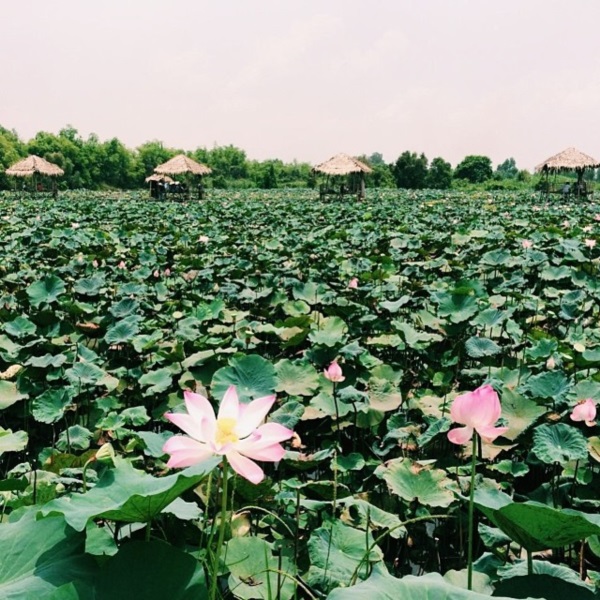 It stands as a distant rural site in the south of Vietnam, in several travelers' heads. Even though the remote location, this is such an appealing land of lotus that just a few of provinces in the delta can really compare. So if you're desiring to experience the pink beauty, then ensure to head to Dong Thap in the country.
But more than this, you can visit Tram Chim National Park, which is a real ecotourism miniature in Dong Thap Muoi region. It has a huge system of rivers and forests plus an abundance of flora and fauna. Also, this is a home of 200 types of birds in which some of them are already listed in the Red Book.
And the best thing about the park is the existence of the red-crown crane that is known as one of the world's 15 final crane species. Interestingly, these cranes will just find their food on this land, when the water level starts to rise up in the rainy season.
Vinh Long – A serene rural land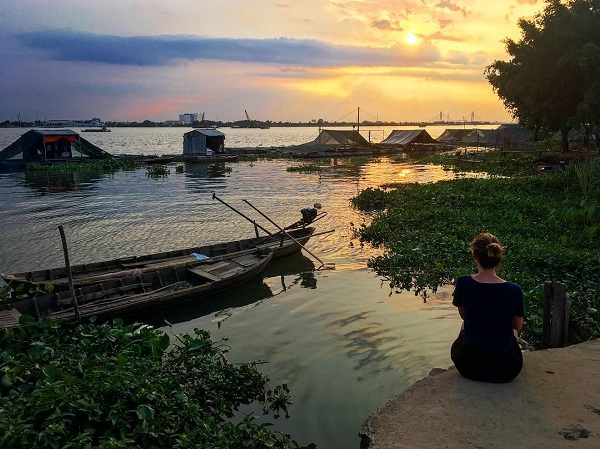 Let's state that you're a countryside enthusiast who would be more than willing to discover the entire Mekong Delta area, right? If so, then why don't you choose to go to Vinh Long destination today? Trust it or not, this is a great land of fishing where you're giving a closer look into a rural life and other activities that are hardly seen in the modern city.
And it doesn't matter if you have or haven't heard the name of Vinh Long before, this bit of information can convince that this land is really friendly, charming, and welcoming. And despite the fact that Vinh Long might be not the best option for the tour package as compared to others, coming to this site still makes you joyful when staying so close to nature.
Greater than that, you'll get to rest in a tranquil ambiance without suffering any stress. So if you finally select Vinh Long as the next destination for your journey, then get ready to go by water since this is the most common transport in this area.
Ben Tre – A coconut land
Ben Tre has been well-known as the land of coconut trees without a doubt, so if you're obsessed an eco-tour in the Mekong Delta, don't ever miss this region. It lies in the Southern Vietnam, where you can freely spend days and nights to immerse yourself with the green scenery around.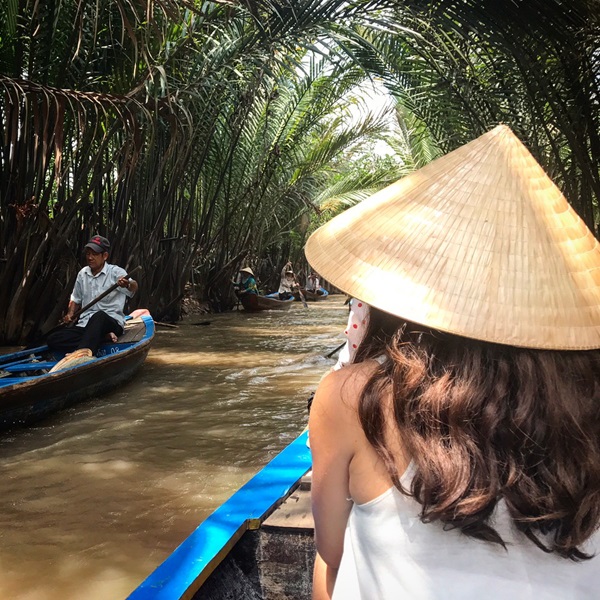 Ben Tre shares the borders with Tien Giang Province and owns connections with others in the delta through Rach Mieu bridge. Once coming here, you'll learn that apart from agriculture and fishing, the coconut trees here bring daily income to everyone living here. Therefore, coconut becomes the symbol of this land for decades.
Such coconut trees are found in every little corner of the region, which naturally creates the green surroundings. The locals tend to avail the coconut trunk for building their houses, the leaves to cook, or their shells to make handicrafts, not to mention their flesh that can be used to make the oil.
Can Tho – The evergreen city in the Delta
People remember Can Tho as one of the most popular names in the Mekong Delta region of Vietnam due to its green scenery. Bang Lang Stork Garden is an example. Not only that, with a lot of advantages for the aquatic source, tourism, urban infrastructure, and agriculture, Can Tho City doesn't find it hard to become an unbeatable tourist destination.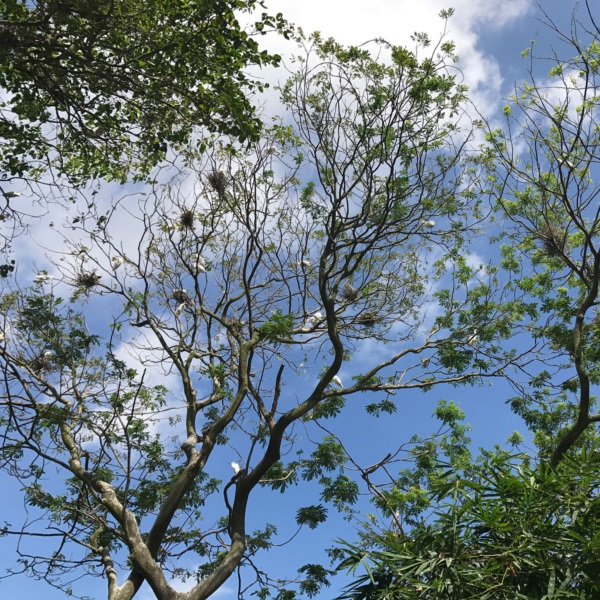 For those who love to witness the growing, appealing, and evergreen Mekong Delta site in Vietnam, then it must be Can Tho. Find it along Hau River and gets bordered by Cho Gao Province right in the north and the west. People call this place "Tay Do", which means that the capital of the southwest of Vietnam. This name also depicts the luxurious and beautiful traits of the city at that moment.
Nowadays, Can Tho has become one of the main economic zones in Vietnam that is being invested. And thanks to its culture and ecotourism, Can Tho city is filled up with only the attraction and the greenness.
Chau Doc – A spiritual land
Chau Doc finds no difficulty in drawing both local and foreign travelers' attention, particularly the pilgrims who's got the faith in Mieu Ba Chua Xu (Lady Temple). Besides, everyone just know this town thanks to its tasty fish pastes and floating villages. And whenever somebody asks you where is the most charming town in the Mekong Delta for a spiritual purpose, then Chau Doc should be the first option.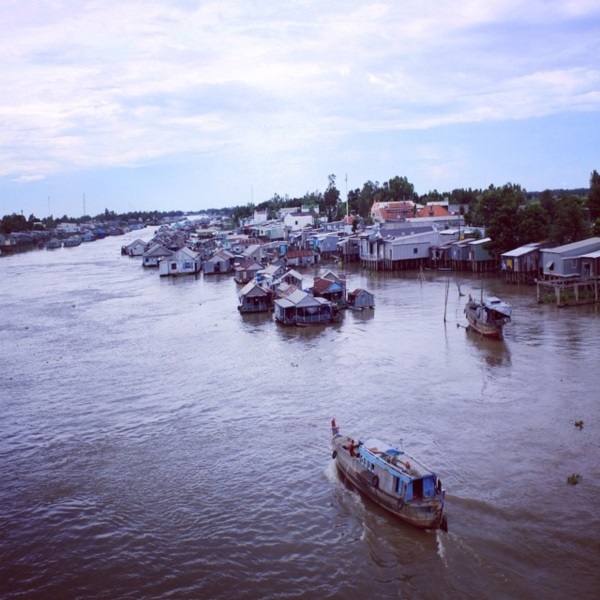 The town shares the same border with Cambodia, and often takes six hours to arrive on a bus trip. Besides, this place is a big home to many ethnic groups, such as the Cham, Kinh, Chinese, and Khmer groups. Among these, Kinh people are considered as the most crowded community who live almost everywhere.
So if you plan to travel to Chau Doc, don't miss viewing and experiencing the National Cultural Relic of the Lady Temple, Tay An Pagoda, Sam Mountain, and other floating villages.
Cai Lay – An idyllic and primitive site
Cai Lay lies on the Highway 1A, which links to Saigon and seen as quite convenient for tourism purpose. If you're obsessed with the rural life of Mekong Delta, then don't forget to take a day trip to Cai Lay where never fails to amaze you. It can offer you both fun and the freshest enjoyment that is hardly found anywhere else.
In front of your eyes are the boat sailing along the river, so along that waterway, you get to see the real charm of the green jungle here. It's interesting to take a bike ride to go around the village for one hour.
How about the locals living in Cai Lay District? Don't worry because all of them appear quite friendly to deal with. And thanks to their kindness, you're probably given more great chances to enjoy the local fresh fruits and several tasty dishes made by locals.
---