A picnic wouldn't be complete without delicious foods and fantastic view for you and beloved. At a place like Siem Reap, there are tons of temple to visit and crowded with tourists, you may find some difficulties to spot for a quality picnic time. If you are looking a nice place where it's not so bold in guide book, there is a place from Cardamon Sanctuary, called Prasat Kravan where located the east of Angkor Wat Temple and South of Banteay Kdei Temple area.
Unlike other temple in Angkor, Five Brick Towers Prasat Kravan is often ignored by visitors because of insufficient royal history and being a small size temple was not enough to attract visitors' attention. But if you are happen near the temple or passing by with the car, the reddish temple color itself stylish the eye-catching moment and will make you walk inside. The unique interior with brick craving temple in Angkor circuit, the temple is so wonderful to make a visit.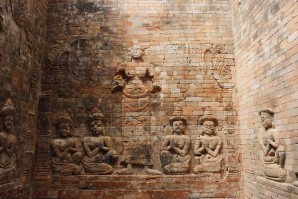 The temple is structured with unusual arrangement of five row towers which are made of brick block and sandstone. The quality of the brickwork is so visible after passing the years of century. The shape of the towers make unique and it is interesting to see the shadows in the afternoon time. All rowed five towers are located on a low platform in a field.
The central tower is dedicated to Vishnu, the popular Hindu god, and northern tower is referring to his wife Lakshimi, the goodness of fortune. There you can see the craving of Vishnu and his followers, as well as Garuda. All these temples structure has a remarkable simplicity and enchanting reliefs. Most of the brickwork are original bricks and restoration made with some new bricks with marks.
Trees are big enough to protect you from direct sun shine and the soil are green all the time as it's near the river. And plus there are a few vegetable field around will touch with more nature world.
The smallest brick temple is a place to witness the best brick craving in the kingdom of wonder – Cambodia. It will be the best temple picnic site on the natural green land with the view of ancient remains from 900 AD.
TNK Travel Team
---