Cambodia is situated along the Gulf of Thailand. The country offers plenty of features from highland to river of Mekong. You can have as many local taste from its cuisine and its destination.
This is a province situated at the north west of Cambodia. As one of the tourist hub, Siem Reap offers many places to go from there. The capital city is also called Siem Reap and it is located on the Tonle Sap Lake shore. As one of the biggest water reservoir in Asia, you will be fascinated by what it has to offer you. This city exists for decades ago since 17th century. It was Khmer kingdom who named it after beating Thai's army.
The charm of Siem Reap stretches from the river to provincial capital of the city. It is a gateway during the millennium era of Angkor. The artistic and legendary place is filled with archaeological artifacts that dated centuries ago. The visual result combined with a carpet of greeneries ar breathtaking!
–          The Psar Thmei Modernist Central Market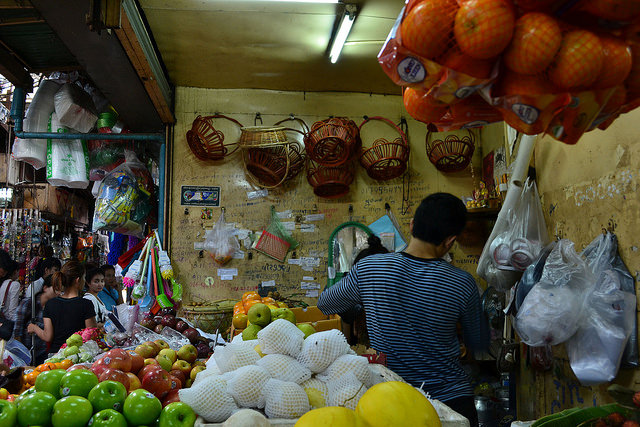 The traditional market is at Phnom Penh. You have to visit this place when you stay in the city. As one of the historical places, Psar Thmei Central Market provides you with grand market with artistic style of decoration. As one of the largest market in South East Asia, Psar thmei is filled with collection of beautiful things. This is considered as landmark that worth your time.
Since the French built it in 1937, Psar Thmei offers gold and silver shops, flowers, souvenirs, apparels and many more. It is open daily from 7 to 5 local time. if your destination is cheap shopping and bargaining, then this is the right pace for you. After the early construction, the area was renovated and the entrance is now lavish with many souvenir stores emblazone the spots. You can find almost anything from food to postcards.
 –          The Angkor ruins
As one of the Khmer empire evidence, Angkor ruins offers breathtaking scene. It is one of World heritage that today's travellers would die to see. The thousand of temples standing next to each other are the proof how magnificent the Cambodian kingdom. Angkor Wat is the largest religious monument in the universe. Even when you are Christian or Muslim, this is a destination to witness how a country respects the religion.
There are numerous temples which resembles Khmer Architecture. The preserved area is massive. Some of these buildings have been restored and it is worth seeing. Several temples are Banteay Srei, Ta Prohm, Bayon and many more. The ruins of Angkor can be easily reached from Phnom Penh. Simply go to Siem Reap city and take taxi or public transportation like bus. Thousands of travellers visit this place each year. Make sure you are one of them!
–          Terrace of Lepper King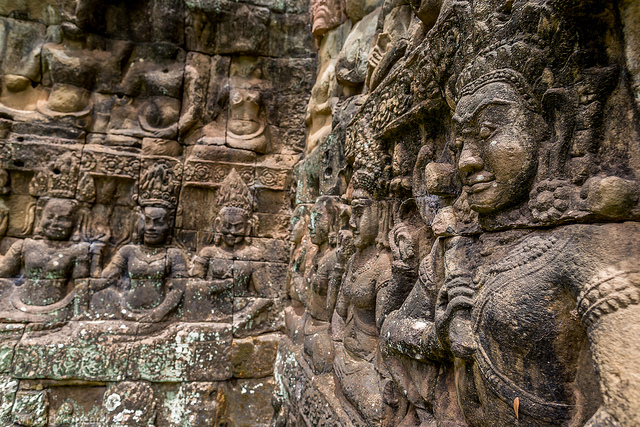 The Terrace of Leper King is a grandeur architectural during the Jayavarman VII king. The dramatic relief is admired by archaeologist and it is one of the composition that may be dated centuries ago.
The name Leper King was gotten because of the statue of a king in front of the terrace. The statue holds a position in seated with the right knee raised. Many experts consider this as a traditional style from Javanese. However, the statue you see today is only the replica because the real one has been moved to the National Museum.
Who is the man on the statue is still a mystery today. The theory shows that Jayavarman Vii is the man on the statue but since there is no historical fact that supports the clause, no one could actually claim that it is true. Most of the monument of Khmer ruins are temples. It shows how the people respect their religion and worship their god.
If you want to visit these famous places, you can join a group of other travellers or make y our own group and contact reliable travel agent in Cambodia.
TNK Travel
TNK Travel is a licensed travel agent with guides and staffs that could cater your need. They have years of experience in handling itineraries from almost every part of the world who would like to see Cambodia a little closer. The staffs are well trained and they are familiar with every tourism destinations in Cambodia. You don't have to worry about a thing.
The benefit of joining a travel agent is that they will arrange your schedule according to your flexibility. You can have short or long trip holiday within the budget and you don't have to pay extra fee that may not be necessary. TNK Travel has guided major destinations in Cambodia, Vietnam and nearby countries as well. Whether you travel alone or with family, be sure to check on their packages!
 Source: TNK Travel
---