One of the deserving destinations in an itinerary to Can Tho City, the Mekong Delta is Cai Rang Floating Market. Not only is the place famous for cultural elements exciting enough to learn, but it's also where to obtain special food experiences.
Something You Should Know First about Cai Rang Floating Market
Cai Rang Floating Market is located on Cai Rang River, Can Tho City and viewed as a distinctive characteristic in the culture of the Mekong Delta's people. As it just takes 30 minutes by boat to the market from Ninh Kieu Pier, the city center, surely here will be an indispensable part in a journey to explore Can Tho City.
In the past, the dense network of the Mekong River contributed to the establishment of Cai Rang Floating Market, not to mention the road traffic system which had not been built and developed before. Due to that, the habit of transporting agricultural products by boat started occurring and growing among the locals. It's possible to say in short that the market came into existence because of the locals' need of trading commodities, formed in the context of the lack of road transportation. One interesting thing is that today, despite the fact the life is more convenient with more means of transport, the floating market is still kept since it brings more values in terms of tourism, economy, and culture.
Best time to Visit Cai Rang Floating Market
While international travelers often ask about the best time to visit some destination, the answer in the case of Cai Rang Floating Market is at any time of year. Why? It's due to the tropical of Vietnam and the pleasant weather. With two seasons – dry and rainy seasons, anywhere in Vietnam will bring visitors specific experiences for each. The dry season from December to April is also the time of the fruit harvest while the rainy season has the cooler atmosphere to enjoy. Just one thing to remember is that you must come to the market early in the morning to see the most awesome prospect of the locals' daily life on the water.
Exploring inside Cai Rang Floating Market
The most pulsating prospect of the Mekong Delta
It's no exaggeration to say that witnessing the scene when people are trading their agricultural product in Cai Rang Floating Market is an unforgettable experience you have in your life. Flocks of boats lined up along waterways are waiting to transport, or they move to where they need to load the commodities. Just sitting on your boat and immersing in the atmosphere of the market, you'll definitely realize that the locals' life is seemingly entwined with the river, waterways, and boats, and wonder if they can live without this place.
Knowing about local products
There are plenty of things the locals trade from their boats, such as staple commodities, fruits, vegetables, etc. Wonderfully, it's a chance for you to enjoy tropical fruits which may have special tastes, such as durian, mangosteen, longan, rambutan, grapefruit, and star apple. Also, never ignore some indigenous specialties, e.g. fish sauce, dried fish, and coconut candy. While there is a wide selection as such and the boats are crowded on the river, you'll be told one way to recognize where to buy the above things. Each boat has a long bamboo pole on which the seller hangs what they want to sell. Just see the pole and you quickly know what the product is.
Food to eat right on the water
It's with great regret that you lose out on a fascinating eating experience in which you'll try something right in a floating restaurant when visiting Cai Rang Floating Market. It's easy to understand lots of floating restaurants are ready to serve people in the market as activities for the daily life begin very early in the morning. You can find out various luscious hot dishes, e.g. noodle soups, vermicelli soups, broken rice, and pho while your boat move along waterways. Each just costs around VND25,000/bowl. Furthermore, a cup of hot or iced coffee from a floating stall will melt your heart for certain. Many of the floating restaurants and stall there have offered their food and drink for about 30-40 years.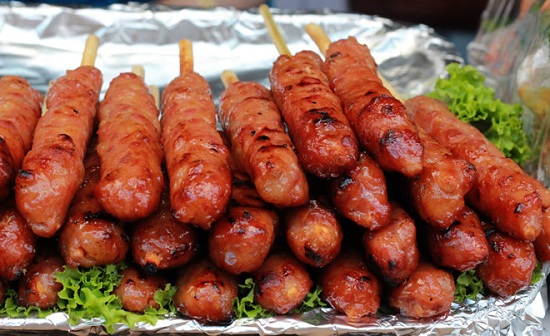 Do you know that the chef Gordon Ramsay of the MasterChef USA once came to Cai Rang Floating Market and enjoyed a bowl of noodle soup there? He actually couldn't resist the attraction of the dish and said that it's one of the best stocks he had ever tried.
How to Get to Cai Rang Floating Market
If you travel by yourself to Cai Rang Floating Market, here is the way you can enter and explore this destination step by step. Nevertheless, bear in mind that it costs you much money, time, and even effort in managing the trip.
First, catch a bus from Ho Chi Minh City to Can Tho City. Surely, it's not too difficult as there are many bus lines for this trip at Mien Tay Bus Station. The bus fare is approximately VND200,000. For those who don't want to waste too much time on the bus, a domestic flight from Ho Chi Minh City, Da Nang, or Hanoi is a good idea. Arrival is Can Tho International Airport.
Upon arrival in the city center of Can Tho, take a taxi or motorbike to Ninh Kieu Pier. It's just 6 kilometers between the two places.
Buy the boat ticket to Cai Rang Floating Market at Ninh Kieu Pier. It costs about VND40,000 – VND80,000. If you travel in a group, it's better to rent the whole boat, which is cheaper and offer you more destinations to visit during the boat ride.
Once again, notice that you should arrive in the market every early to grab the best moments of this place.
Another easier way to get to Cai Rang Floating Market is by a tour. There are dozens of travel agents in Ho Chi Minh City, which provide a tour to Cai Rang. Not only that, but it also gives you other interesting sights to see. If you want everything to be well organized, and not to spend too much time searching for directions, a group tour can help. Normally, a tour in which Cai Rang Floating Marketing is included is the kind of Mekong Delta Tour, and apart from the market, it will also take you to Ben Tre – the coconut kingdom, An Giang – the land of the Cham community, and others. The price varies according to the service quality. And it's sure that a private tour to Cai Rang Floating Market will be more expensive.
Some advice on the trip to Cai Rang Floating Market
The hustling scene of Cai Rang Floating Market is very early, probably before 7:00AM. Try to arrange your trip so that you arrive by that time, which enables you to see the most exciting things in the locals' daily life on the river.
After the market is not crowded anymore, it's when the temperature starts to be hotter. Don't forget to bring sunblock and hat with you.
Taking a beautiful picture is probably what you are expecting when having a trip to Cai Rang Floating Market. Just ask the locals or the guide since they will know where to have the best ones.
When searching for a group tour to Cai Rang Floating Market, just pick from a tour operator since they will bring you the best experiences.
---