As one of the travel gems in Southeast Asia, Vietnam becomes an ideal destination for those who wish to immerse in the picturesque natural scenery and engage in meaningful cultural experiences. If you are confused about where to go and what to do for Vietnam Travel Package in order to have the most unforgettable memories in this S-shaped country, let's read here. Whether you are planning to explore a jungle adventure, arranging a historical tour, or simply aiming for a relaxing beach getaway, you surely never go wrong when setting foot on this beautiful country. 
Suggestions for Northern Vietnam Travel package
To fully enjoy the charm of scenes and hospitality of Vietnamese, nowhere is it more excellent than in the North of Vietnam. Let's start the trip from Hanoi – the capital city and historical place of the country. Then, continue discovering the foggy town of Sapa – a typical Vietnamese remote area. Of course, don't miss the magnificence of Halong Bay – the place of scenery, caves and grottoes. The following covers where to go and what to do for Vietnam Travel Package in the North.
Hanoi – a lively capital with impressive historical architecture
A vacation in Vietnam is incomplete without visiting the charming capital city of Vietnam. With the ideal combination of historical buildings and cultural influences, there is no shortage of things and activities you can see in the city, from shopping, eating and drinking, to reputable sites. Along with lively areas, you should also spend time visiting peaceful spots with lots of greenery. How about the capital's cuisine? Yup, the food here is absolutely delicious and inexpensive.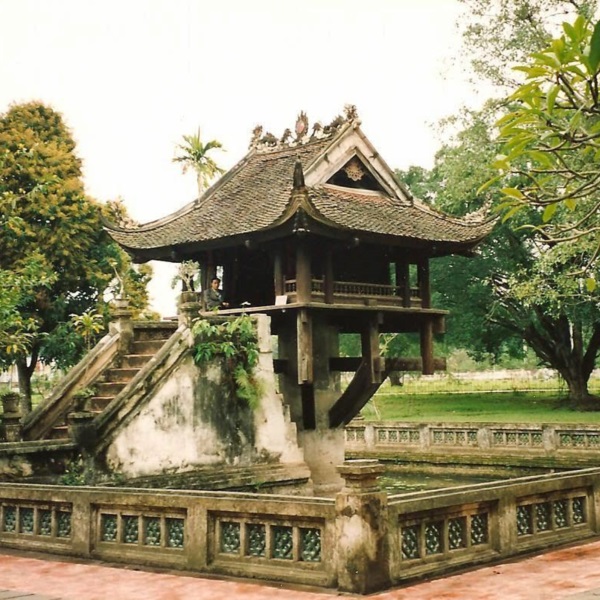 Experiences not to miss
Learn more about the life of Uncle Ho by visiting Ho Chi Minh Complex, including the Ho Chi Minh Mausoleum, the Presidential Palace, Ho Chi Minh's House on stilts and the One Pillar Pagoda.
Explore the Temple of Literature – the first university in Vietnam.
Take a relaxing promenade around Hoan Kiem Lake. Then, walk to the nearby Ngoc Son temple.
Sapa – a place for natural scenery and travel experience
Noticeable as a hill station town in Northern Vietnam, Sapa draws much attention from tourists by its awe-inspiring scenery, ethnic villages, beautiful trekking routes, and hill-tribe communities. The best time to begin Vietnam holiday packages to the town is from March to May and from September to November when you can marvel at the glamor of green fields, spectacular mountains, terraced rice paddies, and flowers. During the autumn, the weather is cool, which makes the trekking experience in the region highly enjoyable. Let's see in more detail where to go and what to do for Vietnam Travel Package in Sapa.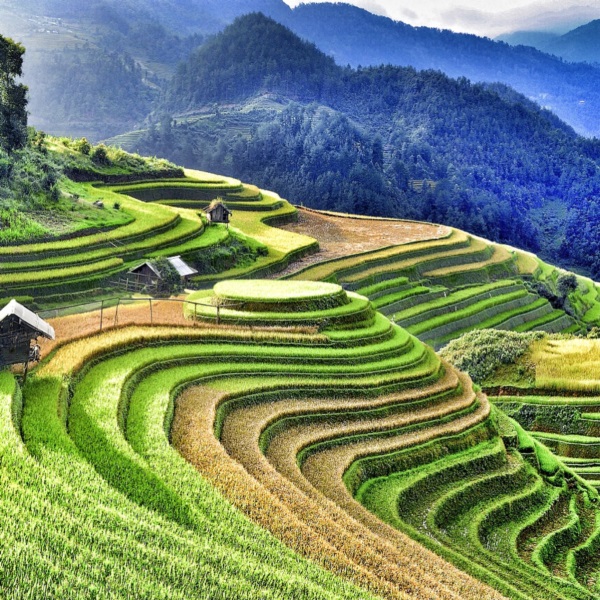 Experiences not to miss – what to do 
Go hiking through Muong Hoa Valley and soak in the imposing view around. Remember to bring the camera with you, as the landscapes will reward you with a lot of the best pictures.
Visit local ethnic villages, like Lao Chai, Ta Van, Cat Cat, and Ta Phin. See the daily life of the locals as they harvest the fields, sew traditional clothes, and even cook.
Halong Bay – the UNESCO World Heritage Site for contemplation
Halong Bay should not be missed in Viet Nam travel package to the North for a good reason. The bay gets its reputation not only as the UNESCO World Heritage Site, but also for thousands of towering limestone of unique shapes, stunning islands, and astonishing caves. Furthermore, there are many interesting things to do here, from rock climbing, scuba diving, and hiking to adventuring deep into the caves. Enjoying a cruise on the Bay is what you should try once in a lifetime!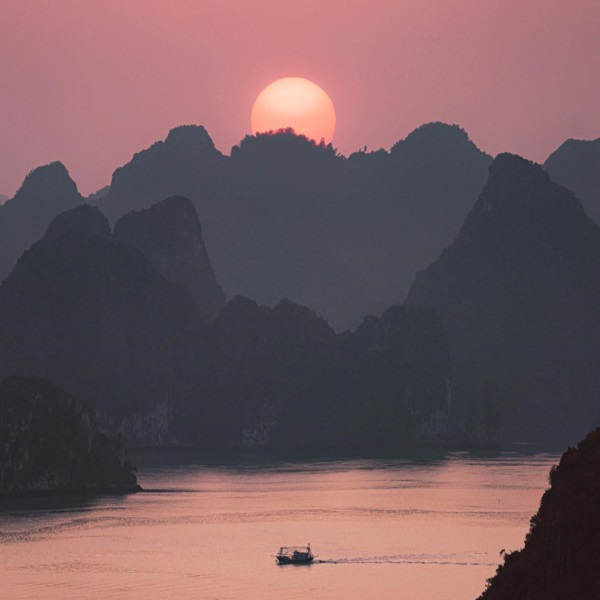 Experiences not to miss – what to do 
Marvel at the Bay's surrounding scenery by making a peaceful cruise.
Go sightseeing a few popular islands, such as Dinh Huong Island, Ga Choi Island, Dog Island, and Sail Island.
Explore the magnificence of Sung Sot Cave – one of the hugest and nicest caves in Halong.
Get lost in the Vung Vieng fishing village to learn more about the everyday life of the locals.
Suggestions for Central Vietnam Travel package
Central Vietnam is widely reputable for its well-preserved historical sites, amazing natural beauty, and smiling locals. Start to know where to go and what to do for Vietnam Travel Package in Hue, embracing royal citadels, tombs, pagodas and temples. Then, admire the greenest and the most worth-living city of Da Nang. Finally, leisurely stroll down the narrow streets of Hoi An Town, where you still find timber-framed houses and colorful lanterns.
Hue City – a destination to learn more about Vietnam's rich history
Hue becomes a great stop that should be included in Vietnam travel packages to the Middle. The city was once the home to the Nguyen Dynasty – the last ruling family in Vietnam and was the national capital in the past. In addition to many historical sites, travelers are also fond of enjoying the tranquil scenery along the Perfume River.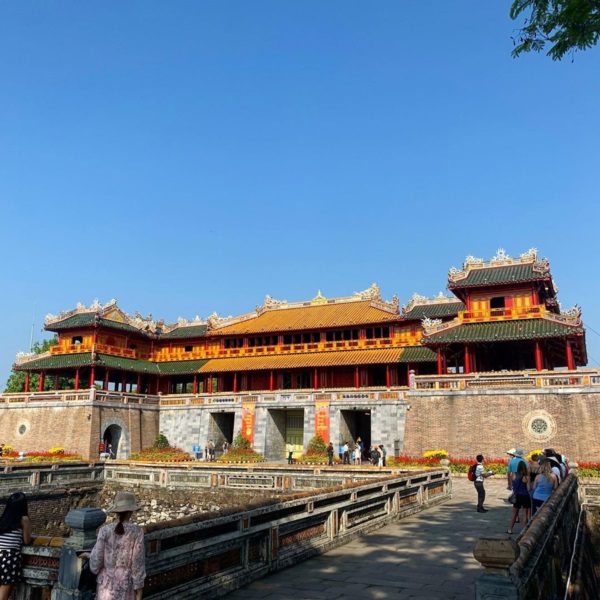 Experiences not to miss – what to do 
Go to see two of the most popular seven imperial tombs in the city, namely the tombs of Minh Mang and Khai Đinh.
Feast your eyes on the performing programs of VO KINH VAN AN – a Traditional Kung Fu.
Spend hours wandering around Hue's Imperial City and marveling at the intricate architecture.
Stop by Thien Mu Pagoda. Climb to the top to get the peaceful views of the Perfume River.
Da Nang – A green, clean, and beautiful city
As Vietnam's fifth biggest city, Da Nang has its own charm which is a blend the modern and tradition. It widely boasts lots of the modern amenities of both Hanoi and Ho Chi Minh City, but with a more soothing and seaside vibe. Astounding scenery with a long stretch of soft-sandy beaches and dramatic mountains inland are the city's big draw, which attracts more and more visitors each year.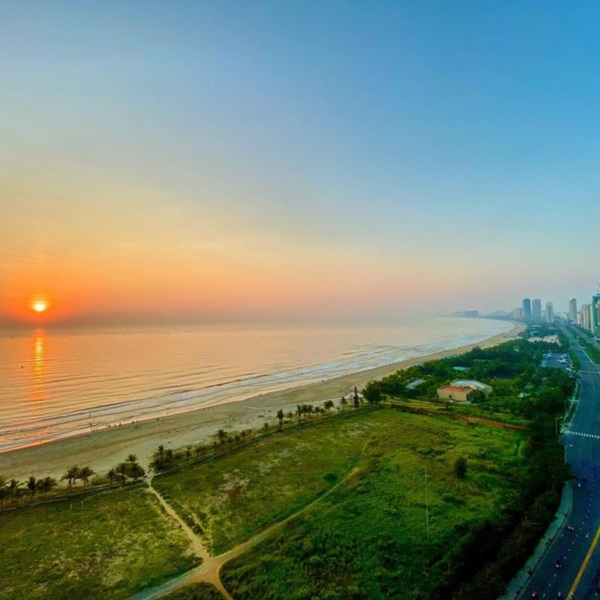 Experiences not to miss – what to do 
Explore one of Da Nang's fantastic features – Marble Mountains. Each of the impressive mountains is named after the 5 elements: Earth, Wood, Water, Fire, and Metal.
Drop by the Museum of Cham Sculpture where you can know more about the creativity and skill of the Champa people that once settled Da Nang.
Hoi An – A laid-back quaint town
Another UNESCO Heritage Site is Hoi An City, which is located on the central coast of Vietnam. Thanks to its unique mixture of historical architecture and exciting traditional culture, Hoi An is widely gaining in popularity with backpackers and travelers around the world. Parts of the port town remain preserved at the Old Town of Hoi An. The city is especially gorgeous at night, when atmospheric streets are illuminated by pretty and colorful lanterns.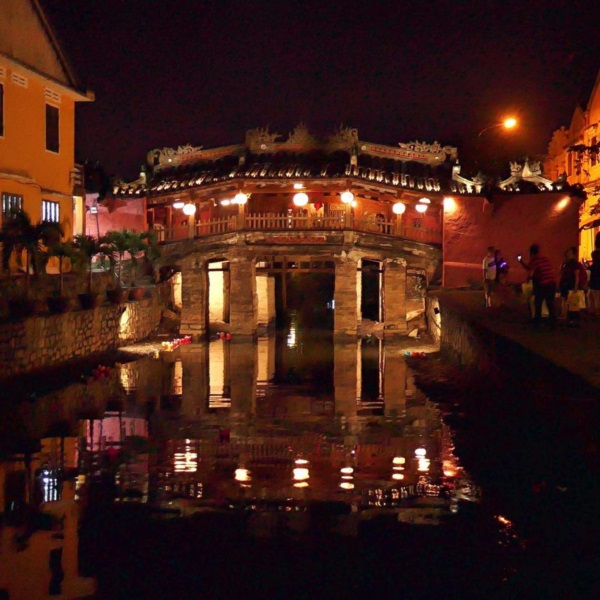 Experiences not to miss – what to do 
Come to visit Hoi An's Ancient Town. Go stroll around the old and narrow streets, beautiful old-age houses, and small shops. Along the way, stop by the iconic and nice Japanese Covered Bridge, Tan Ky Ancient House, or Hoi Quan Phuc Kien Pagoda
Escape the busy area of Hoi An for a peaceful arrival to the Cham Holy land. This UNESCO site helps you to learn more about the life of Champa people during Cham dynasty.
Enjoy a boat trip along Thu Bon River. Widen your knowledge on the local life by dropping by Thanh Ha ceramic village and Kim Bong furniture village.
Suggestions for Southern Vietnam travel package
The South is a sensory overload of exciting-to-explored destinations, fulfilling flavors, and thrilling activities and a great option regarding where to go and what to do for Vietnam Travel Package. Prepare to be amazed by the chaotic vibe of Ho Chi Minh, then learn the country's history by heading towards Cu Chi, get a better understanding of the rural lifestyle of locals in Mekong Delta, and admire the unique characteristic of floating markets. Yes, trips to Southern Vietnam are when your five senses of sight, smell, hearing, touch, and taste work at best.
Ho Chi Minh City – a vibrant and bustling city
As the biggest city in the S-shaped country, Ho Chi Minh City is where the old meets the new. What does that mean? There are new spectacular skyscrapers, modern shopping centers, and luxurious restaurants which stand side by side with the old colonial French architecture. You can find everything here, from historical museums and impressive churches to exotic food and coffee hangout spots.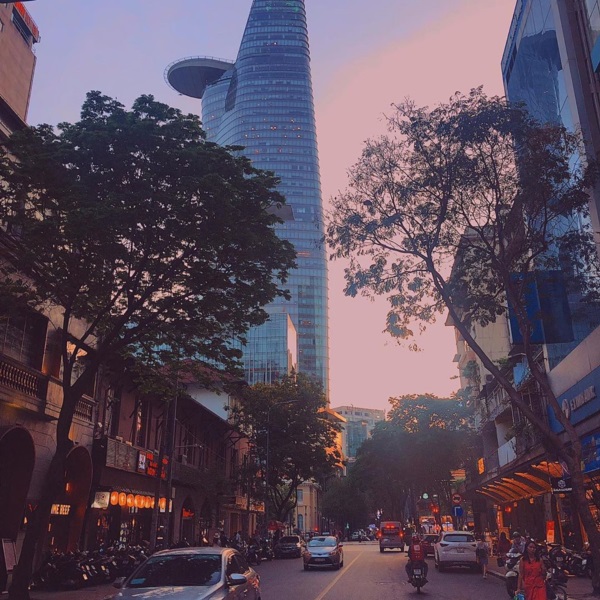 Experiences not to miss – what to do 
Spend time coming to Saigon's typical attractions, like the Reunification Palace, Notre Dame Cathedral, Old Central Post Office, War Remnants Museum, etc.
Learn the spiritual life of the citizens by visiting Thien Hau, Quan Am, and Emperor Jade Pagoda.
Shop around and sample some tasty local food from the vendors at Ben Thanh Market. Prepare for crowds as this market is very popular to both the locals and tourists.
Head towards Tay Ninh – the center of Caodaism. It is highly recommended to combine the trip to Cao Dai temple in Tay Ninh with the visit to Cu Chi Tunnels.
Mekong Delta – home of orchards, floating markets, and rural ambiance
Viet Nam holiday package is incomplete without a trip to the country's rice basket – Mekong Delta. The region leaves a strong impression on guests by the fertile vista of rice fields, vast canals and rivers, lush orchards, and friendly locals. In addition to floating markets and villages which become the region's big magnet, the simple lifestyle in Mekong Delta and peaceful atmosphere are what hold visitors from leaving.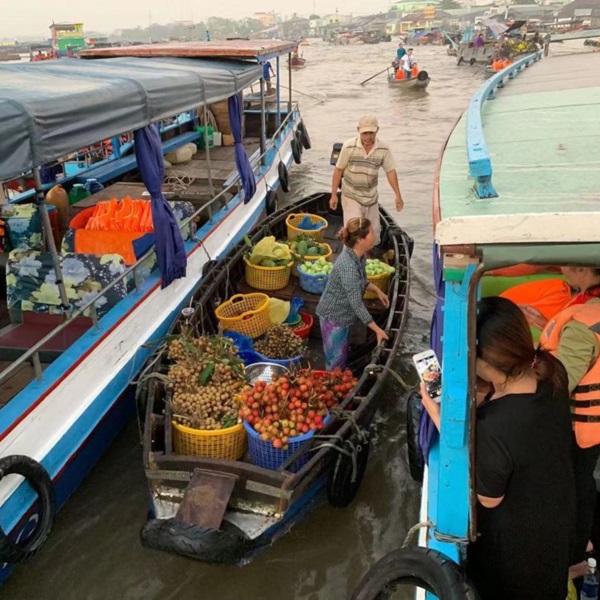 Experiences not to miss – what to do 
Enjoy the chaotic and lively vibe of My Tho wholesale fruit market.
Take a boat ride on Tan Thach natural canal in Ben Tre and capture shots of the beautiful water coconut trees.
Shop in the Cai Rang Floating Market in Can Tho. To catch the valuable moments of the market, try to wake up early (about 5 AM). Learn the local activities on boat and immerse in the dynamic atmosphere here. There are many local foods and tropical fruits to satisfy your taste buds.
For sure, there are also other places in Vietnam to visit. Although each destination brings you different and memorable experiences, let's take your budget, plan, time, and need into consideration before booking any tour. For a start, these few destinations can be great for designing Vietnam Travel Package. Happy exploring!
---