When you are in south-east Asia, either visiting world famous party destination Bangkok, or bustling business center Shangai, Cambodia is a definite must-see. Reserve at least five days for enjoying in Cambodia, with inevitable Angkor trekking tour.
One of options to enjoy in cheap tour packages in Cambodia when coming from Thailand, is to get Thailand public transportation to Cambodia border and then arrive with bus to Siam Riep. Roads to Siam Riap are very good and trip with bus will last only few hours. Additionally, you will enjoy colorful road trip with people from all over the world, who are coming to this amazing history center to enjoy the sights. "TNK Travel" is reputable agency that will organize your visit Cambodia from there, so you can fully enjoy the experience, without worrying about details.
Siam Riep in Cambodia
Siam Riep is today primarily tourist city that is dedicated to satisfy tourist needs. Most interesting element in this experience is the fact that Cambodia is generally not a high-class destination such as London or Paris, so entire atmosphere is very sweet and colorful! Streets are bustling with stands, bars, beauty parlors, massage salons, there are hundreds of services and goods on every street corner-and it is very affordable for regular tourist. In Cambodia average salary is no more than $100 a month, so even $2 for 15 minutes massage is for them pricey. So you can imagine just how much you can get for your money!
Also, have in mind that all displayed prices are merely informative and available to negotiation, but once you see very affordable price along with poor conditions around you, we are actually quite sure you will not want to negotiate too much.
Cambodia river cruise Siem Reap is an amazing opportunity to see natural beauties in and around city. One of amazing options is festivity of light and water, which is a ritual that consists of letting down the river wreath of flowers with candles, which gives an entire city festive look, similar to Christmas decorations in European cities.
Temples in Cambodia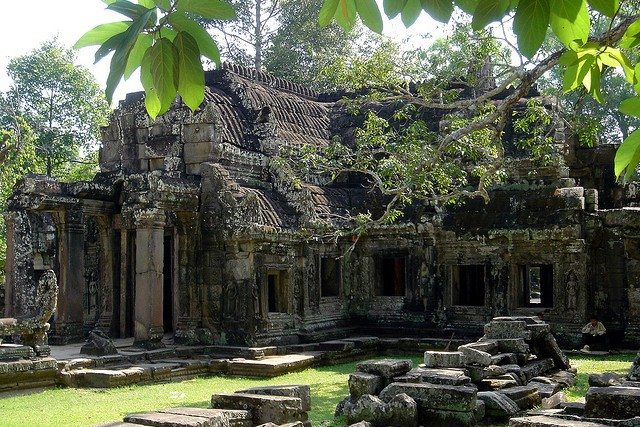 After a stay in air-conditioned apartment in comfortable hotel, go to pleasurable Angkor cycling tour. Angkor Wat is the most famous temple in Angkor complex of temples, one among many, but quite special. You will not have enough time to visit all the temples even if you stay for a week!
Cycling tour is just one of options to visit Angkor complex. There are other options, such as renting a taxi for approximately $20 or private tuk-tuk taxi for $12 that will drive you from one temple to another, wait until you finish tour while telling you tourist info along the way.
One of destinations to visit is definitely Angkor Thom, capital of Khmer Empire in 12th and 13th century, especially famous for Bayon Temple. Afterwards visit Ta Phrom temple, famous these days for being a filming location of Tomb Raider. It is particularly beautiful for its wild beauty, because it is mostly covered in jungle.
Angkor Wat is the largest and the most preserved temple in the reigon. All the temples are actually surrounded with jungle forest, so it is really special experience to climb on top of the temple and see that amazing unity of temple and jungle.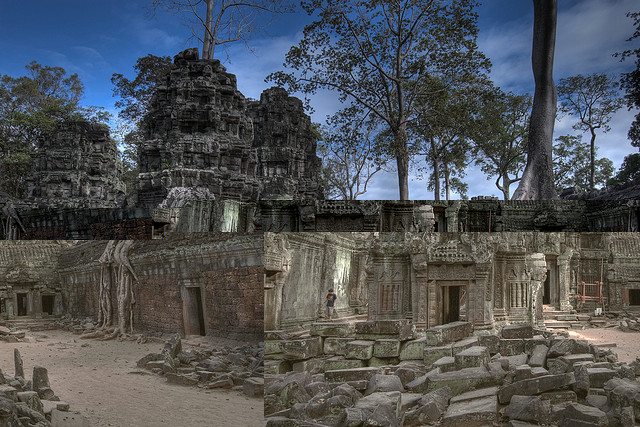 End this day of your majestic cambodia adventure tour with a visit to Phnom Bakheng that is located on the hill, so you canenjoy the most amazing sunset with other people who also got the same information.
While visiting Cambodia, if you have time to spare visit some less famous temples and sights, such as visit to Kbal Spean Hill. Road will take you some 1.500 uphill, along the river bustling with rapids and falls. On the top of the hill you will enjoy in sight of river bottom with rocks carved with various Hindu symbols and images.
Next to visit is Banteay Srei Hindu temple dedicated to Shiva. Carvings in this temple are remarkably preserved and quite different from decorations in previously mentioned temples. Continue this remarkable sightseeing with visit to Banteay Samre, Pre Rup and several nearby temples that offer equally colorful tourist experience.
Cambodia temples are amazing experience worth seeing, weather you choose to visit famous, big temples that are usual tourist destination, or you go for less famous, smaller temples who have certain dose of mystique and serenity, because they are mostly empty.
 Finish the day of your hidden cambodia adventure tours with visit to Apsara dance, traditional Cambodia dance performed by women in colorful traditional costumes. While enjoying the show you will equally enjoy traditional Cambodian cuisine that will enable your taste buds to explode with pleasure. Cambodian cuisine is famous for its long tradition, elegant serving and simple minimalistic flavors. Cambodian cuisine puts emphasis of freshness of food and variety of flavors, served in series of dishes.
Source: TNK Travel
---