Founded in 2005, ITE HCMC has been regarded as the Vietnam's most important tourism trade event. ITE HCMC is an annual travel exhibition presenting the perfect platform for both domestic and international travel agencies to collaborate and discuss inbound and outbound tourism in Vietnam and the Mekong Region.
TNK Travel Booth at ITE HCMC 2015
Following a successful show in 2015, TNK Travel is very proud to be a part of the 12th edition of ITE HCMC 2016 once again which will open to welcome the tourism and travel community at the Saigon Exhibition and Convention Center (SECC), Ho Chi Minh City, Vietnam from  8th – 10th of September 2016. As a member of this foremost event, we believe that there will be plenty of opportunities for seeking and meeting our potential clients and partners.
TNK Travel at ITE HCMC 2015
In 2016, TNK Travel will be back – bigger and better than ever before, upgrading our booth, quality of tours and services. We would like to invite you to come and visit us at the International Travel Exhibition (ITE) from 8th – 10th of September 2016.
At the exhibition, you will take a perfect chance to meet our team and grab a thorough introduction about our services and tours. In 2016 TNK Travel has been honored to arrange the Pre-and Post-tours for the buyers at the ITE Exhibition.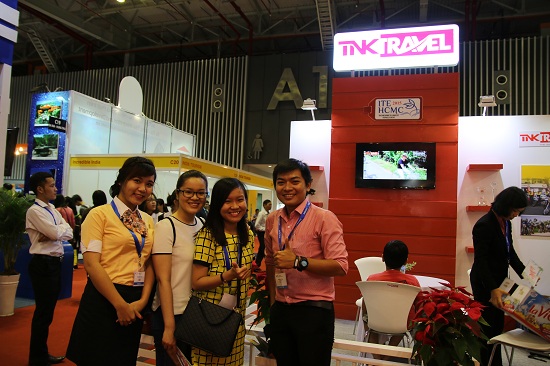 TNK Travel at ITE HCMC 2015
Since the beginning of the new millennium, TNK Travel has been satisfying travelers from all areas in over the world. Besides having our services in English and Vietnamese, in 2003 we opened a Japanese department, which within 2 years became so successful, it is now a TNK sister company.
As a part of a bigger group, TNK Travel is shareholders of Beautiful Saigon Hotel Group, located in Saigon, Signature Cruises in Halong Bay, MyRides which provides motorbike travel, Trippy which organizes tours for the locals, and Trinh Gia Tourist Transportation Center.
We are daily serving around 500 travelers and in 2015 our hard work paid off. The travelers of Vietnam ranked us among the top ten companies in Vietnam for inbound tours.
At TNK Travel we always strive to provide high-quality services as we recognize that today's travelers are the key to our future. Our tours are flexible; we arrange private tours and customized tours based on needs of the travelers as well as large group tours to popular destinations in Vietnam.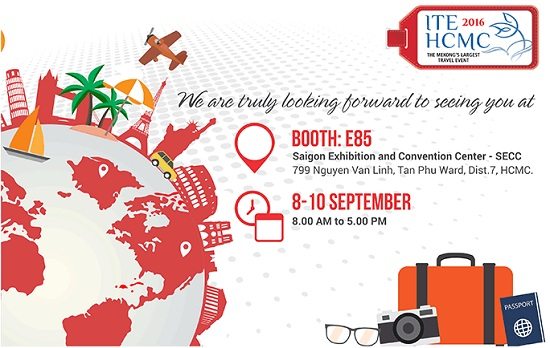 Welcome to TNK Travel Booth at International Travel Exhibition (ITE) 2016
We are truly looking forward to seeing you at the ITE 2016 from 8.00 AM to 5.00 PM:
TNK Travel Booth E85, Saigon Exhibition and Convention Center – SECC
Address: 799 Nguyen Van Linh Street, Tan Phu Ward, Dist 7. Ho Chi Minh City
---