Your trip to Ha Long Bay, Vietnam will not be complete unless you put the following specialties in your list of what to eat in Ha Long Bay for sure. Some of them may be weird and unfamiliar to you, but their tastes are not bad and even more amazing than you think. Start enjoying each of them now!
Squid sausage (Cha muc)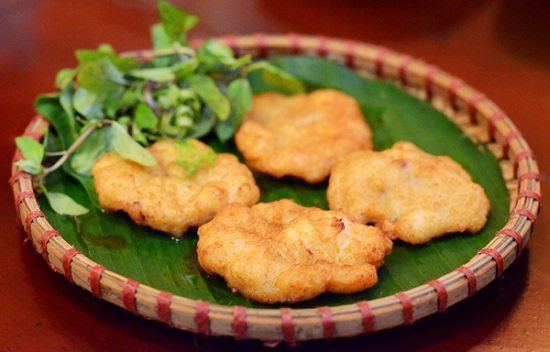 Squid sausage (Cha muc)
While thinking of what to eat in Ha Long Bay for your Ha Long Bay tour and having no idea about that, you will be first recommended to squid sausage (cha muc) – a culinary delight at many surrounding restaurants. Everything you can know about the food's ingredients is that it is a mixture of chopped squid and special spices which can tantalize any gourmet; of course, only expert chefs of the restaurants own this secret recipe. The mixture will be rolled into flat balls and fried in the boiling oil. It will be an unbelievable feeling which can't be described by words to enjoy it with pepper and pure fish sauce.
Earthworm (Sa Sung)
Earthworm (Sa Sung) is must-try food in Ha Long Bay
One of the Ha Long Bay's unique specialties any foodie finds it difficult to neglect is Sa Sung (earthworm). At the beginning of seeing this food, you are probably scared and don't dare to eat, but it is just a small challenge by vision. Its flavor is actually strange and fragrant, which you have not ever perceived before. Sa sung can be cooked in many different ways, and the best one is Sa sung marinated with sautéed and fresh garlic and roasted until it looks bright yellow. It is served with chili sauce, herbs, lettuce, and beer, which is supposed to be a perfect fusion from simple cuisine.
Book now: Ha Long Bay One Day Tour price from $60
Arca Wine (Ngan)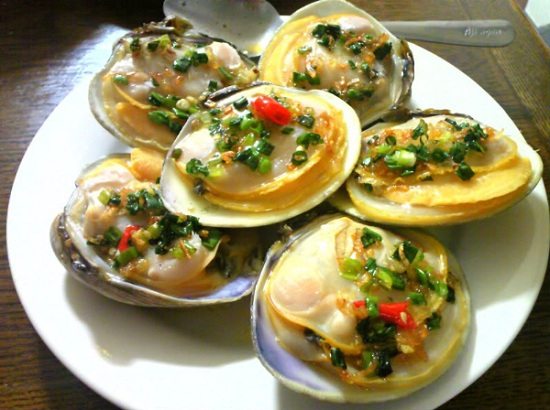 Arca Wine (Ngan)
This specialty is weird from its Vietnamese name; Ngan is known as a unique species of Veneridae, and inhabitants here use it to create a tasty drink, but food. The drink brings you a more disgusting feeling when you know that it is a mixture of Ngan's blood and Vietnamese rice wine. Nonetheless, don't think like that anymore because of its mouthwatering taste. Many tourists who have ever come here said that tasting the wine is like a way to perceive the rustic life of locals in Halong Bay.
Halong geoduck (Tu Hai)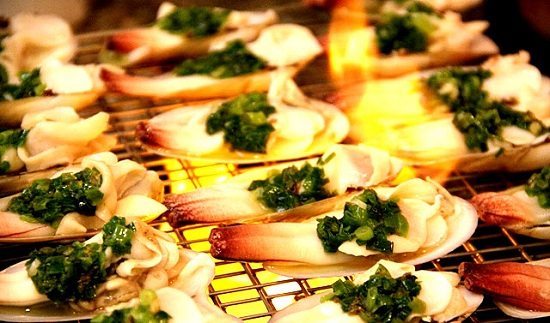 Halong geoduck (Tu Hai)
Tu Hai is known as an outstanding specialty you can find in Van Don Island. In some locations, people call it snail spout. In fact, this sea creature is extremely precious and nutritious . Additionally, the geoduck's meat is crunchy, sweet, and may be used to cook soup or make salad. Although this species is not common like shrimp, oyster, or clams, its flavor will give you an unforgettable experience.
Mantis Shrimp (Tom Tit)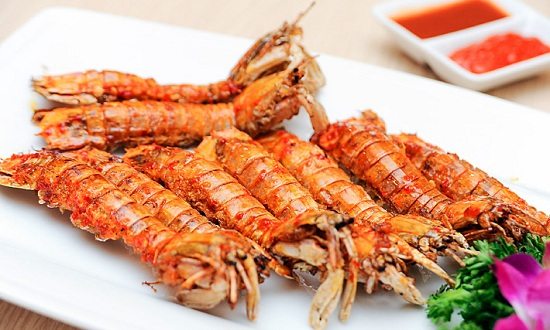 Mantis Shrimp (Tom Tit)
In the list of what to eat in Ha Long Bay, Mantis Shrimp, a strange specie of shrimp will be a tangy dish you should give it a try. Perhaps, the appearance of the shrimp is weird and looks like a centipede, the meat stimulates your tongue right at the first time of tasting it; you will find it tender and sweet when enjoying it with a mixture of pepper, salt, and lemon.
---