With a Vietnam adventure tour, Sapa will definitely be one of the highlights you get excited not only because of hospitable locals and imposing landscapes, but also the food which will completely convince you. Don't end the trip without savoring the following must-try food in Sapa, Vietnam.
Bamboo sticky rice (Com lam)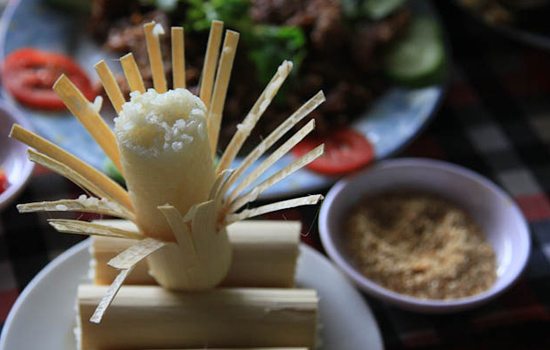 Bamboo sticky rice in Sapa
Rice is supposed to be an obsession with many Vietnamese people, but they seemingly never enjoy their daily meals without rice. It is cooked in some different types, and the most special one is that the so-called bamboo sticky rice (com lam). How to prepare the food is not actually finicky; locals will choose a medium-size bamboo and cut it into short sections, each of which is just 30cm long. Then, rice will be mixed with a little salt, and each of the bamboo sections will be filled with this mixture. The sufficient amount of water is also important for the stunning bamboo sticky rice. Don't leave Sapa until you have tasted the dish!
Steamed glutinous rice with seven colors (xoi bay mau)
Steamed glutinous rice with seven colors (xoi bay mau)
Steamed glutinous rice with seven colors is a traditional and outstanding dish of Nung ethnic people in Lao Cai province. Because the food not only carries a wonderful aroma, but also represents a certain historical meaning, it is considered as an indispensable thing in the Nung community's different festivals. Brilliantly, the glutinous rice's colors are completely made from natural ingredients, so you can savor it without any worry. It is actually the extremely must-try food in Sapa, right?
Cap Nach pork (Thit lon cap nach)
Pigs in Sapa are often free to find their food in gardens and even the forest; local people suppose that doing that will make the pork more delicious. After each of the pigs is 20kg heavy, it will be caught, kept under the owner's arm and brought to the market for sale, which is also an interesting reason for the food's name. The pork will be cooked by skillful hands of expert chefs at the local restaurants; they can roast, grill, or steam it and combine it with some secret ingredients to create culinary delights you will find it very hard to resist.
Thang co
Thang Co is one of must-try food in Sapa, Vietnam
Seeking the must-try food in Sapa, you are advised to have a try at Thang co – a traditional dish of Mong ethnic people in Muong Khuong. The first ingredient utilized for making the dish is buffalo meat, pork, beef, or horse meat. Besides, internal organs from some of the above animals, like liver, blood, bone, and heart are also added to the dish. Later, steam all of those ingredients along with some spices and vegetables. The best time for enjoying the food is winter because it will be the most delicious when it is still hot.
Grilled food
Have you known what the must-try food in Sapa is for your Vietnam adventure tour? Maybe, grilled food will be a nice recommendation since the weather of this land is always cooler than that of other regions in Vietnam. Think how amazing it will be when the hot grilled food not only warms you, but also stimulates your tongue. Let's try different genres, such as skewered pork, skewered beef, corn, cassava, bird, chicken, and others.
Black chicken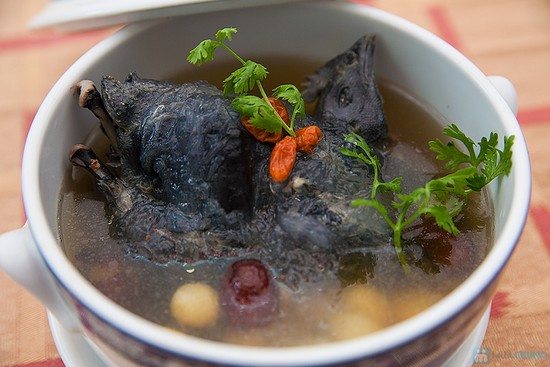 Black chicken is specialty of Sapa
Coming to Sapa is a chance for you to try black chicken – a specialty difficultly found elsewhere. The meat of black chickens is very tough and delicious because they are freely grazed in the gardens and not locked in cages. There is more than one way to cook the back chicken, yet local people prefer the chicken marinated with honey and grilled on charcoal. The food is more appetizing if going with salt, lime juice pepper and pepper.
Salmon hotpot
Salmon is originally sweet, low-fat, and fresh, so it is suitable to become the key ingredient for a hotpot. With the cool weather in Sapa, salmon hotpot enjoyed with your companions will make you warmer. It is not too expensive to order one since it is just $25-30 for 3-4 people.
Book now: The North West Loops 7 Days price from $598
---