Do you think that it will not be a complete Vietnam trip if you never savor and even touch the following unique Vietnamese fruits? It is absolutely yes for sure. Then, get to know those types of fruit as well how to them at once! There will be intriguing things dazzling you right at the first view!
Rambutan
Vietnam is an exciting travel destination in which you must delicate much time to exploring its charm about both scenery and culture. Especially, the country is home to many weird fruits engaging you in a try, and one of those is rambutan looking like a tiny red hedgehog. Regarding how to eat rambutan, you will open it by either two ways; while the first one is to cut around the equator of this Vietnamese fruit by a small knife, the second is to bite it as its spines are very soft. Then, just take the rambutan pulp and seed in the center out of the peel just by squeezing the fruit. Bear in mind that the seed is fairly bitter, so it should be thrown out. The pulp is not only slightly sweet, tender, and succulent, but also packed with vitamin C and other nutritional components good for your health. Do not ignore it when traveling to Vietnam.
Star apple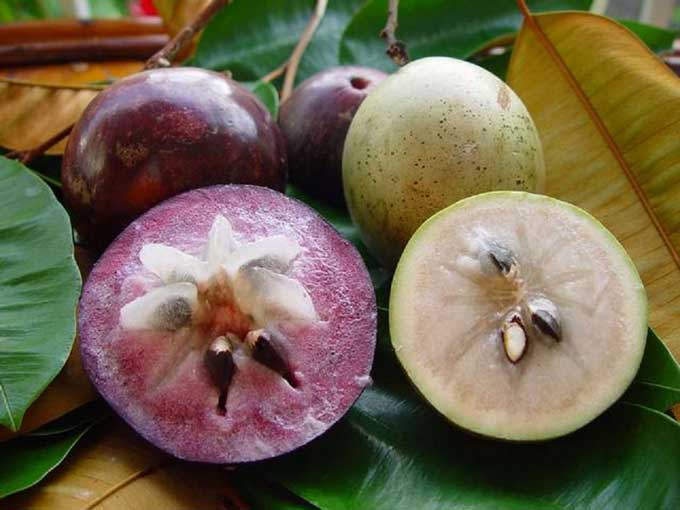 Star apple is called Vu Sua in Vietnamese, which means milk from the breast. It sounds awkward, yet its flavor could not be more wonderful. The flesh is rich in milky sweet juice, tantalizing any gourmet and especially children. Star apple is sorted into two genres: purple and green brown and both are great in flavor and taste. As for how to enjoy star apple, one way is to cut the Vietnamese fruit into two parts and use a spoon to eat the pulp inside, and the other is to squeeze it to mix the pulp with juice, and then pull the stalk out to drink the mixture inside. A hint for you when shopping for star apple at the market is to choose the ones with shiny, smooth and bright skin, which are sweet and fresh enough to enjoy.
Dragon fruit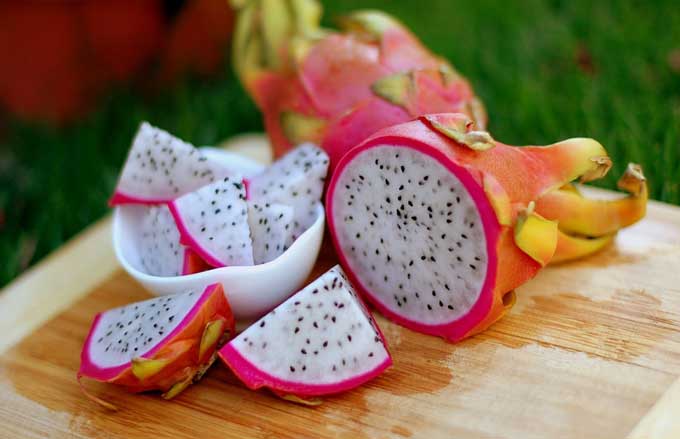 This fruit's name sounds interesting, and in fact it is so special that you will find it difficult to believe that it is type of edible fruit at the first time of seeing it. The fruit looks rough and bears large scales with the yellow or pink skin while the flesh is white or red and full of tiny black seeds. Eating the dragonfruit is too easy as you just chop it in half and spoon the pulp out. Not only is it a delicious fruit, but also rich in nutrients. In Vietnam, you will also discover many fruit stalls offering smoothie with this type of fruit.
Lychee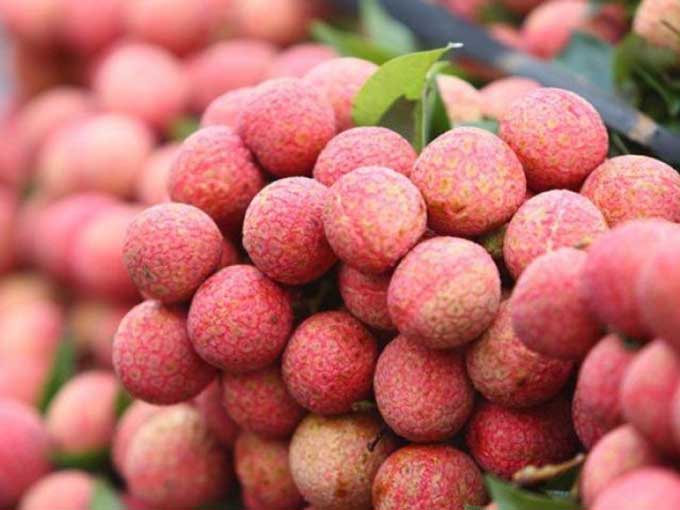 To face the heat of the summer, lychee is really an ideal type of fruit, and it is sold ubiquitously in Vietnam. The fruit is depicted as a small ball dotted with numerous raised nubs on its skin, looking weird. However, its taste will be great than you think with the tender and sweet flesh. Just like many other types of fruit, it is also green when it has not been ripe and become yellowish-brown in the harvest season. It is easy to enjoy it since you just peel the outer skin and throw the seed in the center away. It is surely aromatic to draw any foodie.
Custard apple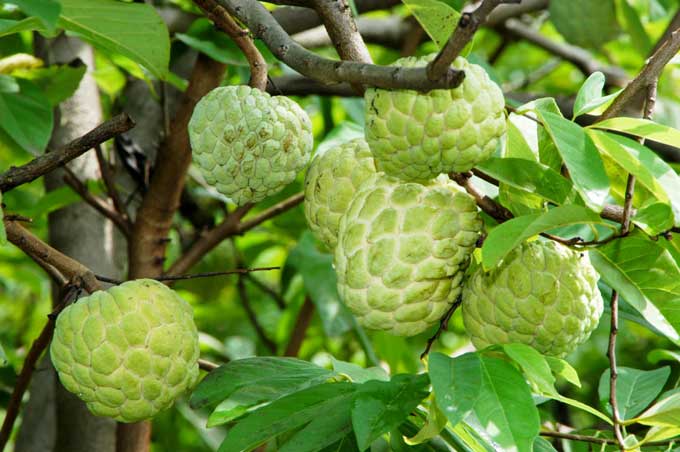 Another Vietnamese fruit you ought to try in the trip there is custard apple as it is not only mouth-watering but also nutritious to your body. The most special thing about this fruit is that it is always pale green even when it is in the harvest time. When it is ripe, the pulp is very sweet, soft and delicious. Be mindful that you should consider allowing your kids to enjoy the fruit because the flesh is packed with lots of black seeds which may be stuck in their throats. As for how to know if it is ripe, gently press on its skin, and that you find it easy to do this means it is in the right time to be enjoyed.
Longan
Longan normally grows in each cluster of many globose units. While the rind is light reddish-brown and thin, the pulp is a translucent think white and extremely sweet. The locals normally use it to cook sweet soup. If you wander in some markets in Ho Chi Minh City or the Mekong Delta, remember to get a glass of sweet soup with this type of Vietnamese fruit as it will never let you down. When it comes to how to eat longan, it is fairly the same to how to enjoy lychee: just peel the rind and remove the seed. It is highly advised that you should freeze before savoring it.
---