It is sure that the following list of famous churches in Ho Chi Minh City will be helpful when you are due to experience something solemn and peaceful among this bustling metropolis. Let's include those places in your itinerary of a Saigon day trip!
Notre Dame Cathedral 
Saigon Notre Dame Basilica
Erected between 1863 and 1880, Notre Dame Cathedral is among the Ho Chi Minh City's ravishing architectural marvels designed by the French colonists, so it totally carries unique French architectural style, ranging from the roof to the bottom. The charming solemn building with impressive red bricks is located in the heart of downtown; it is not a lie that here is a shining pearl amidst a chaotic Saigon. With the phenomenal architecture, the structure is not merely a religious place for worship or sightseeing, but also an ideal background for taking wedding photos. It is not bad at all to have a visit to Notre Dame Cathedral in your Ho Chi Minh City day trip.
Tan Dinh Church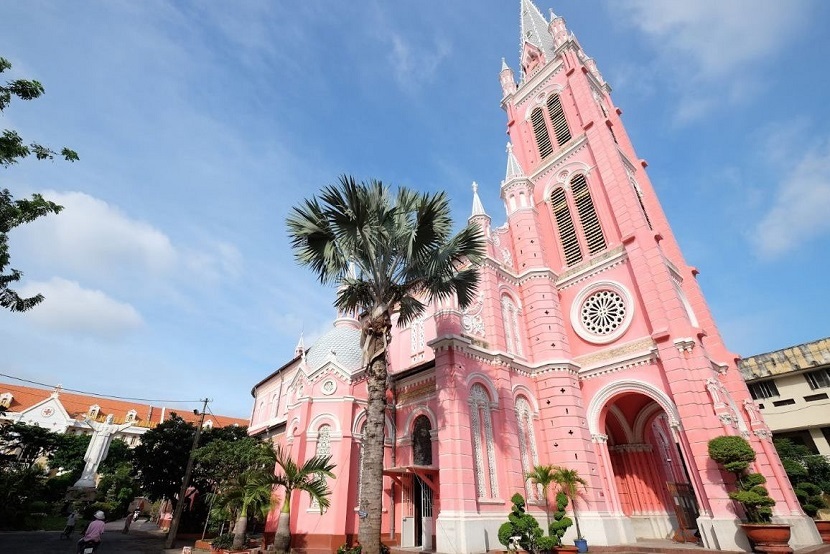 Tan Dinh Church
Constructed by the French in the 20th century, Tan Dinh Church lies in the center of the Tan Dinh fabric market, Ho Chi Minh City. Roaming around this area, you will easily realize the church for its charming Roman architecture and elegant pink covering the wall. Right at its entrance gate are two bell towers with six bells. Inside the building, there are Italian marble altars which are known as a donation from a local wealthy family many years ago. Undergoing renovations on its 10th anniversary, it now becomes one of the must-see churches in Ho Chi Minh for a day trip around this city.
Cho Quan Church
Cho Quan Church
Open to the public since 1896, Cho Quan is now the most ancient church in Ho Chi Minh City. At the beginning, it was a small chapel and later damaged heavily due to wars until Father Nicolas Ham was entrusted with the position of a priest in 1882; he made up the new foundation for its future. Because the building has been upgraded for eight times through its existing period, it carries the beauty of the turn of the century while its ancient element is still kept, making up the fabulously magnetic power. This beauty is also due to the Gothic architecture – a style from the late Middle Ages – covering each of its department.
Hanh Thong Tay Church
Hanh Thong Tay Church
Not similar to most churches in Ho Chi Minh City, which are based on the Gothic or Romanesque architecture, Hanh Thong Tay Church bears the Byzantine style emerging with two eye-catching colors of grey and white, making it more graceful and marvelous. The most special thing found from the Byzantine architecture is that the church's dome resembles a haft of a hollow sphere; there is a pyramid tower right on the dome for light. With exquisite details and sparkling mosaics decorated inside, the building brings visitors the wonderful space to experience. Another outstanding feature is related to bells inside the church; there are three types varying in the sound, so it is easy to spot which one is being tolled.
Huyen Sy Church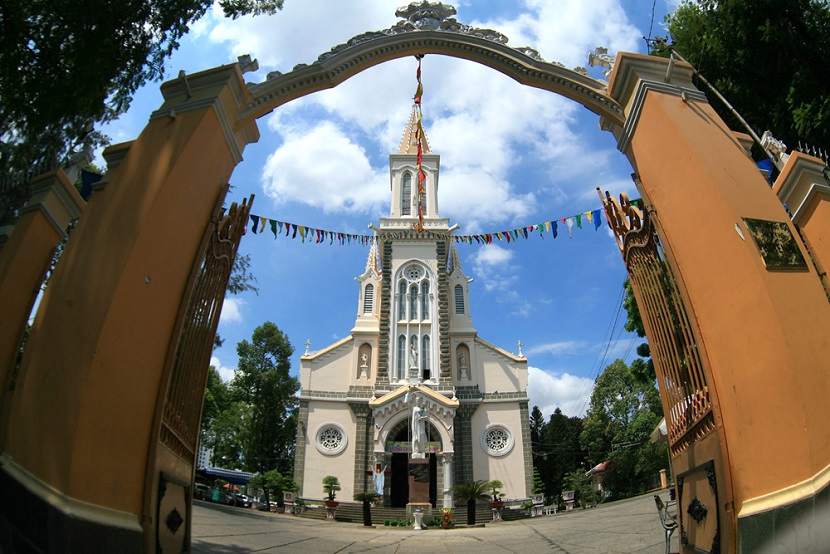 Huyen Sy Church
An alternative in the list of must-visit churches in Ho Chi Minh City is Huyen Sy, positioned at the T-junction of Nguyen Trai and Ton That Tung Streets. Dating back over 100 years, the church embraces the ancient charm deserving to be experienced. It is supposed that the Gothic structure is a hybrid of European styles, so there are much elaborate patterns found here. For those who are seeking for the tranquility and the elegant ancient magnificence, it is definitely a perfect destination.
---