Perhaps, luxurious cities like Paris or Milan have ever been your dreamy travel spots where you must make hard effort to carefully plan before coming to because of its high living cost. Then, why don't you do some research on the other, for example Vietnam? Although the country is not sumptuous and luxurious, its landscapes and seascapes will astonish you and make you desire to explore it much more.
Read more: Top 5 Places to Visit in Northwest Vietnam
Da Dia Reef (Ghenh Da Dia)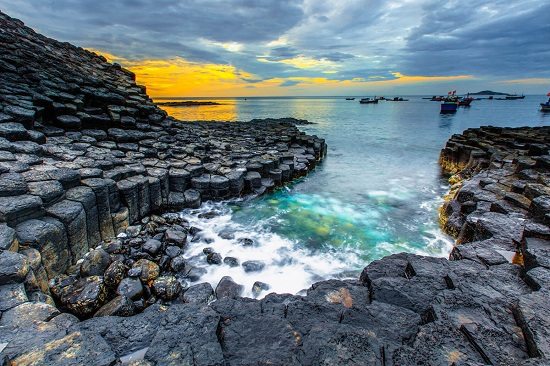 In the top five places to visit Phu Yen, Da Dia Reef located in Tuy An District is possibly taken into account as one of the magnificent natural wonders of the Vietnam's middle. It's difficult to imagine how beautiful it is if there is no picture to demonstrate. Upon being described as a rocky plate reef stretching over 200 meters, it is impressively formed by numerous basalt columns. More amazingly than that, the reef is designated as a national heritage site in 1998. Another reason it has become a must-visit travel destination of Phu Yen is its whole scenery which looks like a huge beehive springing up from the turquoise water the in front of your eyes; the beauty is also illuminated by clean beaches and peaceful ambience.
Vung Ro Bay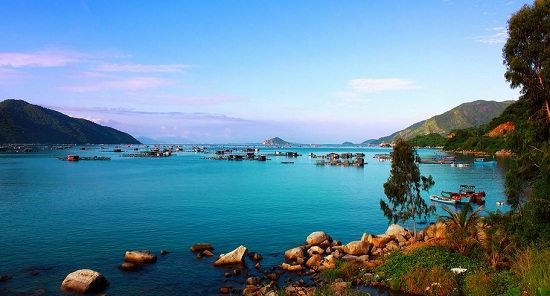 It worth setting foot in this bay as it has a good reputation for charming scenic landscapes and amazing seafood specialties. It's estimated that the bay's area is around 16 square km, and despite being a quite small gulf, it plays a role as the crucial fishing ground for locals of Phu Yen. With a visit to Vung Ro Bay, it's strong recommended that you should sit where the scenery of sunset and sunrise is clear to experience the idyllic beauty here. Further, the other exciting thing of the bay appealing to tourists is that they get a chance to know about some historical sites where revolutionary soldiers acted for the country's independence.
Xuan Dai Bay
It is not a lie that Xuan Dai is regarded as a masterpiece of nature due to its fascination. Situated away 50 km north from Tuy Hoa City, the bay is 13,000 hectares wide and carries the shape of a unicorn's head when it is contemplated at the far distance. All what creates the harmonious beauty of this scenic spot is the special blend of mountains, islets, peninsulas, water, and sky; it's actually a priceless gift which Mother Nature favors humans. It's easy to see that the phenomenal landscape is partially formed by Da Mai mountain, Mu U peninsula, and Ong Xa islet.
Mon Beach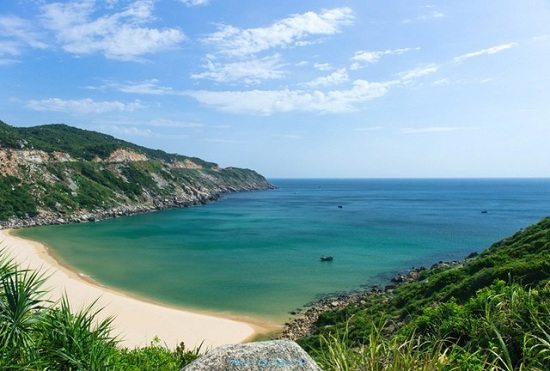 Among wonderful places to visit in Phu Yen is Mon Beach – a splendid seascape of this middle province. In detail, Mon Beach – Mui Dien Cape is referred to as one of the 3 national vestiges in the province. Coming here, tourists can go for a stroll along Mon Beach, cross a tiny fresh-water stream to the mountain road, climb up around 40 stairs of the 500m road, and then reach the light-house station which dates back to over 100 years. It's amazing to experience at Mon Beach.
Dai Lanh Cape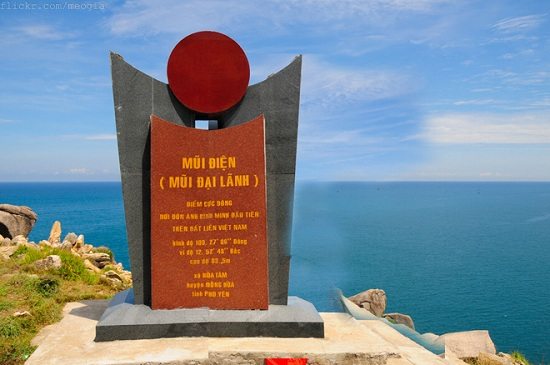 The final choice in the list of places to visit in Phu Yen is Dai Lanh Cape. Why do people pick it out as their must-visit spot for a Vietnam package tour? It's because the cape is not only breathtaking with the blue water and long white-sand beach, but also blessed with potential features of culture and tourism, which have interested more and more international travelers in the world. With the clean and blue water, they can experience many different water sports at this charming spot.
Read more: Top 5 places to visit in Da Lat
---