Vietnam, a country with the glorious history, is always the indispensable destination for those who consider travelling as part of their life. Besides historical landmarks strongly impressing travellers, Vietnam also carries the fabulous and sophisticated beauty of nature which nobody can resist enjoying. One of the typical attractions is Sapa, also the North Vietnam's paradise. As for its location, Sapa is a few kilometers away from the border of China and next to Hoang Lien Mountain. With its ideal weather and imposing scenery, it is absolutely a worthy travel place for your exploration. Now it's time to search for all things to enjoy in Sapa.
Fansipan Peak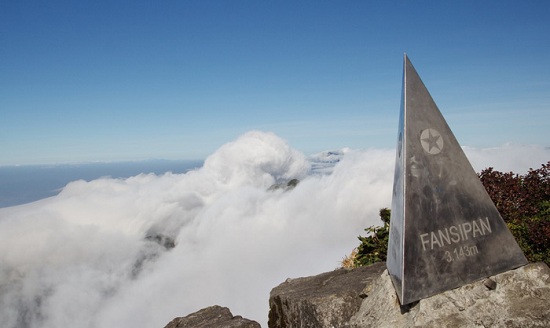 Fansipan peak in Vietnam
In the list of attractions in Sapa, Fansipan Peak is surely supposed to be the leading choice for most tourists who are thirty for beating challenges and conquering the highest point of the Hoang Lien Mountain range, which belongs to Hoang Lien National Park. How will you feel if overcoming a hard route and then standing on the Fansipan summit in order to get the perfect view of the spectacular landscapes around the mountain? It's definitely awesome as this may be the great success in your life.
Sapa Love Market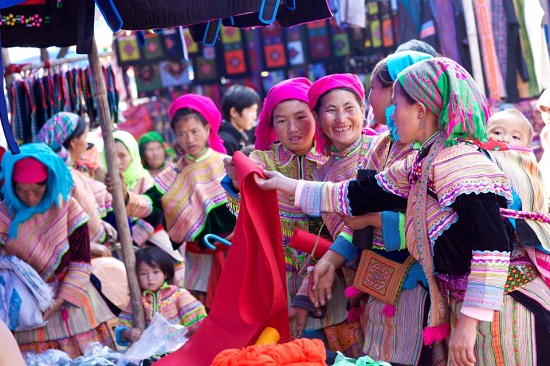 Visit Love market is one of the best things to see and do in Sapa
Why do people call this market Sapa Love Market? First, we will start from the remarkable cultural feature of the Mong and Dao ethnic minorities. People of this highland will just gather in the love market every Sunday night because of the far distance between villages. At this good time, girls and guys dressing in colorful traditional costumes meet in order to talk, dance, sing, and take part in traditional games. After the night, many of them have affection for each other and continue meeting again in the next morning. More interestingly, some get married to each other in the spring. That is the reason why the market is called Sapa Love Market.
Ham Rong Mountain
It's probably said that Ham Rong Mountain is a perfect mixture of natural and artificial scenes and also the must-visit spot for tourists in the Sapa town's center. Some things to see and do in Sapa and specifically in Ham Rong Mountain lie in wild peach forest and orchid gardens. In fact, here is the place where there are a large number of orchard and flower gardens. Along paths around the mountain, impressive exotic and indigenous flowers include hydrangea, ox-eyed daisy, geranium, Lily of the Nile, cherry, etc. Therefore, there is nothing more enjoyable than experiencing the atmosphere full of colored flowers like that. In addition, travellers will not get sufficiently excited if conquering Cloud Yard (San May) is not included in the journey. Do it to satisfy your eyes in front of the phenomenal scenery of Sapa town from the summit.
Muong Hoa Valley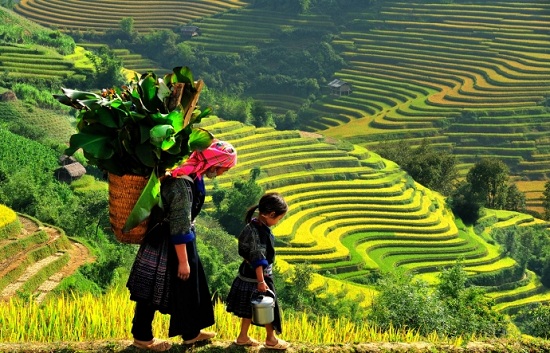 Muong Hoa Valley in Vietnam
The most charming and stunning valley of Sapa is Muong Hoa. On the way to this valley, travellers may freely sightsee and take photos of Sapa's stunning views. Excitingly, terraced fields – the most spectacular feature here will please their eyes. Later, when crossing the rattan bridge, they go for walk in the Hmong's village of weaving and dyeing and meet ethnic monitory people.
Experience Homestay with Ethnic Residents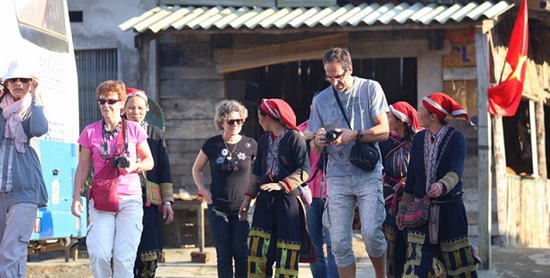 Experience homestay with Ethnic Residents in villages
The best way to get full experience of the daily life of ethnic people in Sapa is to live with them in their houses for a few days. Upon enjoying the homestay like that, foreign travellers will gain a deep sense of the ethnic monitories' culture. Not expecting anything luxurious, they taste special food here, know about cultural habits, go trekking in rice terraces, drink rice wine, and talk about everything they have not ever discovered.
Thac Bac Waterfall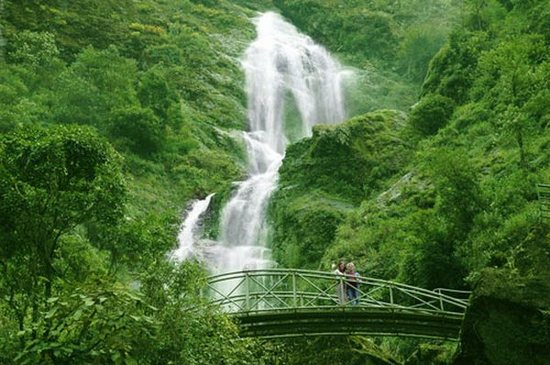 Thac Bac Waterfall in Vietnam
By Vietnam adventure tours, foreign travellers will find no reason to skip Thac Bac Waterfall – one of the breathtaking spots in Sapa. Thac Bac Waterfall lies next to National Highway 4D, and is about 12 km away from the town's center of Sapa. Sources of water falling down from Lo Sui Tong mountain peak create a miraculous picture of this waterfall. It is actually a wonderful place which travellers should not miss admiring.
---