Have you heard of Ba Na Hills in Da Nang City – the most livable city of Vietnam? Not matter if you have known about this entertainment paradise, the most amazing points listed here will wow you so much, and more than that, are absolutely great for your Vietnam tour and holiday. Let's explore now!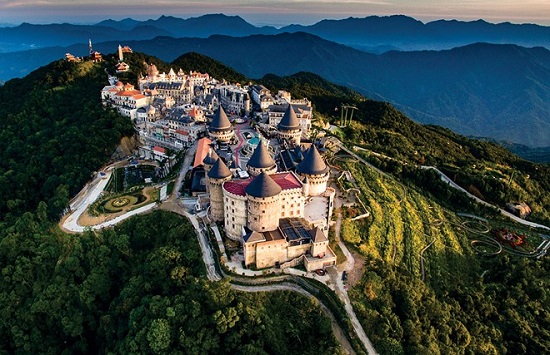 Ba Na Hills in Da Nang
Overview
Bana Hills perches on the top of Chua Mountain at the altitude of 1,487 m above sea level and is located in Truong Son Mountain range, Hoa Ninh Commune, Hoa Vang District, 25km to the southwest of Da Nang City. Ba Na has been famous for the stimulating amusement park, elegant resorts, attractions, and fantastic landscapes for a time, so it has appealed to a large number of visitors each year. Additionally, with the average temperature of 62.6 – 68°F, there are four seasons occurring to Ba Na Hills for each day, making it actually great for anyone to experience a day trip: a warm morning like Spring, a hot noon like Summer, an afternoon like Autumn, and a cold night like Winter. As for the scenery in the peak, romantic mountainous forests with green pine emerge as a natural masterpiece, and this enthralling painting is more remarkable in glamorous former French resorts constructed in the 1920s.
Book now: Ba Na Hills price from $60
How to get to Ba Na Hills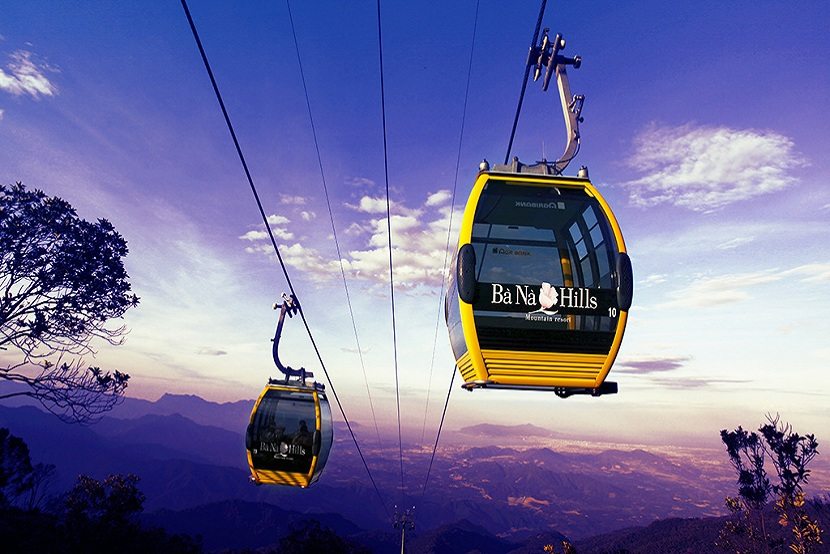 Cable car system in Ba Na hills
There is more than one way to get to Ba Na Hills, so you can make a decision to select any of them, depending on the number of members in your group. If departing from Da Nang City center to Ba Na Hills, you can catch a city bus with the fare of about VND120,000-150,000/route/pax. In the case that you would like to peer into magnificent landscapes on the way to Ba Na Hills and also save money, a motorcycle ride by yourself will be ideal.
The lack of Ba Na Cable Car makes no way to touch the center of Ba Na Hills, so it is a crucial means of transport here. More than that, sitting a cable car allows you to grab a panoramic view of the whole mountains, poetic waterfalls and other striking spectacles from above. It is possible to assert that this transport is not merely a path to Ba Na Hills, but also a fascinating tourist product.
Highlights of Ba Na Hills
Ba Na Hills Mountain Resort
In the early 20th century, some resorts in Ba Na were built in order to serve French soldiers, and through many decades, what we still find nowadays is the ruins of those buildings among the mountainous region. With the new investment, there are today various elegant and splendid villas and hotels emerging in the so-called Ba Na Hills Mountain Resort with divided zones, such as Ba Na by night, Le Nim, Hoang Lan Villa, etc. Hiding itself in the thick layer of fog in the early morning, Ba Na Hills Mountain Resort gets more fanciful in eyes of anyone witnessing the scenery in this moment. Especially, this majestic beauty is actually the ideal background for ancient French and traditional architectural structures of hotels, bungalows, and villas.
Fantasy Park
Referred to as the recreation paradise for all people at all ages, Fantasy Park features soothing games for children, arcade adventure, thrill and action types for adults, and other entertaining activities. Another plus point for the international-standard theme park is that it also comprises food booths where you can find both Orient and Occident cuisines; it is difficult to resist tasting the culinary delights here. If wishing to get a few souvenirs for your family and friends, just walk toward cute shops nearby.
Mo Stream
It is worth making a trip to Mo Stream as this marvel is endowed with romantic and miraculous spectacles. The recommendation for you is to add this attraction to your mountain trekking in a Vietnam tour and holiday to Da Nang. It is easy to realize the most outstanding element is formed from the harmony of sky, stream, rocks, cliffs, trees, and water, creating an extremely beautiful natural painting.
Debay Wine Cellar
Situated in the proximity of the Shakyamuni Statue, Debay Wine Cellar built in 1923 is also an attraction deserving to visit in Ba Na Hills, Da Nang City for your Vietnam tour and holiday. It is where you can discover grape wines in abundance. Especially, there is a luxurious entertainment zone offering stocked bar with cocktails, grape wines, light snacks, and wine vintages. Let your imagination free to think about the warm ambiance surrounded by dozens of wine types and their scent. It is awesome!
In addition to the outstanding points of Ba Na Hills in Da Nang City, there are Le Jardin D'Amour Flower Garden, Wax Museum, French Village, Linh Phong Tu Tower, Bell Tower, etc. To get full experience of Vietnam tour and holiday in which Da Nang City is one of your stops, it is highly advised that you do not miss those great spots.
---