Traveling to Da Lat city in blossom seasons is irresistible as you are indeed thirsty for the overwhelming beauty from the nature. Dalat is widely known as a romantic city where people easily fall in love with scenic landscapes and softly experience the comfortable atmosphere. Meanwhile, what makes up the appealing scenery of the highland city is blossom seasons when a variety of flowers bloom at the same time. Therefore, it is not advised to miss a Da Lat day tours or premier Vietnam tours in Dalat while you are staying in Vietnam.
Cherry-like apricot blossom season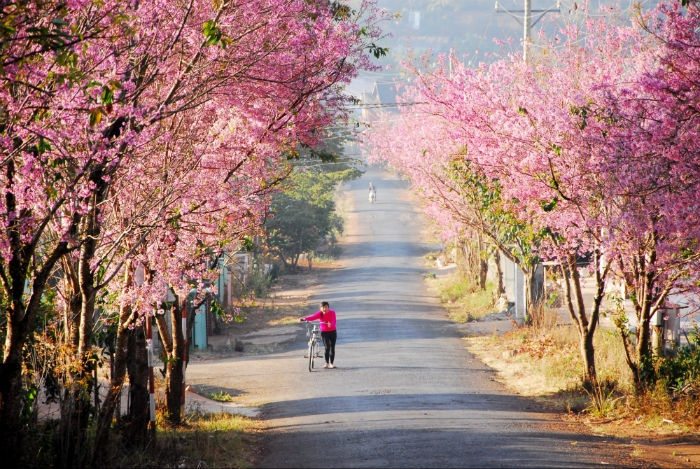 Cherry-like apricot blossom season in Dalat city
Cherry-like apricot flower (scientific name: Prunus Cerasoides), called Mai Anh Dao in Vietnamese is considered as the floral symbol of Dalat city. This kind of flower is derived from a unique floral species in the temperate zones, such as America, China, Japan, etc. More than 80 years ago, the agriculturist Nguyen Thai Hien bought it from one foreign country and planted in Xuan Huong Lake and nearby areas. Excitingly, its blossom time is in Tet holiday, coinciding with that of Cherry flower in the northern Vietnam, so the expert put it the name of Mai Dao. Later, many artists added "Anh" between "Mai Dao" for it is easier to call. That's the reason why Mai Anh Dao is common by most people nowadays.
Jacaranda Acutifolia blossom season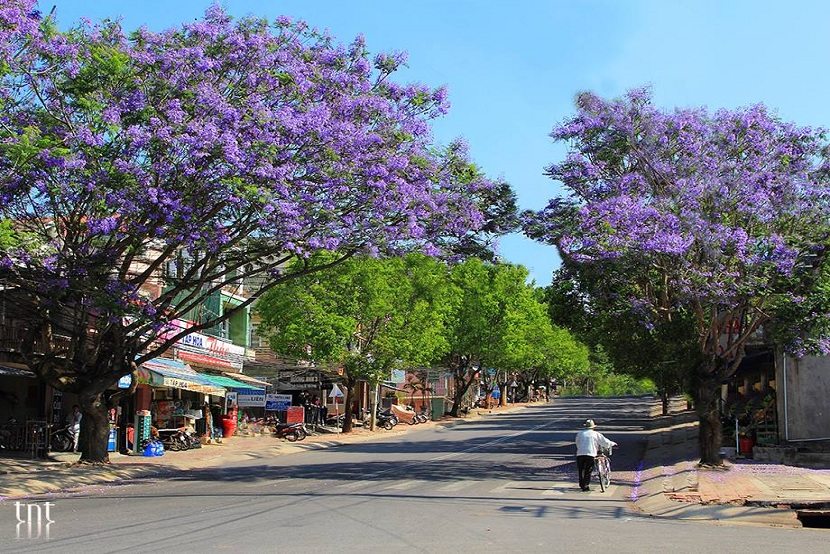 Jacaranda Acutifolia blossom season in Dalat city
Jacaranda Acutifolia is also called flame tree or purple flamboyant, which embellishes the Dalat's romance. There is no doubt that witnessing Da Lat city in blossom seasons is one of the most wonderful parts in your Dalat day tour or premier Vietnam tours. The flame trees easily found around Xuan Huong Lake, along roads to Dalat market and the heart of downtown are in blossom between April and May when other kinds of flower also start blooming. The flowers' purple color will bring visitors and anyone walking in the flowery roads a pulsating feeling as well as an unforgettable experience about the romantic city.
Tree marigold flower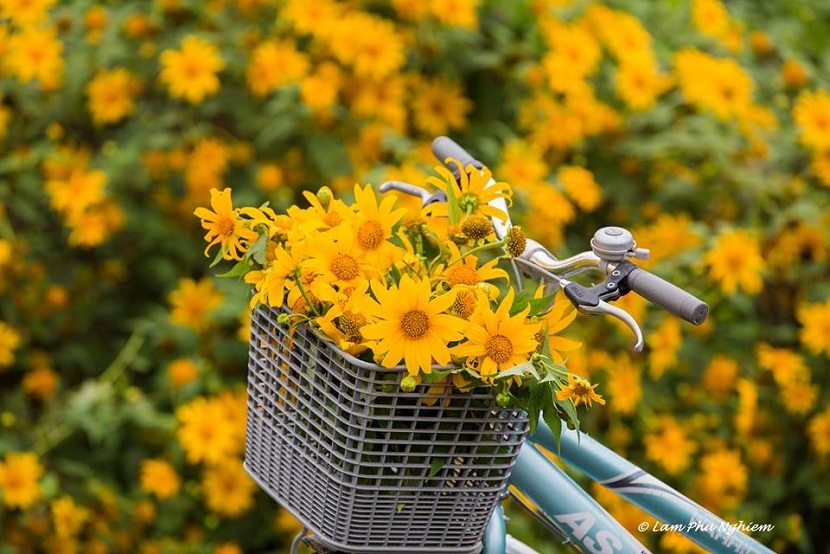 Tree marigold flower in Da Lat city in blossom season
When December is drawing near, Dalat gets higher-octane as there are a large number of tourists arriving here to relax and experience the fresh air of the so-called romantic city. One of the critical reasons for a Da Lat day tour is to admire the fragile natural beauty of tree marigold flower. Without marks of humans in their growth, the flowers are found at two sides of roads and vibrantly spring up to catch sunlight for their life. In the blossom season, their bright yellow color covers most hillsides, tea fields, and roads to small villages of Dalat, creating picturesque backgrounds for photographers. Lots of tourists from many different places flock to the city when tree marigold begins blooming just because the landscape inspires them to take the marvelous and romantic photos. It is possible to state that tree marigold is every easy to notice when you come to Dalat, but it never gets you bored at all.
White radish blossom season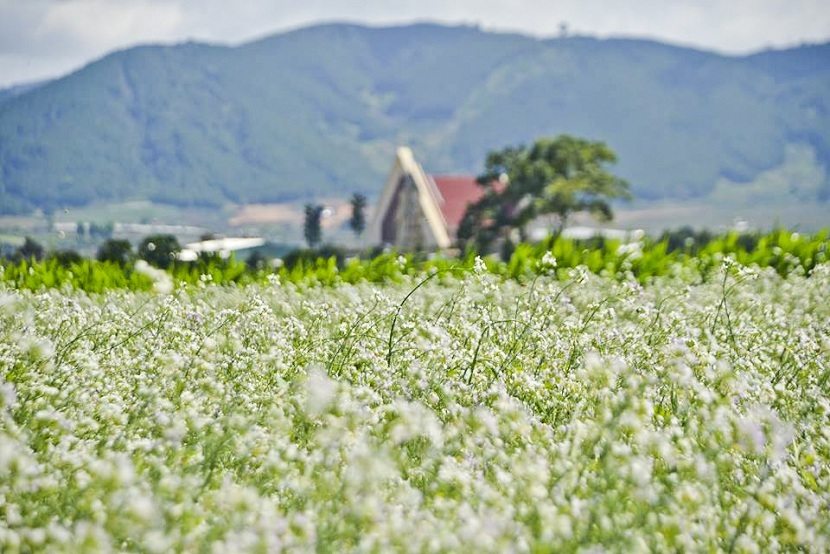 White radish blossom season in Dalat city
While tree marigold flower is bright throughout roads of Dalat thanks to its yellow color, white radish seems become an ideal background, illuminating the tree marigold as their blossom time is the same. Anyway, the white radish flower carries the elegant, innocent, and romantic charm other flower kinds must admire. The locals grow it for oil and seeds, but they don't think that it provides a dramatic backdrop for visitors experiencing and exploring Da Lat city in blossom seasons.
---